Few buildings have as storied a relationship with the Grateful Dead that Madison Square Garden does. The World's Most Famous Arena quickly became the band's "home" arena on the East Coast beginning with their first run here in January of 1979. Their welcomed stay would last until their final shows played there in 1994. Today, we celebrate the anniversary of the Grateful Dead's third run at the Garden and only their sixth show ever here. This would be the first of only two Dead shows here this year. But its musical impact, thanks to an incredibly well preserved AUD recording, will last forever.
The opening tones of "Feel Like A Stranger" ring throughout the Garden to kickstart things this evening. The electricity immediately comes through the pristine recording on this one as the bands "get's on with the show." Guitarist Bob Weir's voice is in fine form for the opener and throughout the rest of this show. Some typical brief, scat-like improv singing from him gives way to a short but tight little opening number. "Althea" then follows, with fellow guitarist Jerry Garcia getting his turn to serenade the New York faithful. A fierce early guitar lick sets just the right tone early as Garcia nimbly moves from singing to soloing and then back.
This is followed by a super-bluesy "C.C. Rider" that's fueled by some great interplay between Garcia, Weir and Mydland on keys. A raucous Garden crowd makes their feelings well known afterwards. An extended tuning break might disrupt the rhythm for any other concert, but it's not long before the arena is back in full sway and singing along with Garcia to "Ramble On Rose." As expected, the "Just like New York City" line is met with resounding approval. Weir seems to begin "El Paso" by himself at first, but the band soon catches up and nails the rest of this first set staple. This one sees more impressively delicate guitar fills thrown in by Garcia who sounds clean and inspired from the onset this evening.
A return to the blues then follows, this one of the "Deep Elem" variety. After being taken off the shelf late last year in October, the vocal sections still sound a little unsure on the Dead's take of this blues standard but the continual passionate guitar stylings from Garcia more than makes up for it. There's nothing unsure about Weir's vocal delivery on "Beat It On Down The Line" as the band rips through another first set staple.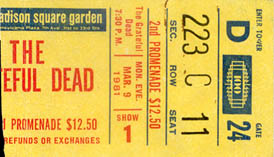 Jerry's vocals seem to run out of steam somewhat in the "Bird Song" that comes next. But the initial lackluster vocal section quickly gives way to some dazzling improv in the jam that follows with Garcia's guitar leading the way. This seems to infuse some life into the band and the song's dismount is much cleaner. Weir then re-assumes command and "New Minglewood Blues" closes out a rollicking opening stanza. Whether it was planned or not, the two guitarists wind up going tit-for-tat and alternate lead vocal duties between each song in the opening set.
But like any Dead show, the real "meat and potatoes" of the show are generally found in the second set. Tonight's show at the Garden would be no different. After some clearly audible teases while tuning, the band takes their sweet time before launching into a majestic set-opening "China Cat Sunflower." Garcia's meandering guitar solos play perfectly atop a bed of fresh bass rhythms supplied by Phil Lesh. The slowly building jam eventually makes its seamless transition into "I Know You Rider" where both Weir and Garcia throw a little extra mustard on their respective parts. The second "China Cat" > "Rider" sequence ever played at MSG is certainly one to behold.
Out of the ashes of this blistering start comes "Samson and Delilah" with drummers Bill Kreutzmann and Mickey Hart wasting no time at all before launching into the percussive into. The accompanying jam is played at a near-frenetic pace that seems to have carried right over from the start of the set. Things finally cool down for a bit with "Ship Of Fools" that Garcia ably leads the group through with no issues. Even a slower number like this one seems to have the Grateful Dead Garden crowd enraptured.
Things perk back up in a big way in the second set with the two heavy hitters that follow. "Estimated Prophet" sees a fired up Weir complemented beautifully by Mydland and the signature tone of his electric keys on this number. A typically patient and slow-building jam then ensues with Jerry soon beginning to take the helm musically. When this reaches its conclusion, he switches tones and starts the opening chords to "Uncle John's Band." The Garden is again enthralled by these proceedings, with many clapping along in time.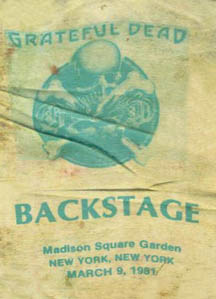 Towards the end of the second's set traditional "Drums" > "Space" section, some familiar chording can be heard. And before long, Lesh's bellowing bass roars once again, signaling the high-intensity start of "The Other One." The rest of the band follows Weir's lead on vocals with this passionate take on a classic Dead number.
After this powerful, but fairly short "Other One," begins to peter out, Garcia slows things down once more and the beginning of "Stella Blue" ensues. A large crowd that was in full rock mode, clapping along wildly just more than an hour ago, is now in near total silence listening to Jerry's deliberate and soulful vocals – a testament to the emotional power of a Grateful Dead Garden show.
It sounds like Jerry wants to revisit and possibly finish "Uncle John's Band" at the end of "Blue," but they instead shift towards a "Good Lovin'" closer, the second set's only cover song. The Garden crowd, once more, shows their love and appreciation afterwards before a "U.S. Blues" finishes things out, a proper call after so much blues-inspired songs and playing this evening. The Dead would go on to play one more show at MSG the following night. And thanks to the impeccable recording by Barry Glassberg below, we'll be able to enjoy this one forever.
Grateful Dead – Madison Square Garden – New York City, NY 3/9/81
Set 1: Feel Like A Stranger, Althea-> CC Rider, Ramble On Rose-> El Paso, Deep Elem Blues, Beat It On Down The Line, Bird Song, Minglewood Blues
Set 2: China Cat Sunflower-> I Know You Rider-> Samson & Delilah, Ship of Fools, Estimated Prophet-> Uncle John's Band-> Drums-> The Other One-> Stella Blue-> Good Lovin',
Encore: U.S. Blues