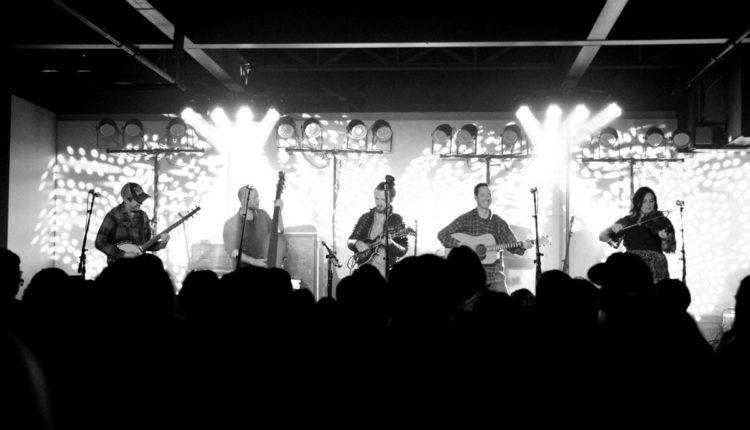 The first day of November, the day after Halloween, All Saints Day. Or, if you're seeing the Boulder Colorado road warriors, Yonder Mountain String Band maybe it's All 'Strings' Day. The night prior, the blocks around Anthology in the East End of Rochester were buzzing with costumed masses in various states of inebriation. On this night, the streets were clear and quiet. But inside the doors of Anthology, a brand new music venue, a hoedown was whipping up. 
Coming off their special Halloween gig, where they transformed into Yonder Mountain 'Punk' Band, littering the set list with fan-requested punk songs, the band took the stage looking a bit road weary. There was a small fear that maybe they were going to go through the motions at the start. Each member got a chance to warm up their fingers in the show opening cover of Danny Barnes' "Funtime." Ben Kaufman (bass) took vocal duties, while Jake Joliff (mandolin), Adam Aijala (guitar), Allie Kral (fiddle) and Dave Johnston (banjo) each worked a solo in between the songs' three verses. The band continued to warm themselves up with runs through songs spanning their entire career. With two new members in Joliff and Kral, and a new album Black Sheep released in June, the band surprisingly went deep into their catalog. In fact, they played more songs from their first album (3), then from their latest (only 2).
Even after the antics from the night prior, YMSB still had plenty of tricks and surprises left. The band broke through what had been a fairly traditional evening of bluegrass music when Johnston led them in a mid-set rendition of the Rolling Stone's "Torn and Frayed." A mellow freeform jam followed and all members of the band crowded together, finally starting to find their footing. Kral and Joliff built the jam up and then the walls came completely crumbling down as the band kicked into Ozzy Osbourne's "Crazy Train." The energy level was suddenly doubled and the crowd was matching the band's excitement, bellowing out the lyrics and pumping their fists.
The audience was feeling feisty after that ride and started yelling out requests. Kaufman remarked that sometimes they take requests, but don't let it become a habit. But this time they obliged, with a solid run through of their classic "40 Miles From Denver" featuring even more from newcomers Kral and Joliff. After a gorgeous "Ooh La La" highlighted by a magnificent guitar solo, the band was ready for more requests, opening it up to the floor to decide the next song. After a lot of calls from the crowd and a long on-stage conference, "Deep Pockets" was the choice.
The second set would build from the first's strong finish. A couple of cover-song sandwiches would highlight the set as the band felt more comfortable stretching out into full band improvisation. "Sideshow Blues" built from Kaufman's dark and spacey bass into a solid groove that eventually slid perfectly into "Jack-a-Roe" which made its way back to "Sideshow" the same way it came in. Kaufman then surprisingly swapped his upright for an electric bass and the band kicked into the second most out-of-character cover of the evening with their take on Dusty Springfield's "Son of a Preacher Man." Kral nailed the vocals and Joliff and Aijala found space for some tasty soloing making it a welcome departure.
A late set "Pass This Way" once again extended into a full band jam. Aijala and Joliff assumed the reins and moved the band into a tight segue into David Grisman's "EMD" which was really just an excuse to amp up the jam into a rollicking bluegrass breakdown. A more pronounced transition back to "Pass This Way" preceded a high energy "Southern Flavor" to close out the set.
Kaufman promised to end the show the same way it started, with some "fast bluegrass music," which in this case meant an amped up cover of "I Know You Rider." Who says you can't have fun the night after Halloween?
[embedyt] http://www.youtube.com/watch?v=UshmcVMPjvQ[/embedyt]
Set 1: Funtime, High On A Hilltop, I'm Not Saying, Annalee, Mental Breakdown, Long Time, Torn And Frayed, Crazy Train, 40 Miles From Denver, Ooh La La, Deep Pockets, Drawing A Melody
Set 2: Son Of A Gun, Straight Line, Sideshow Blues> Jack A Roe> Sideshow Blues, Son Of A Preacher Man, This Lonesome Heart, Amie, My Gal, Pass This Way> EMD> Pass This Way, Southern Flavor E: I Know You Rider
[FinalTilesGallery id='503′]