God knows we all love a good gimmick. Especially when it wildly exceeds our expectations and produces something that is profoundly eye-opening, or in this case, ear-opening!  Such is the case with Uncaged, an album of much-loved rock covers, rendered in a supremely deep and darkly delicious heavy metal style, by Milwaukee-based lap steel slasher, Sean Williamson, aka Velocihamster.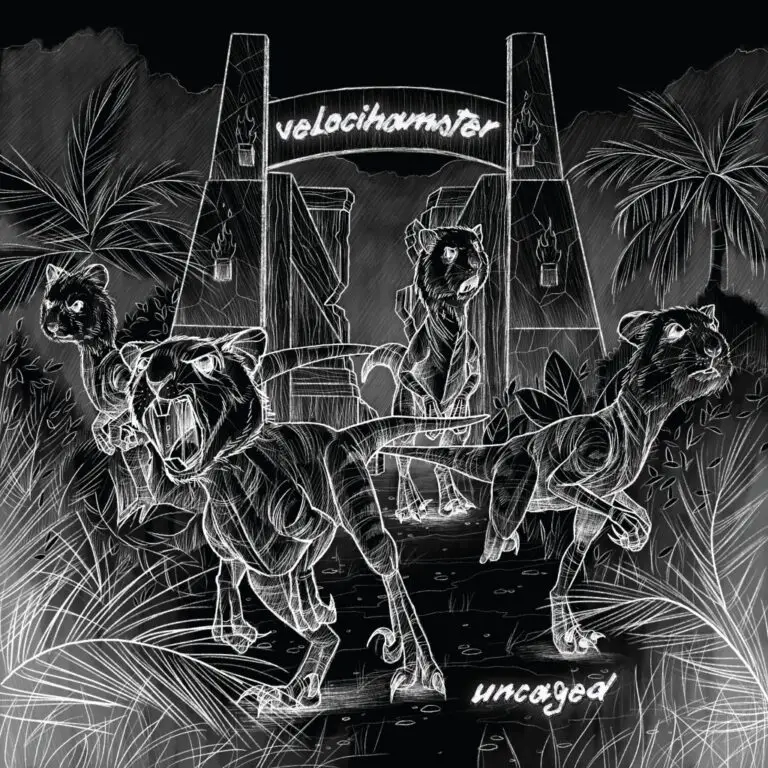 For those not in the know, the lap steel guitar, also known as Hawaiian guitar, is a steel stringed guitar, sans pedals and frets, that is played with a slide in an open tuning while laid across a player's lap. It was an outgrowth of Hawaii's popular slack-key guitar style, which was incredibly popular in the earliest decades of the record industry.  Like the traditional guitar, the lap steel would become electrified in the 1930s and eventually be employed in other musical styles – jazz, blues, gospel and especially country and Western swing.  While not as popular or utilized as its cousins the traditional pedal steel or dobro, the lap steel has been a standout instrument in the hands of artists of the past like Roy Smeck and modern era ones like L.A. session ace and Jackson Browne sideman David Lindley.
In Williamson's hands, the lap steel is another animal all together. It's a roaring, screaming beast, an instrument of melodic assault and chordal crunch that brings to the ears a virtuosity that is way more Van Halen (Sean taps his ass off here too) than Bob Willis and The Texas Playboys. 
Williamson has super-charged his lap steel with EMG humbucker-styled pickups, the kind favored by Judas Priest's K.K Dowling, Primus' Les Claypool, Metallica's James Hetfield and dozens of other metal mavens.  His sound is thick, lush, layered and fuzzy, with his instrument further empowered with everything from distortion and chorus pedals to wah wah and harmonizer.
My favorite tracks are the instrumentals. His mysterioso take on Led Zeppelin's Middle Eastern-y "In the Evening," his jam on Edgar Winter's "Frankenstein" and his uber dirty, nasty interpretation of the Sneaker Pimp's "6 Underground."  Williamson does the Beastie Boys proud with his wanky, wah wah driven cover of "Gratitude," one for which he also provides the appropriately juvenile sounding vox (that's a compliment, Sean!) 
Another highlight is the album opener, a super-caffeinated version of Motorhead's "Ace of Spades," with a guest vocal by Alice Cooper bassist and Beasto Blanco frontman Chuck Garric.   Williamson also admirably covers of classics like Santo & Johnny's "Sleepwalk" and AC/DC's "Thunderstruck."  And while a lot of this is shred-centric, Williamson never loses sight of the melodies that have made these songs so memorable.
Uncaged is an album that will delight metal and classic rock lovers by breathing new life into songs you have heard hundreds of times before.  But it does something even bigger. It uncages a sleep instrument in music's arsenal and lets it roar and thrive in new avenues and genres of sound.