As Election Day looms closer, musicians and cultural workers across the country are taking part in Lift Every Vote 2020. A daily sunset series meant to inspire voters, LEV 2020 began on October 3 in New York's Washington Square Park. Performers at the inaugural event included Carmen Rodgers, C. Anthony Bryant, and the Blacksmiths Band, with contributions from activist collective the Wide Awakes.
The idea for LEV 2020 came about after George Floyd's murder, when The Blacksmiths and Wide Awakes organized peaceful rallies in New York City. Jazz musician and double bassist Russell Hall led a second line marching band, combining music and joy with activism.
Music has a magical way of bringing people together. We want this thing to really take off. We hope artists will take this challenge seriously, not only driving voter registration and turnout with the beauty of music, art and performance, but also energizing communities in all fifty states.

Russell Hall
Musicians, poets, dancers, and other artists are encouraged to share their sunset performances with the hashtag #lifteveryvote. The movement now has 80 ambassadors, including record producer Arthur Baker, actor Gina Belafonte, and visual artist Hank Willis Thomas. Besides the Wide Awakes, LEV 2020 is also partnering with Headcount, Black Rock Coalition, and Rock the Vote.
The name "Lift Every Vote" is a play on "Lift Every Voice and Sing," the Black national anthem. Composed by brothers James Weldon Johnson and J. Rosamond Johnson, it was performed during week 1 of this year's NFL season for the first time in the league's 100-year history. Considering its message of hope, liberty, and progress, it's a natural choice for encouraging democracy.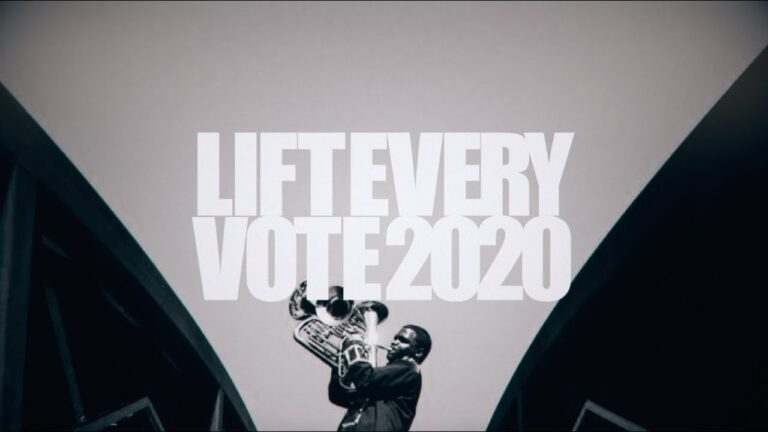 "With the pandemic crushing live entertainment and performing arts, one critical step in its resuscitation is using the power of music and art to ensure that we can get back on track in our society," said Simon Rentner, LEV 2020 co-founder. "We hope this challenge will motivate all creators — from any genre, medium, or creative sphere — to safely amplify the importance of a functioning democracy, not just through the echo chambers of our social media."
For more information, visit LEV 2020's website.