Over the last few years, Queen tribute band, Almost Queen has been on a roll. Selling out across the US, with 2020 starting out the same way. Then Covid-19. No shows, no touring, nothing. So, what's a band to do? Some started doing social media performances, while others put out new music to cover the void. Neither route quite fit the mold of Almost Queen.
Plan B? What was old is new again. Drive-ins. Yup, drive-ins. Dating back to the 1910's, hitting its popularity in the '50s' and '60's, drive-ins are experiencing a rebirth as the arena for live music. If you park it, they will play.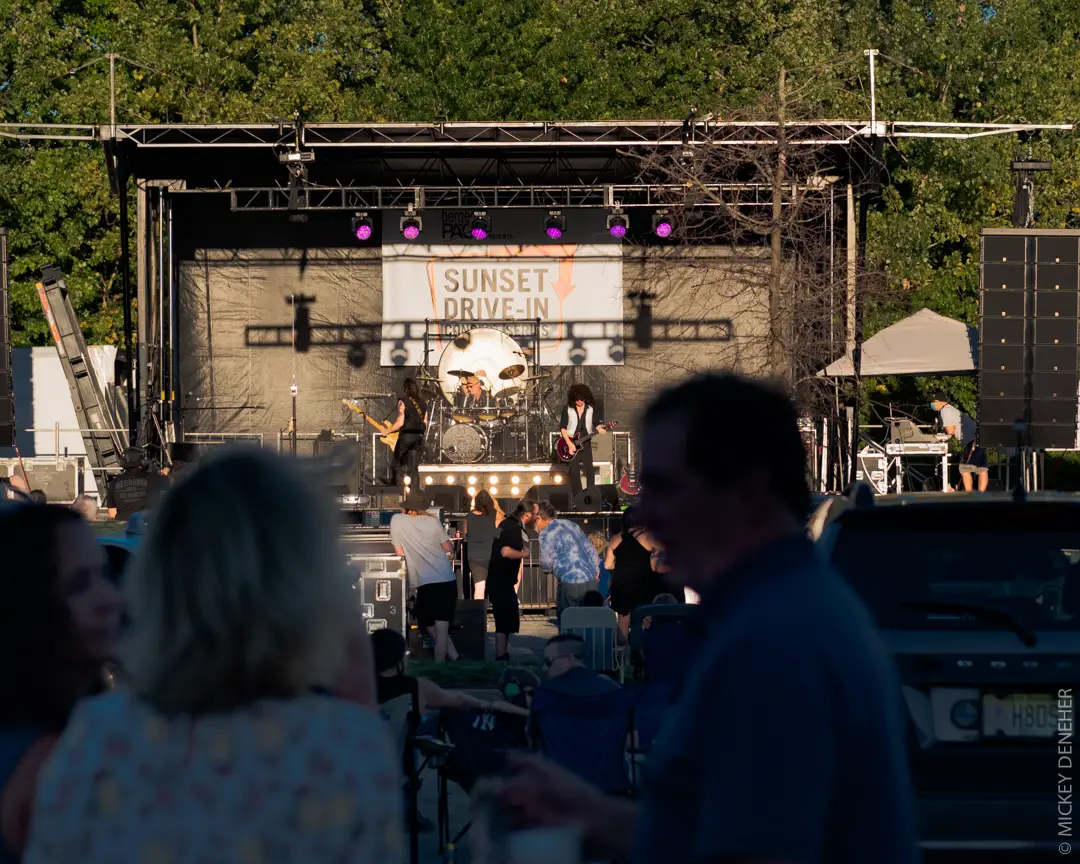 Now let's be clear here. This is not The Capitol Theatre, The Strand Center, or Brooklyn Bowl. This is a drive-in. When the lights go down, it's because the sun has set.  So how do you prepare to play in this new realm? "With great difficulty" Randy Gregg, bass player for Almost Queen, cites. "Very different from the way we would prepare normally. What used to be this, is now this. It's a whole different system of doing things now."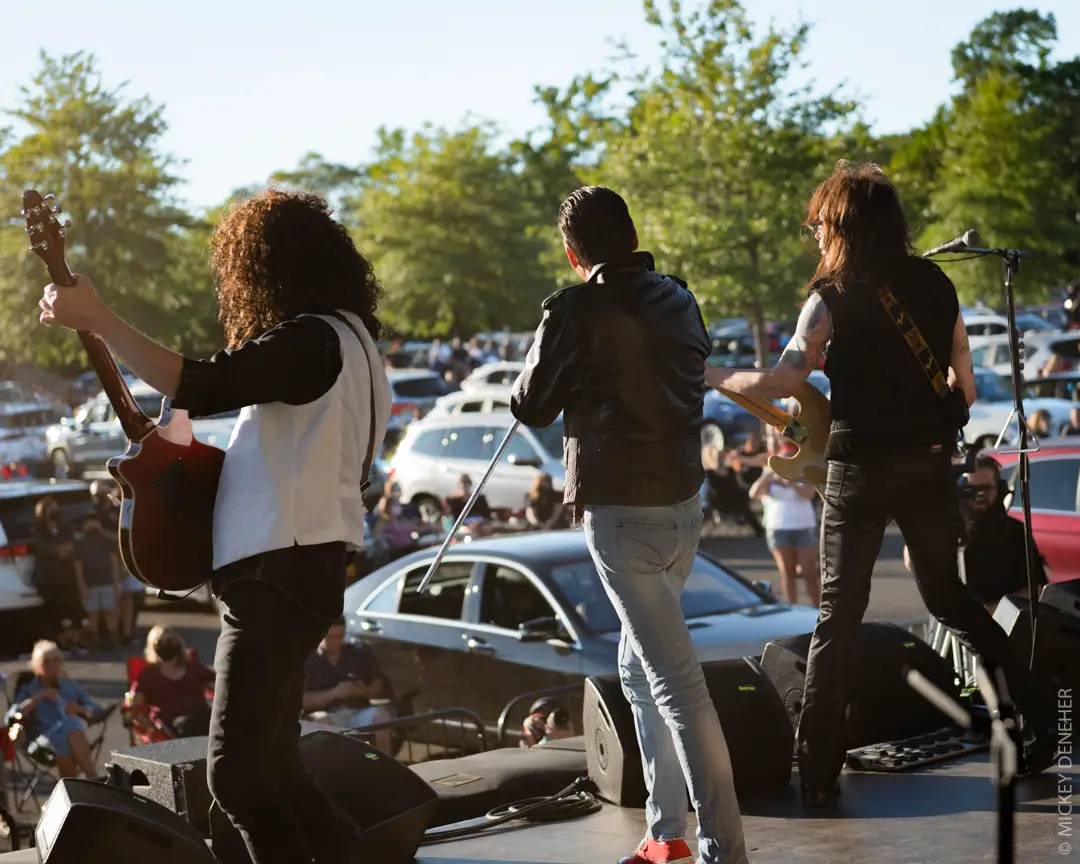 "Our job as a band, is to break down this barrier between the band and the crowd, and get that crowd on your side before 90 minutes is up. That's always the plan with any band. Now, that barrier is even thicker when they're in their cars. "
Almost Queen faced this challenge head on in June when a band, booked to perform at a drive-in Hempstead, Long Island show, had to be quarantined, having just been in Florida. Almost Queen was called on a Wednesday to play that Friday.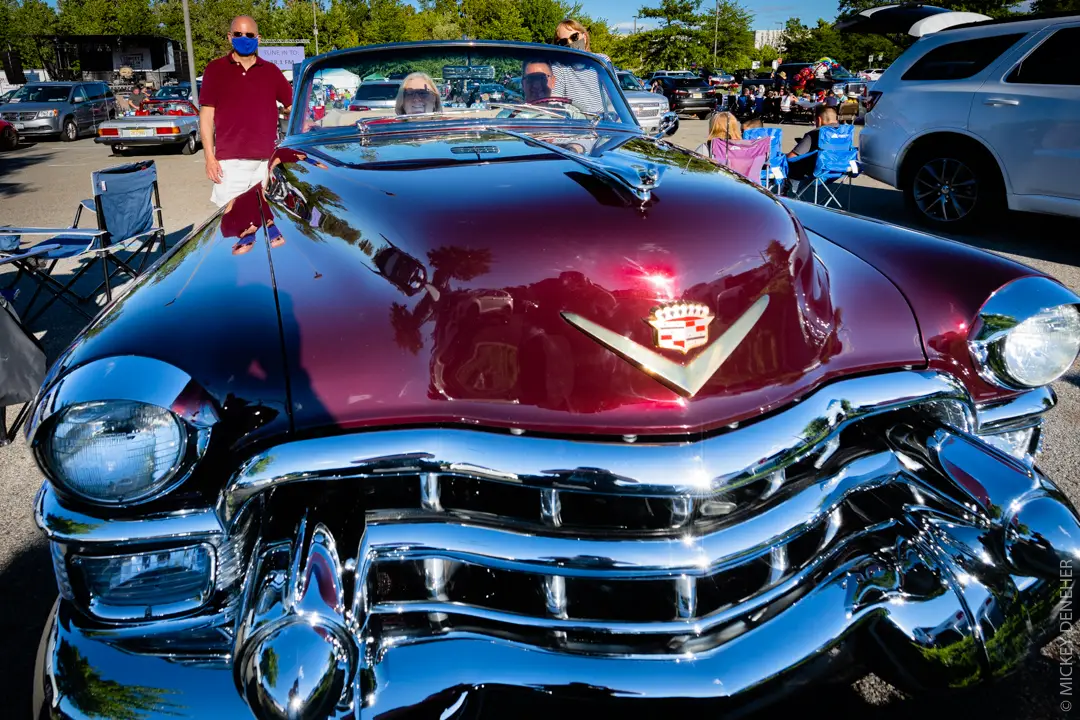 "What had us very nervous was jumping into a drive-in show with two days notice. With all the work it takes to put a show on, and now it's minimalized to hours to do things." Gregg recounts. Adding to that, because of Covid, the band hadn't played together in four months. The pressure was mounting.  After squeezing in a rehearsal the night before the show, "we came out with the gloves on, just raring to go," Randy quips.  "Four months will do that to you when you're cooped up. Apparently four months does that to everybody who was in the crowd that night. Even though everyone was in their cars, it seemed a bit explosive, if you will. People leaning on their horns, flick'n their lights, and you could hear people screaming and clapping from inside their cars. Definitely a different situation then it has been in the past. It is what it is. If there is a will, there is a way."
With their foray into parking lot rock a success, the band started thinking of ways to interact with their audience, while adhering to restrictions.  The solution? A "goodie bag," given to each car when they arrive. Think of it as somewhere between a program and swag. In the "bag" is a brochure that shares info and photos about the band, glow sticks, and assorted rock accouterments that can be used during the show.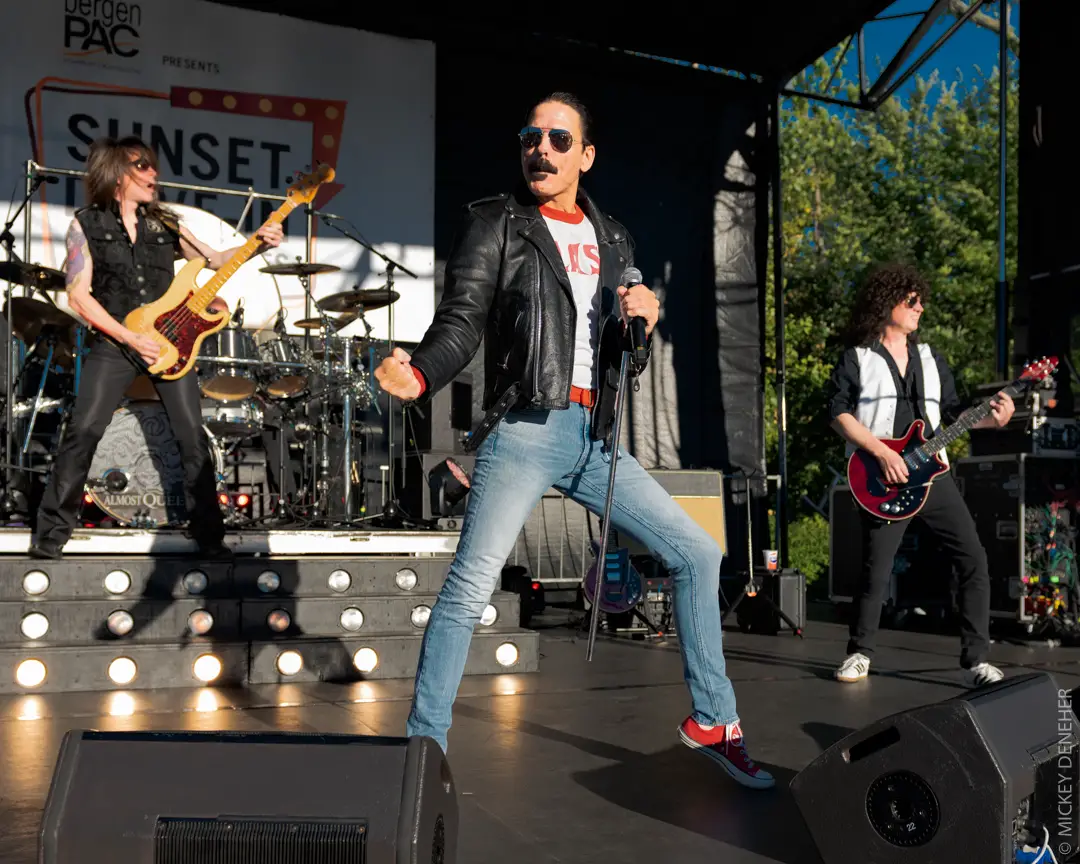 Our job as a band, is to break down this barrier between the band and the crowd…that barrier is even thicker when they're in their cars.

Randy Gregg. Almost Queen
NYS Music tagged along with the band as they played the Sunset Drive-In Concert Series presented by Bergen PAC, at Garden State Plaza, in Paramus N.J. The lot used was a in a remote location behind the mall and isolated enough that you didn't notice that Route 4 and 17 were beyond the perimeter.  When we pulled up to the gate, our temperatures were taken, goodie bag received, and we were guided to our parking spot by a member of the on-site logistics team. Tailgating was approved for the show with each car given an additional space next to it, specifically for those purposes. Pre-show festivities went from people pulling drinks from a cooler to spreads with tables and tablecloths, candelabras and complete dinnerware sets. The "house" was filled with cars as far as the eye could see and large video screens were set up on each side of the stage, to insure that all had a full view of the action. Those attending ran the gamut from early Queen fans (circa 1970), to those who won't learn to drive for a few years.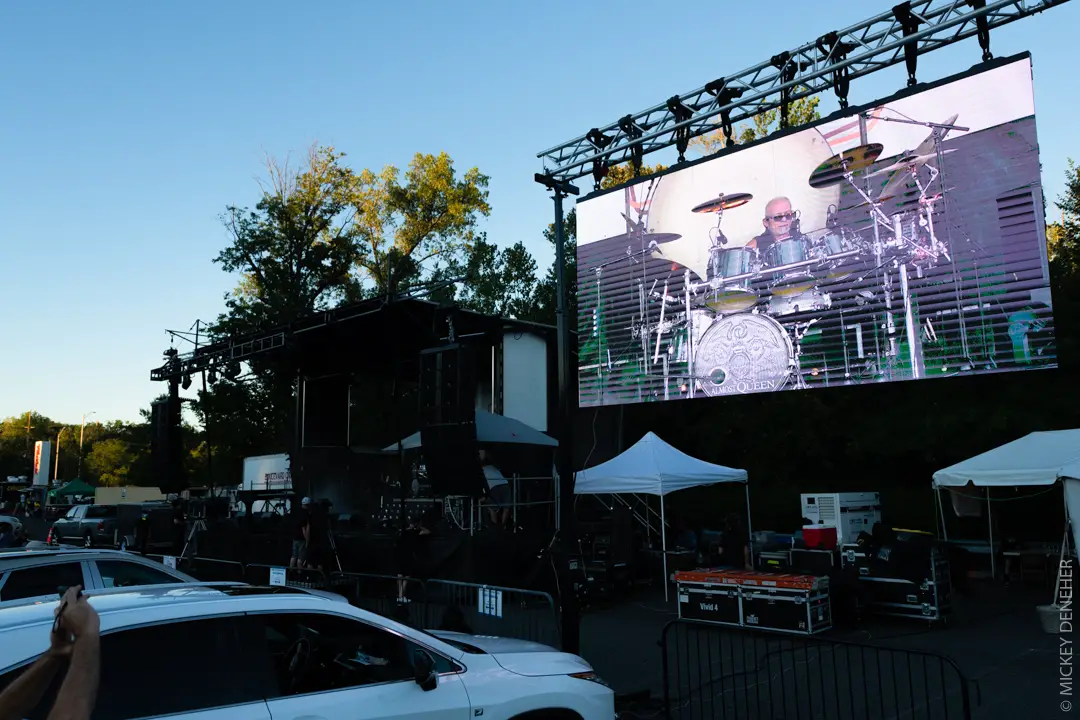 With the sun preparing to sink below the horizon, Almost Queen took to the stage, greeting the crowd with "We Will Rock You," letting all know what was to come. Joe Russo, who takes the role of Freddie Mercury, embodies the lead singer's spirit with his vitality and charisma. Not to take away from the rest of this rock tested band: John Cappadona on drums, Steve Leonard on guitar, and Randy Greggs on bass; who amplified their rock personas, performing as if they are in a 100,000-seat stadium and not a drive in.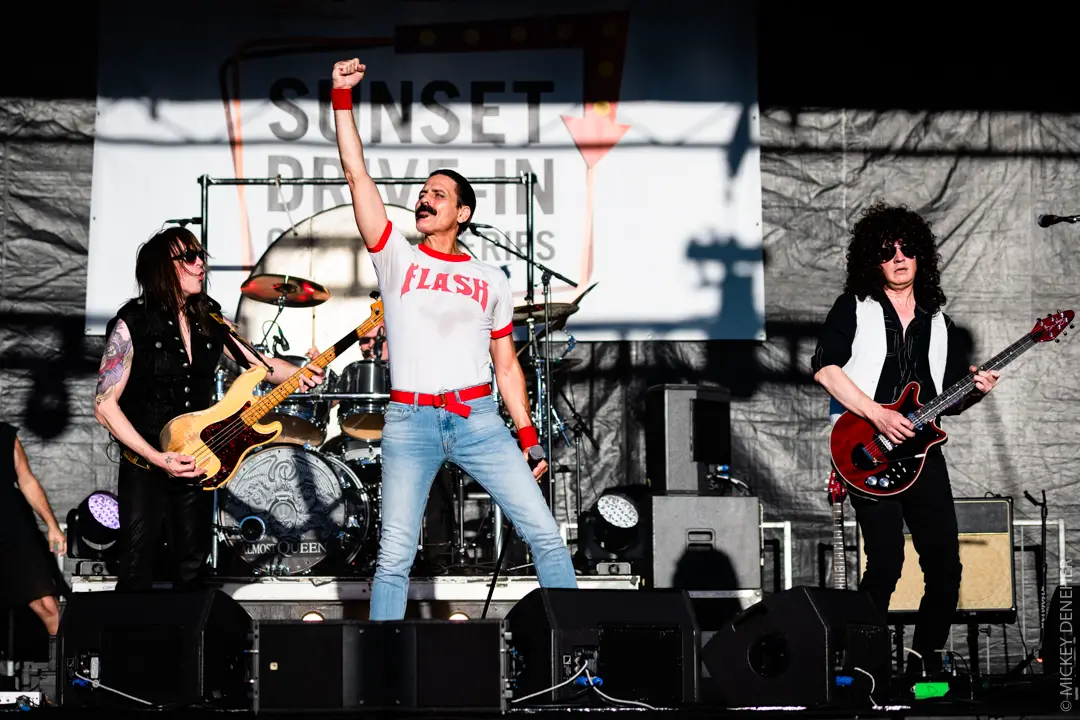 As the night progressed, more and more cars could be heard honking their horns in approval of the show. Midway through the night, the band dedicating the apropos "I'm in Love With My Car," to all in attendance as a thank you for attending. Even though this was a wide-open, socially distanced drive-in show, singing was encouraged with Russo engaging the audience in a song round establishing a sense of solidarity between band and crowd.
Pulling songs from the vast catalog of Queen, the night's set included, "Killer Queen," "Radio Ga Ga," and "Another One Bites The Dust," with each song building on where the last one left off.  The show closed with a multi-song encore, including "Bohemian Rhapsody" and "We are the Champions."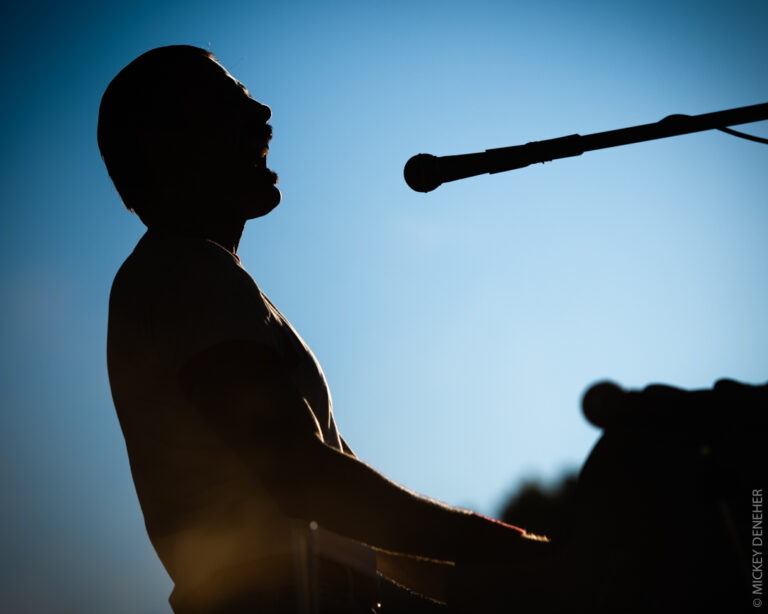 It takes the right act to be able to connect with an audience that has restrictions placed on them. Almost Queen proved worthy of the challenge by piercing the veil of disconnect and pulling everyone, whether in a car, back of a truck, or standing in their socially designated spot, into being part of the band. 
Almost Queen will be performing this fall at various Covid approved shows in the northeast including Saturday, September 12th at the Northeast Delta Dental Stadium in Manchester, NH. Check there website for future shows. Whether you're a Queen fan or not, you own it to yourself to see Almost Queen. A band that goes beyond being just a tribute, to what a rock 'n roll band should be.