In February of 1968, The Beatles pulled the ultimate disappearing act. The world's most culture-bending and publicized foursome went radio silent, forsaking the comforts of Swingin' London for a humble ashram in remote Northern India to study transcendental meditation with Maharishi Mahesh Yogi. 
For two months, the justifiably world-weary fabs were alone but very together, with just their romantic partners, trusted roadie Mal, and a few heavy friends like Beach Boy Mike Love, the singer Donovan, actress Mia Farrow and her soon-to-be immortalized sister, Prudence. And, oh yes, one very lucky 22-year-old Canadian, Paul Saltzman, who unknowingly stumbled into the world's most exclusive mystical gathering, all in hopes of learning meditation as a way to mend his recently broken heart.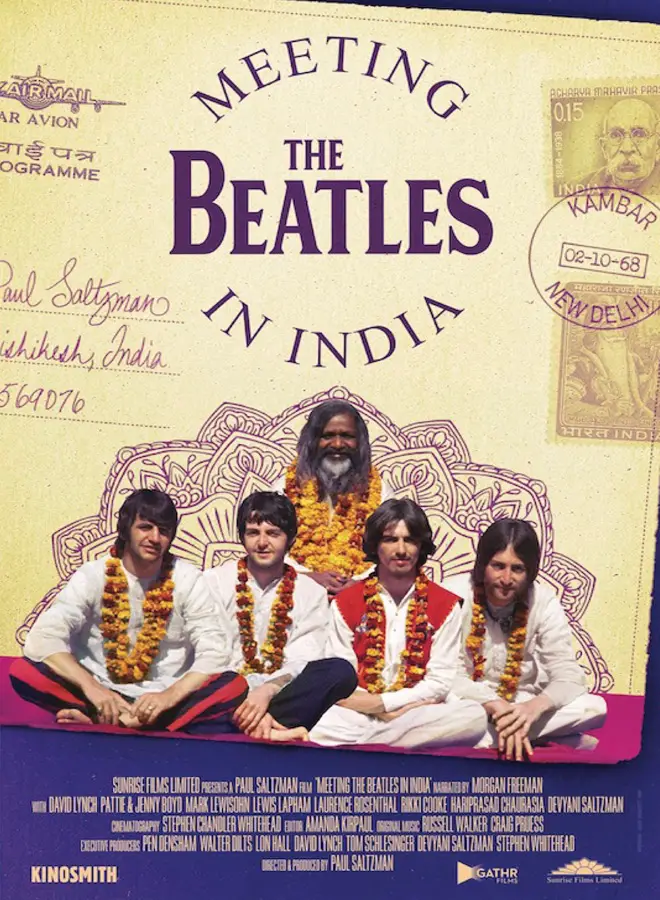 Now an Emmy Award-winning filmmaker with over 300 credits, Saltzman spent 10 days in close company with the Beatles at Rishikesh. The lush color photographs he casually snapped of them in blissful repose, often cradling their precious Martin guitars, would become vital artifacts of what is arguably their most creative period. It was one where they wrote up to 48 songs, classics like "Blackbird," "Mother Nature's Son," "Goodnight," "Julia," "Mean Mr. Mustard," "Revolution" and "Junk" that would appear not only on The White Album, but Abbey Road and their solo offerings.
Saltzman's new documentary, Meeting the Beatles in India, is much more than gossip about what happened behind the ashram's exclusive gates.  It is a profound and personal study, through the prism of the Beatles, of how the enlightenment and peace produced by meditation can impact creativity, as well as our physical and emotional well-being.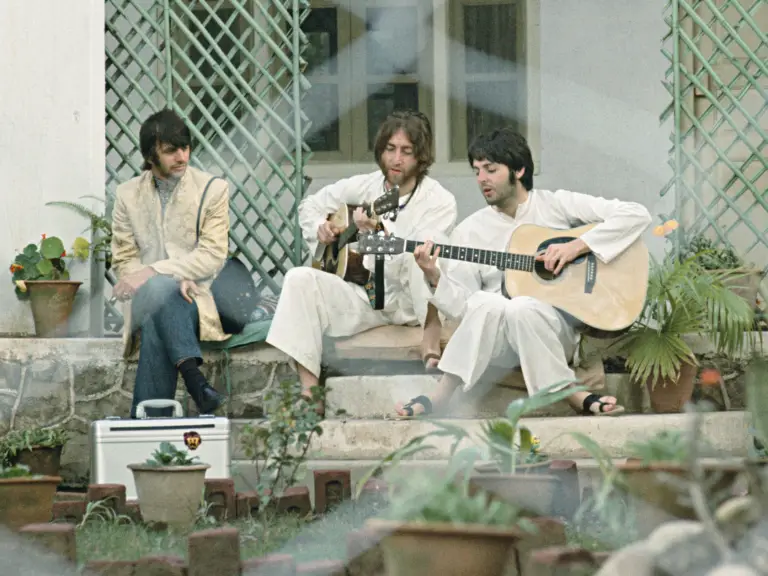 Narrated by Morgan Freeman, Meeting the Beatles in India expertly weaves together a mountain of rarely seen archival film and some never-before-seen in film photos from Saltzman's collection, along with interviews from a bevy of notables like Harrison's ex-wife Pattie Boyd and her sister Jenny and long-time meditation champion and film director David Lynch.  Together they captivatingly tell the story of the Beatles time in India, the impact it had on their creativity and the Western World's lasting embrace of Maharishi's TM.  Beatles history buffs will, of course, delight in the new factoids unearthed.  These include how the band's falling out with the Maharishi came about (we're looking at you, Magic Alex!). And, in a face-to-face meeting in Hawaii with the real-life Bungalow Bill, we hear how his hunting trip with his mom inspired the tune, and how the tune then inspired him to put down a gun and pick up a camera to capture wildlife more peaceably. 
The film also takes Saltzman back to India, with legendary Beatles historian Mark Lewisohn in tow and suitably agog. Here, they visit the former site of EMI Studios in Bombay where George recorded The Inner Light, with master musicians like flautist Hariprasad Chaurasia who is interviewed in the documentary and, of course, to the ruins of the ashram and the bank of the holy Ganges River to trace the Beatles' steps.
Saltzman's chance meeting with the Beatles came about when he headed to the ashram to learn meditation in an effort to mend a heart crushed by a "Dear John" letter sent from his girlfriend in Canada.  On arrival in Rishikesh, he was turned away, being told that the ashram was closed to host the Beatles, who he was unawares were even in India!  A kindly staffer let him stay in a tent outside the gates, and after eight days, he was allowed to enter and take a one-on-one session to learn TM.  It took less than five minutes, and his first 30-minute meditation was 'a miracle' that healed the agony of his heartbreak. 
In a blissed-out state following the session, Saltzman was walking through the ashman and saw the Beatles and their party sitting at table.  When he asked to join them, the always leader-like John warmly welcomed him with an, "Of course, mate!"  
Over the course of the next week, Saltzman hung out with them often, and even had private discussions, such as the one where John, addressing the young man's recent heartbreak, told him: "The really great thing about love is that you always get another chance."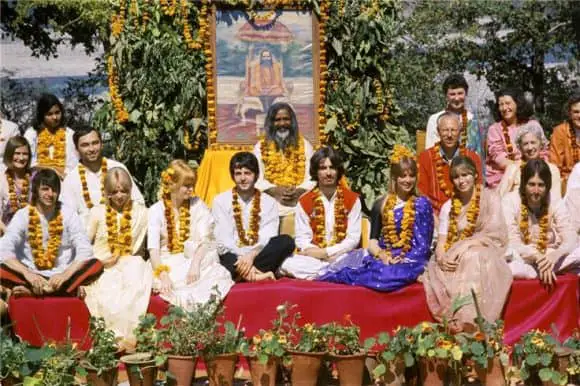 In the film, Saltzman revisits the spots where Paul and John first sang Dear Prudence to Prudence Farrow, the serious-minded sister of Mia Farrow, and the beginnings of the unfinished song that would become Ob-La-Di, Ob-La-Da, with the partial set of scribbled lyrics set beneath McCartney's shoe.  In the convivial atmosphere, Saltzman used his low-end Pentax camera to casually capture some of the most intimate and relaxed photographic portraits ever taken of John, Paul, George and Ringo. These include the famous "Class Photo" of the group, their friends and 40 or so others who are at the ashman learning to become TM instructors.
Meeting the Beatles in India also takes viewers to The Beatles Story Museum in Liverpool.  Here, Saltzman reunites with George Harrison's ex-wife Pattie Boyd and her sister Jenny, who were both in Rishikesh with the Beatles, as they revisit their memories at an exhibit of Saltzman's photos. This great documentary broadens the focus in an interview with famed filmmaker David Lynch, who also served as an Executive Producer of the film. In it, he discusses the impact TM has had on his own life and creative output and his foundation's work to expose children around the world to the mental, physical and creative benefits of meditation.
When young Saltzman returned to Canada, his experiences with meditation and the Beatles were chronicled in a single story in a leading magazine, with a select few of his images.  The pictures were then put away and forgotten for 32 years until his daughter, Devyani, suggested he do something with them. Several gallery shows and books followed a few years ago, setting the stage for what Saltzman's believes is the most far-reaching and meaningful document of the experience, this new film.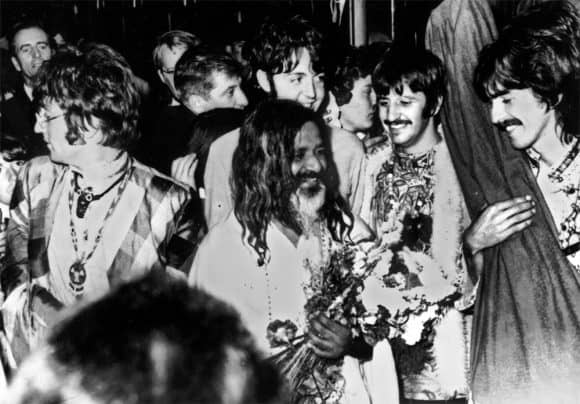 With COVID-19 decimating traditional distribution means for film, the producers of Meeting the Beatles in India are plying an exciting new avenue for its premiere.
Gathr Films will host a World Event Cinema Premiere on Wednesday, September 9 at 7 PM (local times all around in the world) on its Gathr At Home™ platform.  The film will be followed by a live Q&A with the filmmaker.
For another in-depth look at Saltzman and his experiences with the Beatles, check out episode 223 of the original all-talk Beatles' podcast, Fab4Free4All, hosted by three New Yorkers, Tony Traguardo, Mitch Axelrod and Rob Leonard.  Also recommended is Jenny Boyd's 2013 book, It's Not Only Rock 'n' Roll – Iconic Musicians Reveal the Source of their Creativity.  In it, Boyd, now a psychologist, studies the sources of creativity of famous musicians in her orbit including Eric Clapton, George Harrison, Ravi Shankar, Joni Mitchell, Keith Richards, her former husband, Mick Fleetwood, and dozens more.