Abilene Bar and Lounge has been a fixture in Rochester's live music scene seemingly forever, but in reality, it's been there just ten years. Ten years sitting on a quiet corner of Liberty Pole Way, in the shadow of the Harro East Ballroom across the street. Ten years bringing in quality live music nearly every night of the week. They showcase a healthy mix of both national and local talent, exploring every angle of American Roots music, occasionally venturing off into other genres. Owner Danny Deutsch has made a habit of bringing in relatively unknown talent and cultivating them for the sometimes finicky Rochester palate. He's happy to book the same band and watch them grow locally and nationally until they're too big for his intimate establishment. Ten years and it was time to celebrate, so for once Abilene would be casting the shadow on the Harro East. And appropriately, one of the talents that Deutsch has brought to town multiple times over the years and has since ridden a slow rising wave of success, JD McPherson, would be headlining the celebration.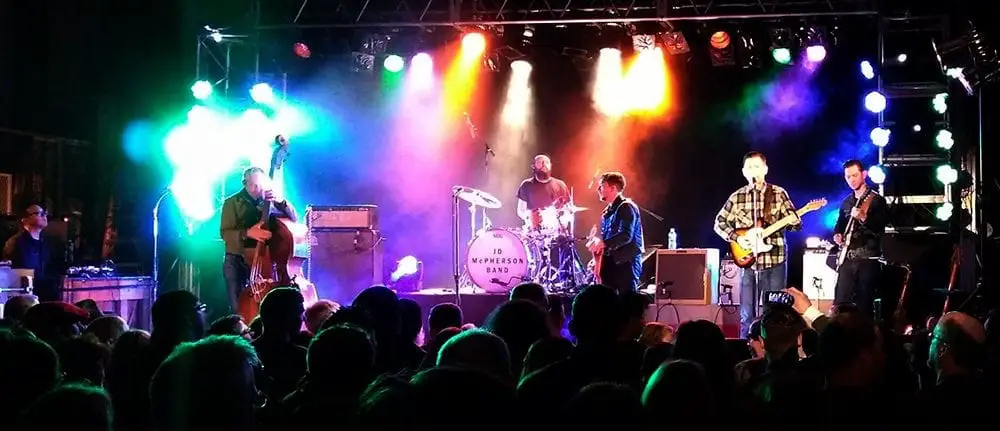 McPherson has outgrown Abilene and then some, nearly selling out the Harro East on a Friday night jam-packed with live music options in and around town. It was the place to be and to be seen, everyone was in high spirits and ready to celebrate. When opener Woody Pines, another Abilene alum, broke from his usual dark-themed songs to switch it up with a song about love, he was surprised not to hear at least some of the usual boos ring out. But the crowd was in a loving, happy and ready to party mood. Friday the 13th be damned! Pines led his trio of upright bass and clarinet/sax on the steel guitar and harmonica, through songs centered around classic New Orleans swing and southern roots music they like to call "hillbilly boogie."
Next up was Jake La Botz, who sat alone center stage with an acoustic guitar and microphone. That's all he needed to captivate the filling hall. His low voice contained a ton of character, bringing depth to songs from his latest album, Sunnyside, like "The Hotel (Fix Me Now)," "Damsel in Distress" and a bit of humor with "Inflatable Duck." The album was produced by JD McPherson bassist Jimmy Sutton and he premiered it right here in Rochester last year with a performance at Record Archive.
Speaking of Record Archive, co-owner Alayna Alderman took the stage next to bring out cake and lead the crowd in "Happy Birthday," but not just for Abilene, it was also Webster-born drummer Jason Smay's birthday and the day before was McPherson's birthday as well.
Headliner JD McPherson finished off the night in style. The rock was big and the lights were bright. McPherson and band flew through blasts of their unique blend of honky-tonk, rockabilly and classic rock sounds. The beat was swinging and so was the crowd. It was comfortably crowded, allowing enough space for couples to dance if they so desired. Nary a head in the house wasn't bobbing along. In an hour set, they mixed music from all three albums, making for a show that explored their full history with Rochester. Songs frequently drifted into each other with interstitial mellow rock grooves. There wasn't a whole lot of stopping or silence at this celebration. They topped it all off with a near 30-minute encore that started with La Botz coming back out to lead them through Hank Williams' "My Bucket's Got a Hole In It." McPherson thanked the crowd for making Rochester like a second home for them before closing out the night with "Northside Gal."
The party continued however, as across the street, back in the shadows, Abilene hosted local swing trio Bobby Henrie and the Goners back in their own joint, and the music and jubilation continued on into the wee hours.
Setlist: Bossy, Fire Bug, It Shook Me Up, Desperate Love, Crying's Just a Thing That You Do, Under the Spell of City Lights, Head Over Heels, On the Lips, Hunting For Sugar, You Must Have Met Little Caroline?, Mother of Lies, Style (Is a Losing Game), Lucky Penny, Let the Good Times Roll
E: My Bucket's Got a Hole In It*, Bloodhound Rock, Wolf Teeth, Northside Gal
*Hank Williams Sr. Cover, with Jake La Botz on guitar and vocals