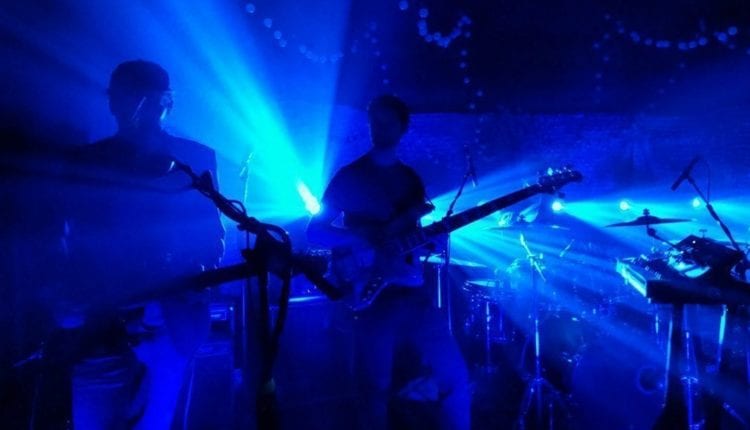 The warnings were dire. The impending ice storm was set to shut down the city of Rochester. Many events were cancelled. But Aqueous was halfway through a two-nighter at their second home, Flour City Station. Both nights were sold out, and judging by the crowd Saturday night, few stayed home because of the weather.
If you wanted to see a shining sun in Rochester, this was the place. Aqueous began the weekend ironically with "Staring into the Sun," and held it open through to the run's final notes, closing the song out early Sunday morning. In between were the band's first two full two-set shows of 2018.
Saturday night began a bit after 10pm, the band acclimating to the evening with bopping slide-guitar led groove. Guitarist Mike Gantzer primed the pump with quickly increasing intensity. The band and crowd together reached a frothing energy and were knee deep in opener "Don't Do It" before long. The song mixes hard-edge rocking with blues and funk grooves, but of course dissolved into something completely different. They moved through multiple movements while LED bulbs strung above flashed in synchronicity. Gantzer's guitar danced with Dave Loss's keys, then bassist Evan McPhaden and drummer Rob Houk took the reins, before they finally all came together for a four-headed bit of improv that pushed the envelope of the band's full power. 20 minutes into the show, only one song played, but most of the band's muscle had been flexed. Maybe this article was right, band's only need to play for 20 minutes? Nah!
For Aqueous, what is played isn't quite as important as how it's played. The journey outweighs the destination. So it mattered less that they busted out Steely-Dan-esque groover "Mice" for the first time in well over 200 shows, and more how the ensuing exploration, led by a ferocious battle of guitar and drums, wound around to beautiful melodic calm.
The musical quests were often directed by Gantzer calling commands into his mates' earpieces. Though musical cues still conducted the chaos. Amid a spacey reggae groove in "Underlyer," Houk tempted the beast with a subtly energizing beat. The beast bit, and the jam jumped into a new realm. Later during a long steady "wah" groove in "Mosquito Valley Part 1," Loss's spooky Moog swirls lit a fuse that eventually caught fire, setting off an explosive jam.
The explorations were long, at times meandering, but they always find pockets of brilliance. Perhaps none more brilliant than deep into "Skyway," an electro-groove fit for a Nintendo soundtrack dove into a spooky underworld of dark funk and building tension. Gantzer's guitar flooded the room with intricate sound waves that reached peaks upon peaks and just when it felt it might collapse, the raging crowd egged it on even higher. Before the night was through Metallica, Tool, Randy Newman and Pink Floyd entered into the folds of jams while a full on cover of The Who's "Pinball Wizard" was debuted. It all finished with the aforementioned close-out of "Staring into the Sun." But when the crowd departed, they were only staring at their cars caked in ice.
Setlist
I: Don't Do It > Mice > Don't Do It, Underlyer > Mosquito Valley Pt. 1 > Mosquito Valley Pt. 2
II: They're Calling for Ya > Skyway, Uncle Phil's Parachute, Second Sight > Pinball Wizard > Second Sight
E: Kitty Chaser (Explosions) > Staring into the Sun