For those who love modern classic rock, Midnight North returns to New York this week, bringing with them songs off their latest release Under the Lights. The band has found followings on the West and East coast, and perform on Tuesday at The Hollow in Albany, Friday at Levon Helm Studios in Woodstock and Saturday at Brooklyn Comes Alive. Connor O'Sullivan, who plays bass and mandolin in Midnight North spoke with NYS Music about their latest release, their East coast fanbase and how things have changed in the past year for the group.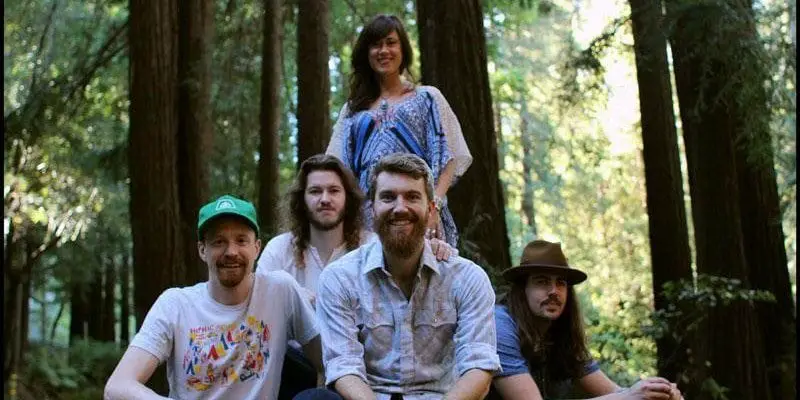 Pete Mason: What can fans in the Northeast who are venturing out to see you the first time expect in a live setting?
Connor O'Sullivan: For fans who've never seen us, it's maybe rock n roll with a bit of twang, with a little jam thrown in there. It's not a classic rock show, but it's maybe a classic rock kind of sound with what we're trying to do – write songs that will become classics, with a few covers sprinkled in here or there from the 60s or 70s – Dead or Dylan or CSNY – but it's gonna be a rock show focused on classic songs and a lot of singing. We have 3 very powerful harmony singers in the band and every once in a while I'll throw my voice in as a fourth. We try to keep it balanced between vocals, harmony, and soloing. I think the focus is on new classic rock songs and that's what you're going to hear.
We've been able to grow our fanbase in the Northeast after playing nationally for the past couple years, but the New York area is sort of a second home to us. We have super fans who travel 2-3 hours to see us and we are able to borrow gear from other bands. Sometimes the shows on the East coast are even better than the West coast and we feel that love. It's a grind – you gotta stick to it and keep your head up and slowly build it up and that's the philosophy behind us.
PM: Under the Lights is a fantastic album about the road, touring, traveling and the life of a band. How have the experiences since the album's release compared to those that were reflected on the album?
CO: I think it's similar – we've taken a very small step up. Those songs were written last summer. Since then, the shows are slightly bigger, and sometimes we still worry that we might not have a crowd. We know that we're still a band building it up and growing, but because we've put in the work, the experience on the road is a bit easier and we're more used to it. We are only a year and a half removed from the album, but we're a little bit more experienced.
PM: At Brooklyn Comes Alive, you'll perform a CSNY tribute. What is the influence of CSNY on your sound, and what will the set will be like?
CO: The set is going to be awesome. We started the idea at Terrapin Crossroads in the early days of the venue, even before there was a stage – there was no stage in the bar, no music every night, and we were one of the first bands to play there every night, so we would play there once or twice a week. We did the entire Grievous Angel album by Gram Parsons. Grahame (Lesh) would do the Gram parts and Elliott (Peck) did the Emmylou Harris parts, and there are few albums like that with male and female parts. It was great and we got a great response, right at the beginning of the band.
CSNY came about when we decided to spitball some new cover ideas, and we wanted a folk rock opus like "Suite Judy Blue Eyes." There are different feels, difficult harmonies, tempo changes, and it took a couple months to learn it and people were losing their shit the first time we played it. That was one of the big covers we did for a number of years. From there, we left Gram Parsons at Terrapin and we ended up learning more than a whole set of CSNY songs and we did a show at Slim's in San Francisco a year ago that was all CSNY. Phil Lesh played with us at Slim's along with a bunch of other guests – Jay Lane (Primus, Furthur) and Lebo (Dan Lebowitz, ALO) on guitar. Brooklyn Comes Alive asked us to do the same. We also had a Terrapin Crossroads show with Mike and Phil on bass to start second set, just bass solo, and I sat back and played mandolin along with Grahame's brother Brian and Rob James – this was sort of the original Terrapin musicians lineup playing all together.
PM: Has there been a moment where the band, or you individually have gone 'Wow, this is… this is what we've been working for,' throughout your career?
CO: There's definitely been some shows on the East coast – The Acoustic in Bridgeport, CT – it was close to a sell out show and it really felt good – a place we hadn't played before, where the room was full, it was our show only, and everyone was there to see us. It felt like it was starting to work.
Same feeling came when we toured with Twiddle and started opening for them. They draw a ton of people across the country, and they packed the Westcott Theater. We had the thought "This is a good band, this is gonna work," and going on tour with them paid off and playing with them helped a lot, on top of being some of the nicest people in the world.
PM: What role does improvisation have in the live performance?
CO: Well, it depends on what kind of live performance. I grew up playing a lot of classical music and there is no improv there. Rock n roll, you get on stage and you're essentially winging it. Your equipment might break, an amp might go down, you're putting yourself out there, standing on stage in a rock club where people are usually drunk and things are supposed to be a little wild, and if it's not, you're not doing it right, and getting the real essences of rock n roll. It plays a big part in rock n roll, even if you're not a jamband, you're still up there with an anything goes attitude and I'd call that improvisation.
Tickets for Tuesday's show at The Hollow are on sale now. Space Carnival takes the stage at 9pm, with Midnight North taking the stage shortly after.