YES is best known for their influence on rock history and classic songs including "Roundabout," "I've Seen All Good People," "Owner of a Lonely Heart," and countless others. On their recent YESTIVAL tour, YES featured a setlist of greatest hits from the band's studio work, performing at least one song from each of the first 10 albums, starting with YES (1969) through Drama (1980).  Matt Richards, keyboardist for Formula 5 spoke with YES keyboardist Geoff Downes about his gear, YES' best compositions and the rock legacy of YES as they near the half century mark.

Matt Richards: How has the YESTIVAL tour stuck out to you compared to your previous tours with YES?
Geoff Downes: It has been very different so far because we have been doing the chronological tracks from each of the first ten albums. That has seemed to be something the fans really like because they get to hear tracks that are not in the normal YES repertoire and haven't been played for quite some years. I think being on the bill with Todd Rundgren and Carl Palmer's ELP Legacy has been a nice mixture to be able to have a whole feast of music rather than just the standard YES classics. In the past we have been doing albums in their entirety and it has been nice to move away from that and look at a much more historical view of the band's catalogue.
MR: How is touring in The United States different from touring in The UK?
GD: A lot of the venues in The US are better designed for concerts in the modern age. The backstage areas and load-in areas are much more accessible. The British venues are not designed for big stage trucks to come through and some of the theaters in the UK are very old. There is a bit of a logistical problem in that regard but audience-wise, we've got a following in the UK as well as the United States that is very receptive to the music of YES
MR: Is there one song you find the most representative of the music of YES?
GD: I think there are certainly a few but I find "And You And I" from the Close To The Edge album is the most representative of YES's music in terms of the changes in the sections, the dynamics, and the great uplifting finale. In a lot of ways, dynamics is what YES's music is all about. It has the same application that classical music does where the orchestra is not going full torque all the way and it features certain instruments at certain times. That's what makes YES's music very interesting and appeal to a wide range of generations. It is always uplifting to play that one live and I look forward to it coming up in the setlist because it is such a great piece of music.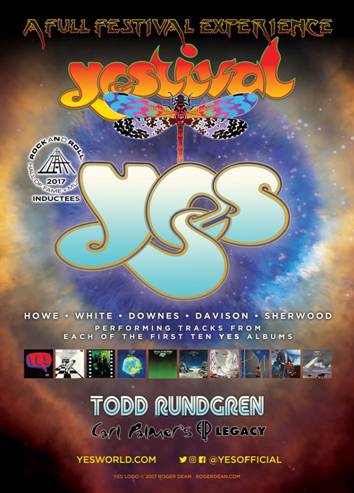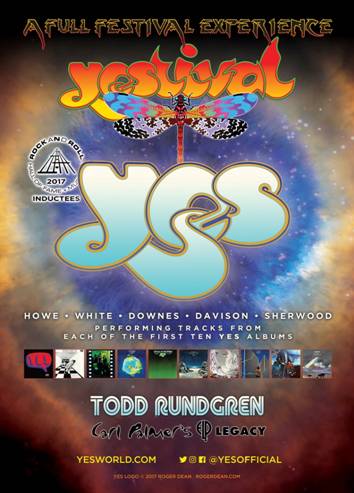 MR: As a keyboardist do you find there is any particular keyboard that is the most representative of YES' sound?
GD: The music has been very focused since the early days with Tony Kay on the acoustic piano and Hammond organ rolls. That was extended more by Rick Wakeman when he started to introduce Melotrons and the Minimoog. I think those elements have always been key to YES' music and progressive rock music in general. When I joined the band in 1980 that is when the real explosion of synths and digital keyboards was just beginning. I think I injected that into the Drama album. I tried to take it a step further and bring the technology in line with what was happening in music in general.
MR: Is there any keyboard that you are currently touring with that is your favorite to use in your performance?
GD: I use Mac laptops for recreating a lot of those old sounds because the software now is so sophisticated that we are capable of doing that. I have always been very interested in not only the musical side, but the technological side of keyboard playing. It is sort of a dream to be able to create these wonderful sounds with virtual synths.
MR: What program do you find is best to recreate the classic synth sounds?
GD: I use Apple's Mainstage which is a development from Logic. Logic Pro X is the main program and it is great because you can create all these virtual layers of keyboards. It is a very powerful piece of design.
MR: With such an emphasis on composition in YES' music, what role does improvisation have in the live performance?
GD: Generally, we try to remain fairly close to the original recording in terms of core parts of the pieces because that's what people mostly have as their highlights of our music. There are occasions where solos have more flexibility and some of the arrangements will be chopped around while still recreating the songs accordingly.
MR: What role does YES play in the world of music?
GD: It is a very unique volume of music in the history of rock music. There is a very positive and uplifting experience that drew many listeners to the band from the beginning. The name of the band and the positivity emanating from that is carried on into the music. I think people find that not only something nice to listen to but also a spiritual experience. I think YES is quite unique in that respect that they can actually convey that feeling to people, making them feel good and want to say "Yes!" as they listen.