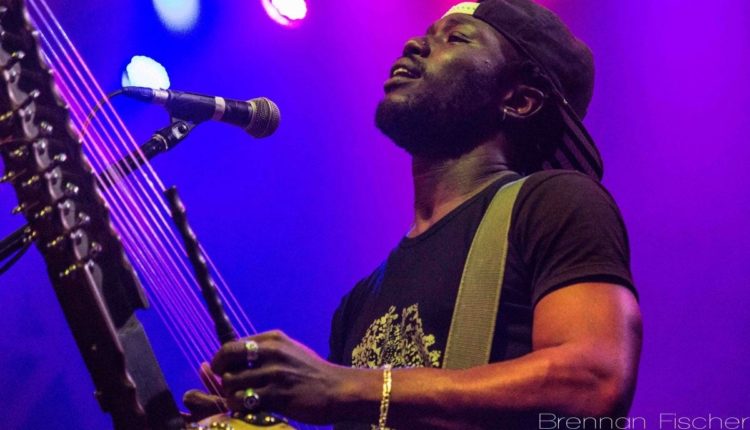 A European tour can do a lot for an artist or group. It can bring a performer to a new level of recognition and exposure. It can allow for a performer to invite a partner in crime to open for them and effectively "bring/put them up." It can allow a performer to meet artists from all over the globe and form new collaborations and projects. It can also crystallize the love of one's hometown where it all started, and bring an artist back for a nostalgic homecoming. For Joe Driscoll, Syracuse native and one-man "band" hero, touring Europe did just that.


Besides providing a fresh fan-base, touring Europe allowed Joe Driscoll to bring along fellow Syracuse-based hip-hop heads, and inexorable party-starters, Sophistafunk. This "Euro-tripping" also facilitated Joe's acquaintance and partnership with an absurdly gifted musician by the name of Sekou Kouyate. Joe and Sekou met at the Nuit Metis (Mixed Night) Festival in Marseille, France and developed a unique, multi-cultural sound that gave birth to the album Faya. This album, like all albums, required promotion and therefore a tour schedule. This tour brought the family back together where the roots of these musical branches started: Syracuse, including and especially the Westcott Theater. On Friday, August 22, the Westcott packed itself while Sophistafunk, Joe Driscoll and Sekou Kouyate, and a host of other supporting local musicians played their hearts out for the hometown fans.
Sophistafunk, led by the dual hype-man and frontman in one, Jack Brown, played time-honored songs from both full length studio albums, Freedom Is and Twentyeleven. As always, Brown laid down the intellect and positivity on songs like "Gotta Walk". As expected, Emanuel Washington, known as E-Man, rocked the house with that heavy and tight drum sound, especially on songs like the dance-inspiring "Wil' Out". As presumed, Adam Gold churned out those chunky-funky lines on the keys/organ on songs like "Freedom Is". And as a super-special, highly unexpected, and highly enjoyed surprise, Sophistafunk covered the soulful and sexy "SpottieOttieDopaliscious" by Outkast. "'Nuff said."

After saying goodbye to Sophistafunk (temporarily), Joe Driscoll and Sekou wasted no time getting the audience back up and dancing. Joe's funky, reggae-infused, hip-hop melodic style of guitar provided a solid grounding and space for Sekou to add his signature hummingbird-fast arpeggios and angelic riffs in between beats. Sekou, to understate it completely, plays the kora. The kora is an instrument made partly from a humongous gourd, called a calabash, covered with cow hide, and is "formally" classified as a "double-bridge-harp-lute." When played masterfully, this "double-bridge-harp-lute" makes music that is silky, swift, exotic, and truly exquisite. This sound, along with Sekou's vocals, sung in Soussou (with spot-on accompaniment by Joe), symbiotically fuse with Joe's increasingly impressive guitar work to create music that is worldly and graceful, yet familiar and catchy.

Joe told stories, both between songs and lyrically, throughout the set. Joe commented on everything from loving and appreciating your roots; to the inevitably deepening experience of traveling the world and meeting special people with whom you connect; to the visualization of lighting a fire in your heart and then lighting someone else's (the meaning behind the title song "Faya"). Joe's reflective and socially conscious verses painted pictures of the many "vampires" in ghettos around the world in "Ghetto Many", and warned of the "deepest threat": the figurative Babylon in the song "Wonamati"; which means, "It's got to stop."
Joe also made sure to play a whole new (Sekou infused) take on classic Joe Driscoll favorites, like the sweetly melodic "Mixtape Champs" and the smooth, autobiographic "Origin Myth". This song brought onstage Sophistafunk, DJ Afar, a Syracuse saxophone player named "Hollywood", and a very talented female trombonist whose name was unfortunately missed by this writer…for an all out Syracuse hip-hop/funk/world-beat jam session. This multi-song jam served as a fitting conclusion to a night all about roots, collaboration, and love for one's neighbor and neighborhood.