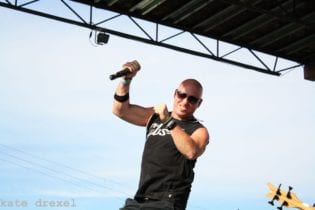 The eager concert junkies let out the occasional yelps of excitement as the outdoor music melted into silence. It was time for Xfactor1 to rock the stage and blow everyone away with what they had in store for us. One by one, each band member appeared: Zack (drums), Jerry D (bass), CLok (guitar), Cody (guitar), and QBall Wolf (vocals). They were more than ready to get Bearfest started the right way with "Bring It On." What they unleashed was something different. Something refreshing and new. In a way, very erratic, if you will. "An xfactor is an unpredictable intangible," explained Wolf to Upstate Metal's Kate Drexel. "Our name simply means we want to be the number one xfactor in all things and all situations."
Xfactor1 continued their set with "It's My Life" and a cover of The Rolling Stones' "Paint It Black," followed by "Break You."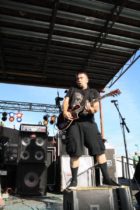 "Xfactor1 song writing is a group effort," Wolf said. "Usually I will come up with a melody theme, and the guys will run with it until we add our influences. I think that influences are more than just 'how do you sound?' It's attitude, passion, and ideals about life and music. Because of that, Metallica, Pantera, Korn, and other ass kickers come to mind." These influences can definitely be heard in QBall's unique voice as they proceeded with "You Suck." Fans began to wave their horns in the air to the beat of the song followed by head banging.
"I'm a huge Deftones fan so that would be awesome," said Wolf when asked if he had the opportunity to collaborate with another artist. "Five Finger Death Punch would be great as well."
Before finishing the set, QBall had the fans gather in closer so the band could take a picture with the crowd in the background making an X with their arms in the air, a very similar moment the band shared at this year's Rock on the Range. "We absolutely love playing the Rock on the Range festival (twice, '09 and '13), because it's held in our hometown of Columbus, OH at Crew Stadium, and it's like a huge family reunion." Xfactor1 finished their set with "Never" and "Live Another Day," leaving the crowd feeling warmed up, yet they wanted more from this killer band. Xfactor1 left the stage to presumably "film porn, party, play Texas Hold 'Em poker," according to QBall when asked what they do during their downtime.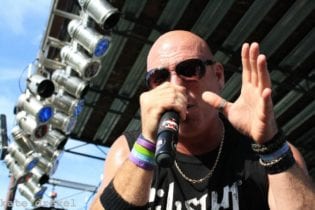 All in all, this band was beyond words. Just an absolutely mind blowing performance filled with catchy songs, and they definitely set the mood right for the night. Be sure to check out the band on Facebook. Their record, Famous.Last.Words was release in June 2012.
Xfactor1 can put on one hell of a show. One you will not want to miss.