Jenna Ortega, best known for her role as Wednesday Addams in the Netflix special show Wednesday and for the new rendition of the Scream franchise, hosted Saturday Night Live for the first time at the age of 20. The musical guest on March 11 was The 1975, a British indie group that is gaining popularity through expansive tours and social media virality.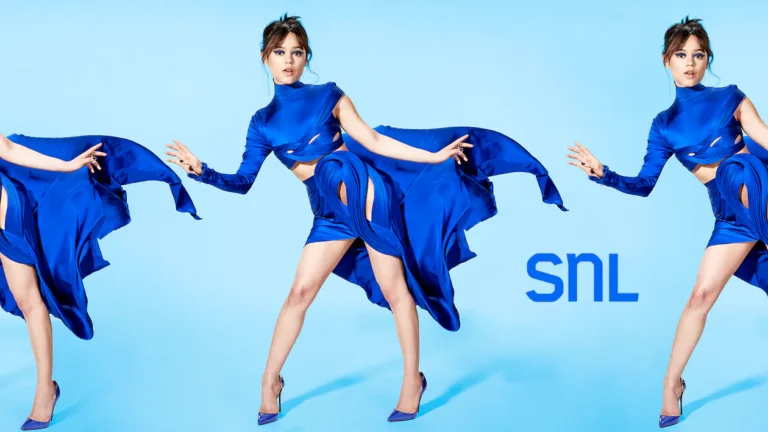 The cold open features hosts on the red carpet for Access Hollywood at the Oscars. They made fun of carpet shows, including awkward pan-downs of women's bodies, and the famous Oscar slap. They bring in Kenan Thompson as Mike Tyson, who does a scarily accurate impression, and Chloe Fineman comes in as Jamie Lee Curtis, bringing up the fact that she came out in a statement about going to bed early. There was also a sketch about betting odds for the Oscars, speaking more about Chris Rock and politicians. They brought in a few more guests, like George Santos pretending to be Tom Cruise, played by Bowen Yang.
Jenna Ortega's monologue featured a discussion about how she isn't dark and scary despite the characters she plays and she showcases a clip of her first commercial when she was a little girl talking about germs and toothpaste. She talks to actor Fred Armisen, who played Uncle Fester in Wednesday alongside Ortega. She has been the youngest host this season and says how excited she is to be on.
The first sketch features a school versus school game show, with Kenan Thompson as the host. One of the schools is for normal people, but the second one titled Professor Zander's Academy for Extraordinary Children has children with special gifts, including mutations and more. Ortega plays the character Zena, who keeps trying to rebel because she can't use her powers, and people think she is a freak. Other students and teachers include Mikey Day, Michael Longfellow, Molly Kearney, and Marcello Hernández. She eventually uses her "electric wind" powers and hurts the teacher (Punkie Johnson) on the other team.
Please Don't Destroy followed with a video featuring Ortega, with the team going on a road trip, break out in a song about the fact they are going out on a road trip, subsequently missing the exit multiple times. Following that is a sketch about Ortega filming Parent Trap, with Fred Armisen playing the body double. They don't film the scenes correctly, with Armisen messing up and saying lines off the script until he finally does it correctly.
Continuing on is a spoof of the popular MTV show Ridiculousness, with host Rob Dyrdek (Mikey Day), Steelo Brim (Kenan Thompson), and Chanel West Coast (Chloe Fineman). Jenna Ortega plays a popular TikToker, telling gory stories after each video is shown. Preceding that is a pre-filmed sketch about Ortega talking to her boyfriend about moving away for school at a Waffle House while a physical fight happens in the background, as well as other chaos, including a guy getting tased.
The 1975, an English pop rock band formed in 2002 in Wilmslow, Cheshire and now based in Manchester, consists of lead vocalist and rhythm guitarist Matty Healy, lead guitarist Adam Hann, bassist Ross MacDonald, and drummer George Daniel. Healy was nominated for Grammy for the group's song "Give Yourself A Try," and in the Best Boxed Or Special Limited Edition Package for I Like It When You Sleep, For You Are So Beautiful Yet So Unaware Of It (Box Set). They have garnered billions of streams, releasing their newest record Beign Funny In A Foreign Language last year, featuring songs "About You," and "I'm In Love With You."
For the first song, The 1975 perform "I'm In Love With You," dressed in suits but with a more laidback, chill vibe. Healy did his signature dance moves between breaths and sings in his unique voice, smiling cheek to cheek at the honor of being on Saturday Night Live. The group does a coordinated side step at the end of the song as there is a prolonged period of instrumentation, receiving a big round of applause.
Weekend Update featuring Michael Che and Colin Jost focused on speaking about Tucker Carlson and his newfound hatred for Donald Trump, the new bans on Drag Shows, and the fact that Walgreens is going to stop selling abortion pills in certain states. Special guest Molly Kearney, in their first Weekend Update appearance, was followed by James Austin Johnson filling in the last minute by doing random impressions, including Adam Driver, Batman reading Where's Waldo, and more. A sketch playing off Exorcist movies had Ortega playing the girl being exorcised, featuring Ego Nwodim as a comedic character telling making comments downplaying the possession. Other guests include Kenan Thompson performing as the vessel for Ortega's demon, ending with his head being swung around.
The second performance by The 1975 was "Oh Caroline" featuring more of that laidback vibe, with Healy switching his guitar out for a striking red one. The song is very groovy as he sings "Oh, Caroline/I wanna get it right this time/'Cause you're always on my mind," featuring an extended guitar solo at the end.
The crowd cheered loudly again, very happy that The 1975 had returned for an SNL appearance.
Important note: due to a stall in contracts between NBCU and Saturday Night Live editors, there will be a historic strike planned for on April 1. Negotiations started back in October, with union members focusing on healthcare benefits and pay inequity. Without a viable decision reached months later, 12 to 20 SNL editing team members are threatening to halt their work entirely. "Strikes are not funny, and it's also not funny that NBCU is driving us to take this step to guarantee fair pay and benefits for our members," says Alan Heim, president of the Motion Picture Editors Guild, in an official statement.
The April 1 episode features host Quinta Brunson and musical guest Lil Yachty.