Bryant Park Picnic Performances continues August 12th with New York City Opera's condensed version of Verdi's classic, La traviata. The performance will last two hours with one 15-minute intermission. Bryant Park will continue to monitor and follow updated New York City and New York State COVID-19 guidelines throughout the summer, as necessary. 
On Friday, August 12th at 7pm, Bryant Park Picnic Performances presents an abridged adaptation of Verdi's classic that inspired Moulin Rouge. The show has instantly recognizable tunes famously featured in Pretty Woman. La traviata tells the story of the tragic love between the courtesan Violetta and the romantic Alfredo Germont. Playing out against the hypocrisy of upper-class fashionable society, Alfredo and Violetta's love threatens to shame his family. 
'The People's Opera' is thrilled to return to our summer home at Bryant Park, where we can continue our mission of free performances for New York audiences.

– Michael Capasso, General Director of New York City Opera
The 2022 Picnic Performances season is possible due to the generous support of Bank of America. "Bank of America is a long-standing supporter of the arts because we believe that a thriving arts and cultural community benefits both society and the economy," said José Tavarez, President, Bank of America New York City. "So we are thrilled to once again sponsor Picnic Performances and combine our commitment to the arts with our partnership with Bryant Park. Together we're helping New York City's iconic cultural scene to thrive, while promoting green spaces and providing free access to live New York City music, dance and theater."  
On Friday, September 2nd, the performance Lucia di Lammermoor emerges. The story concerns fragile Lucy Ashton (Lucia) caught in a feud between her family. The setting takes place in the Lammermuir Hills of Scotland (Lammermoor) in the 17th century. Think Romeo and Juliet, but set in Scotland.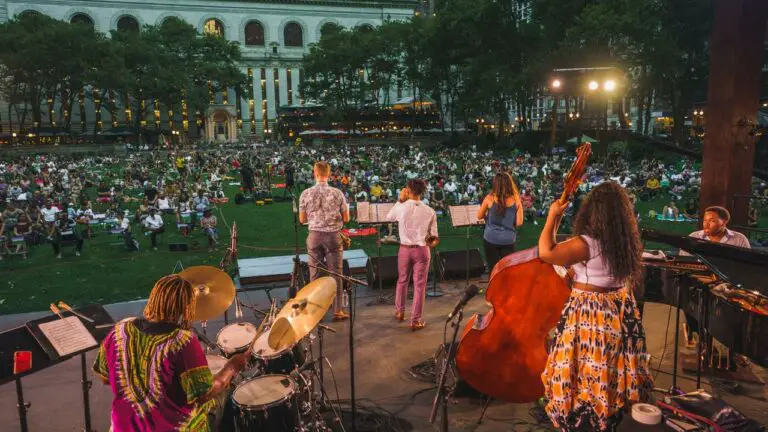 Complete Bryant Park Picnic Performances:
July 
July 15: Carnegie Hall Citywide: Squirrel Nut Zippers 
July 22: Carnegie Hall Citywide: The Broadway Sinfonietta 
July 23: Jazzmobile: Bobby Sanabria Multiverse Big Band 
July 28: Ailey II Performance and Ailey Extension Dance Class 
July 29: Carnegie Hall Citywide: The Hot Sardines Featuring Nellie McKay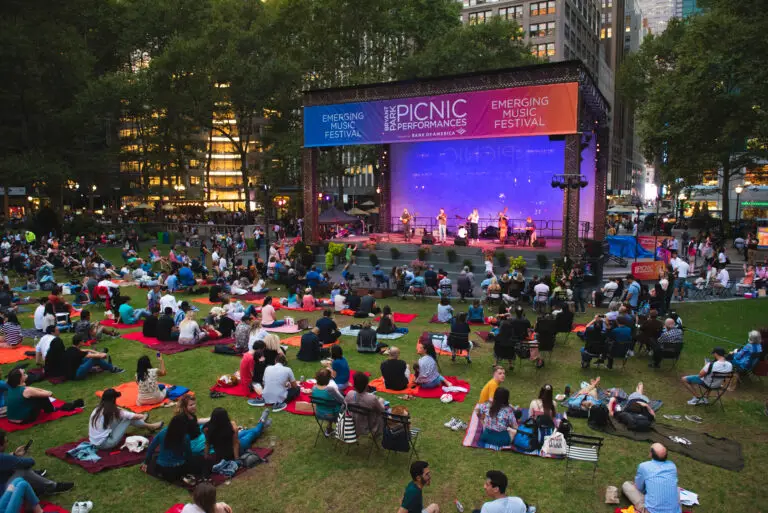 August 
August 5: Greenwich House Music School: Mireya Ramos and Alea 
August 12: New York City Opera: La traviata 
August 19: Asian American Arts Alliance: Rafiq Bhatia and Ian Chang 
August 26: Habibi Festival: Esraa Warda & The Châab Lab, Firas Zreik, Yacine Boularès, and AJOYO 
August 29: The Town Hall: Eighth Blackbird Celebrates John Cage 
September 
September 2: New York City Opera: Lucia di Lammermoor 
September 8: Steinway Artists Aaron Diehl and Orrin Evans 
September 9: Classical Theatre of Harlem 
September 16: Accordion Festival: Heart of Afghanistan and More 
September 17: American Symphony Orchestra 
For the additional information please visit the link here.