Live music has been back in Rochester. Jazz has come back as strong as ever. People have been getting out to eat, drink and enjoy merriment. And festivals have returned. But not until the nine days of the 19th edition of the CGI Rochester International Jazz Festival had it all come back together with such a communal celebratory climax. The city was clicking in a way it hadn't in years.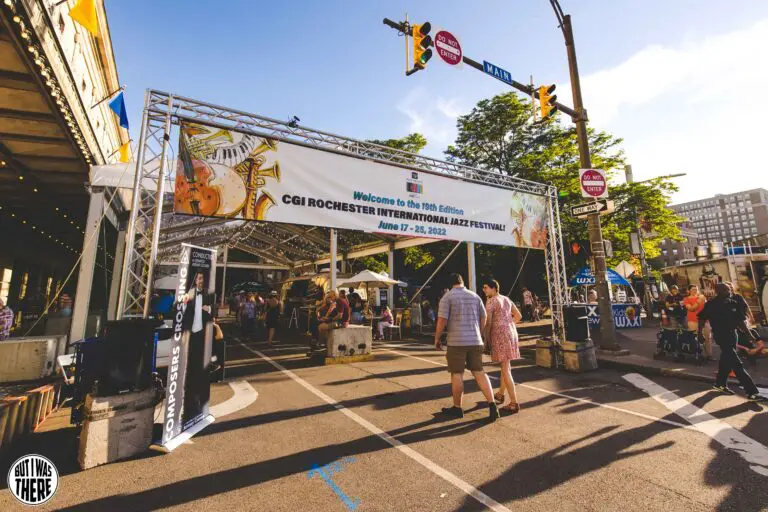 The sounds of live music filled every street over a few city blocks. From multiple outdoor stages providing free shows. Out of the doors of churches, theaters, ballrooms, halls and bars included in the festival's Club Pass series. From non-festival sources like street buskers, pizza shops and other music clubs. Every nook and cranny filled with music. Walking down the street it was your best guess if those sweet sounds were reverberating off the buildings or if there was someone actually playing down that alley. Festival attendees wandered around like nomads, searching for musical sustenance.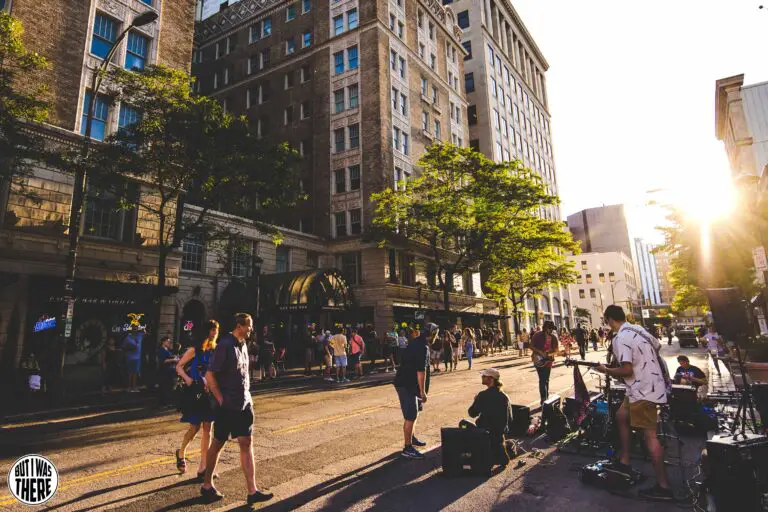 They found an oasis at Parcel 5, a grassy expanse nestled in desirable real estate, that hosted the festival's headliner series. All headline shows, in the festival's previous 18 editions held in the beautiful Kodak Hall, were provided for free this year using government COVID grants. By all measures the move was a huge success. Big names provided big crowds with big smiles and big fun. Accessible jazz artists like Chris Botti and Spyro Gyra, newer but not quite in-the-moment sensation Robin Thicke, older nostalgia acts like Sheila E and Prince's band New Power Generation. Devon Allman, not quite nostalgia, tapped into the sound made famous by his late father Greg, even jamming heftily on the old Allmans hit "Dreams" along with similarly crafted songs of his own. Booker T brought his own bit of nostalgia, providing a running history lesson, recounting his rich history with the Stax label, educating and entertaining alike on recognizable hits from the likes of Otis Redding, Aretha Franklin, Gladys Knight, Albert King and on and on.
But an opening set from Rochester's native daughter, Danielle Ponder, on the final night, was the big stage set that landed the biggest. The past year has seen Ponder sign her first record deal (debut album arriving later this summer), her first performance on late night television, a set at the Newport Jazz Festival along with shows crisscrossing the country. A star in the making, a hometown hero, playing her biggest Rochester show. Born in a different era she would have certainly been on the list of great Stax artists Booker T rattled off during his set. The voice, the presence, and the songs with which to put it all together. Rather than rehash the past, her set looked to the future, presenting songs from her forthcoming debut like first single "So Long," "Only the Lonely," and "Be Gentle." The crowd was was with her every step of the way, a mutual love affair nearing the end of it's exclusiveness.
Rochester's talent pool at the festival didn't end with Ponder. The free Fusion stage gave local bands two sets on prime festival real estate to draw in the crowds wandering the streets. Creative piano trio The Pickle Mafia arrived weary just off a tour, but were quick to win over the amassing audience. Moho Collective, another trio, teetering in a space between genres, proved as unique and engaging as most any of the national touring artists.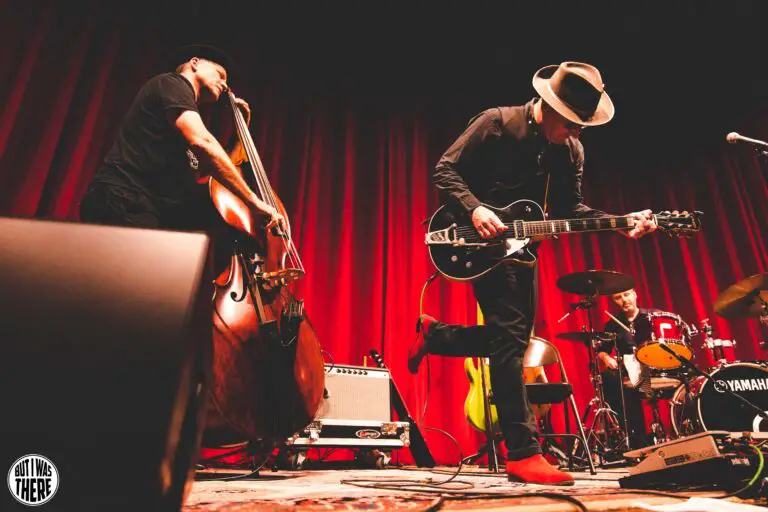 For the festival goers with the Club Pass, nomadic journeys took different paths. Siren songs were waiting to be heeded from inside. People with badges hanging from their necks zigzagged from venue to venue, each space a unique environment, with it's own beauty, it's own acoustics. After nine nights of journeying about, paths from one to the other became familiar, their start times an imprint on your brain, and your preferred seat inside like a birthright. Where you were seeing was almost as important as who. And where the artists were playing was almost as important to them as what. Kilbourn Hall had a heavier air of seriousness, even in the loosest of sets. The Big Tent was ready to explode in revelry, even in the quietest moments.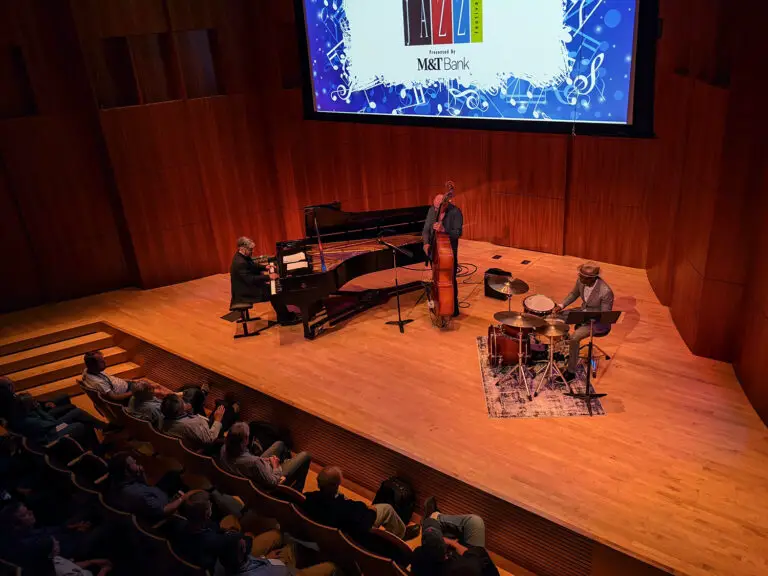 In Hatch Hall, an intimate room with near perfect acoustics, pianist Gary Versace's trio was careful to fit their more lively combo into the space constructed for the delicate sounds of solo piano and string quartets. Drummer Rudy Royston played with a lighter touch, though still effective and wow-worthy, particularly leading the way in a set-closing "This Thing." The trio, rounded out on bass by Jay Anderson, found the melody's through improvised abstractions, like the jazz nomads wandering the streets.
Like the nooks in the streets, spaces that normally wouldn't be hosting live music, found themselves hosting two sets a night during the festival. The atrium of an office building with a first floor restaurant transformed into a hot city jazz club. Young singing phenom Samara Joy packed the house for her sets there, as hard a seat as there was at the fest, people queued up waiting for a chance to get in up until the final notes. Churches like the Glory House, with the sun spearing through colorful stained glass, and the Temple Theater with it's soaring ceilings, hosted the holy spirits of jazz instead of prayer.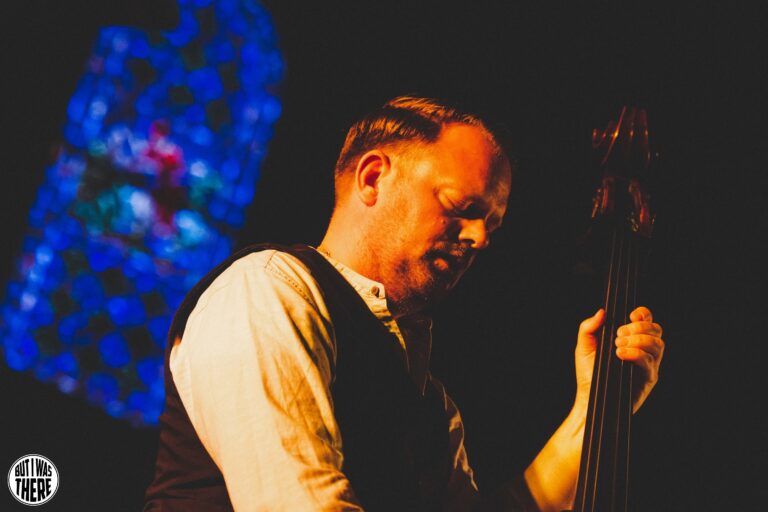 Respects were paid to the jazz gods, though, secularly. Jeremy Pelt, with his quintet at the Kilbourn, summed up his philosophy through his friend's words, "Don't dog the source." Something that seemed to be understood by his contemporaries across the festival. Arturo O'Farrill, days later in the same venue, would pay respects to his father, Chico, playing one of his compositions and telling family stories. He in turn was passing it on to his sons, Zach, on drums, and Adam on trumpet, both in his band and both getting their music featured in the set. Three generations of O'Farrill highlighted in a thrilling and exciting Afro Cuban set.
Three generations had nothing on Swedish trumpeter Oskar Stenmark, who traced music in his family back 10 generations. In their set at the Glory House Church, his trio played traditional Swedish folk songs dating as far back as the 1700s. The music was passed down both orally, he played a song learned from his grandmother, and pieces he figured out from scraps of found notes, from a minuet to a traditional Swedish polska, akin to a waltz.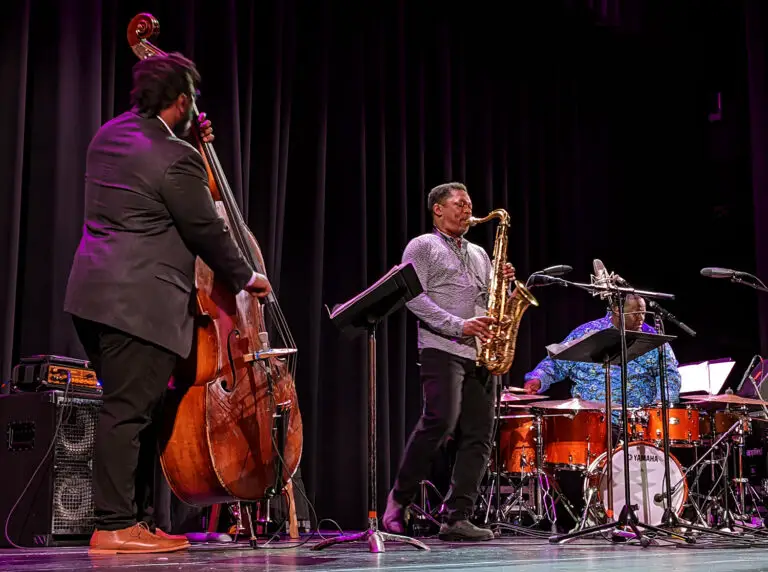 Ravi Coltrane carried the weight of his famous name and jazz heritage, but pushed beyond it with his superb trio, featuring Dezron Douglas on bass and Johnathan Blake on drums. The three were equals, sharing near equal time with compositions and solos, but shining brightest when combining in three-way improvisational conversation. Blake's "Beneath the Rubble" found the three slowly twisting around each other in an arrhythmic tangle. Coltrane blasted through with some fiery playing of his own on his composition "Marilyn and Tammy."
Each and every set was an hour (give or take some here and there of course), but not every hour lasted the same amount of time. Or at least, the best of the best made their hours fly by in an instant.
Making his record ninth appearance at the festival, Bill Frisell returned to the Temple Theater with his trio. It was another opportunity to see drummer Rudy Royston deconstruct music with a trio. Thomas Morgan rounded out the band, which played non-stop for the full hour, stringing together familiar Frisell themes with spacey and looping interludes and improvisations ranging from swinging to rocking. Royston, not governed by the limits of the acoustics this time around, provided some true fireworks that got the crowd roaring even where no proper break allowed for it.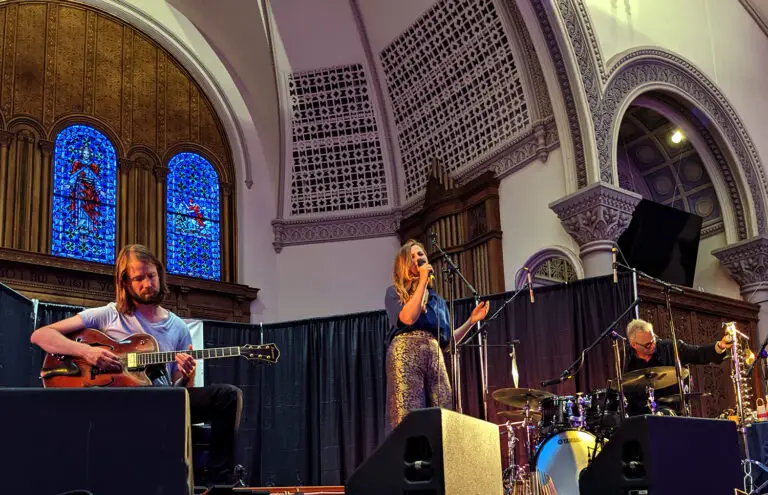 Happening in an overlapping time slot (even a nine-day festival isn't devoid of unfortunate overlaps), Danish trio Under the Surface provided this year's festival with one of it's few truly left-of-center moments. Comprised of a vocalist Sanne Rambags, guitarist and sound-wizard Bram Stadhouders, and drummer and percussionist Joost Lijbaart, they also made their hour fly with a non-stop full-improv set. Rambags used her voice more as an instrument than a vessel for a message. Most of what she sang were just vocalizations or what seemed at times to be gibberish, ranging from scatting to operatic yowls to rhythmic incantations. Her body contorted to accentuate and emphasize the sounds she created while she also danced and swayed to the playing of her partners. Litbaart's set up included a wild array of trinkets and he seemed to make use of nearly all of them. When Stadhouders wasn't pulling interesting sounds from his guitar he was running his partners through a laptop, looping the vocals into an almost whale call or adding an echo effect to the drums. It was a constantly morphing, constantly moving, constantly interesting tapestry of ethereal and spacey sounds. The spiritual space provided by the Glory House church venue was the perfect environment to experience this set.
The day before at the same venue, another artist proved to be a festival highlight with an almost opposite approach. Big, loud and well-scripted. The NYChillharmonic, an 18-piece group including a string section, horn section, along a full rock band, lightly conducted and led by singer and composer Sara McDonald. What others might try to recreate with synthesizers, this band created live, in a more analog way. The music trended toward heavy prog rock more than anything, but it certainly showed range and was engaging throughout. Yet another hour passed by too quickly.
Another songwriter took a different, more traditional approach. Ana Egge's songs were deeply personal, and fairly stripped down affairs. She rounded out her acoustic guitar playing and singing with Alison Shearer on saxophone and flute and Alden Harris-McCoy on electric guitar. They stripped it down even further for "Rock Me," playing without mics at the front of the Little Theater stage, the audience attentively receiving her earnest words pure and unfiltered. The tales spun in the songs could seem fictional in their oddities and nuance, such as the story about killing and eating a snake in New Mexico, or the Central Park ranger dubbed the bully of New York, but they were all taken from Egge's experiences. A stirring set that provided a welcome respite from the train of jazz combos piling up elsewhere.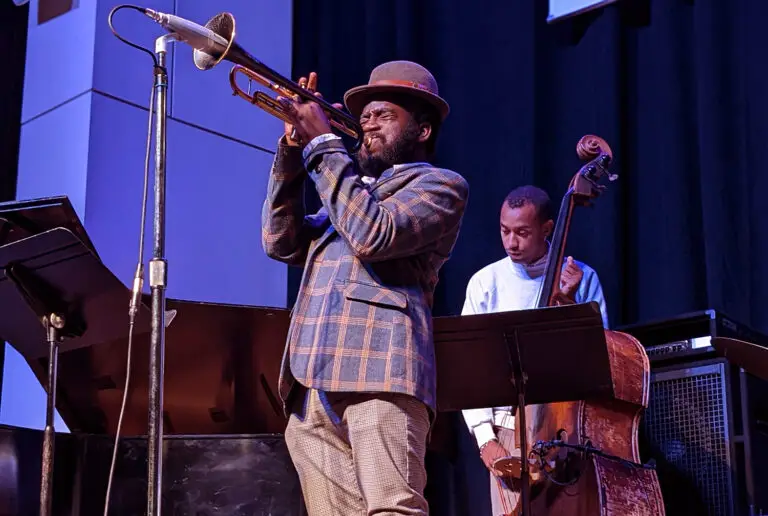 The only thing young trumpet phenom Giveton Gelin was piling up was accolades though. His quartet delivered a welcome back to Jazz Fest night one performance that set the bar for speeding through an hour. It eased in with a gentle trumpet and piano duet and ended similarly, but sandwiched in between was an impressive display of straight jazzing from all members of the band. The backing piano trio would get well cooking and then Gelin would join in with fiery horn work sending it over the edge. One of the next-generation stars presented at the Rochester Jazz Fest we'll be remembering years later.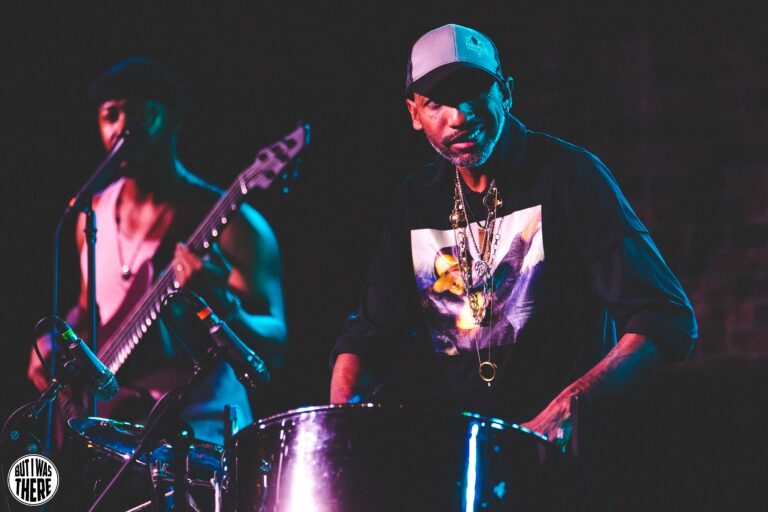 Steel pannist Jonathan Scales elicited about as exuberant a crowd response as we saw all week. Obsessed with Bela Fleck and the Flecktones years ago, he admittedly stalked them, traveling great distances to shows and seeking them out afterward. Until it finally worked and he befriended them. His trio, the Fourchestra, certainly seems to be modeled after them as well, with bassist E'Lon JD taking on the wild bass playing typified by Victor Wooten and Maison Guidry playing equally wildly on his kit. Similarly to Fleck and his banjo, Scales is taking his instrument, the steel pan, to places unheard previously. The instruments usual Caribbean stereotype is nowhere to be seen. The music is varied and melodic and beautiful and exciting. Where Fleck would frequently use a steel drum effect on his banjo, here Scales was playing those types of lines with a real live drum instead. The long repeating melody of "Cry" climaxed with a slow building bass and drums, then a set closing cover of Seal's familiar "A Kiss from a Rose" brought the house down. The crowd wouldn't let them leave the stage too easily, so an hour became 75 minutes, but still over too soon.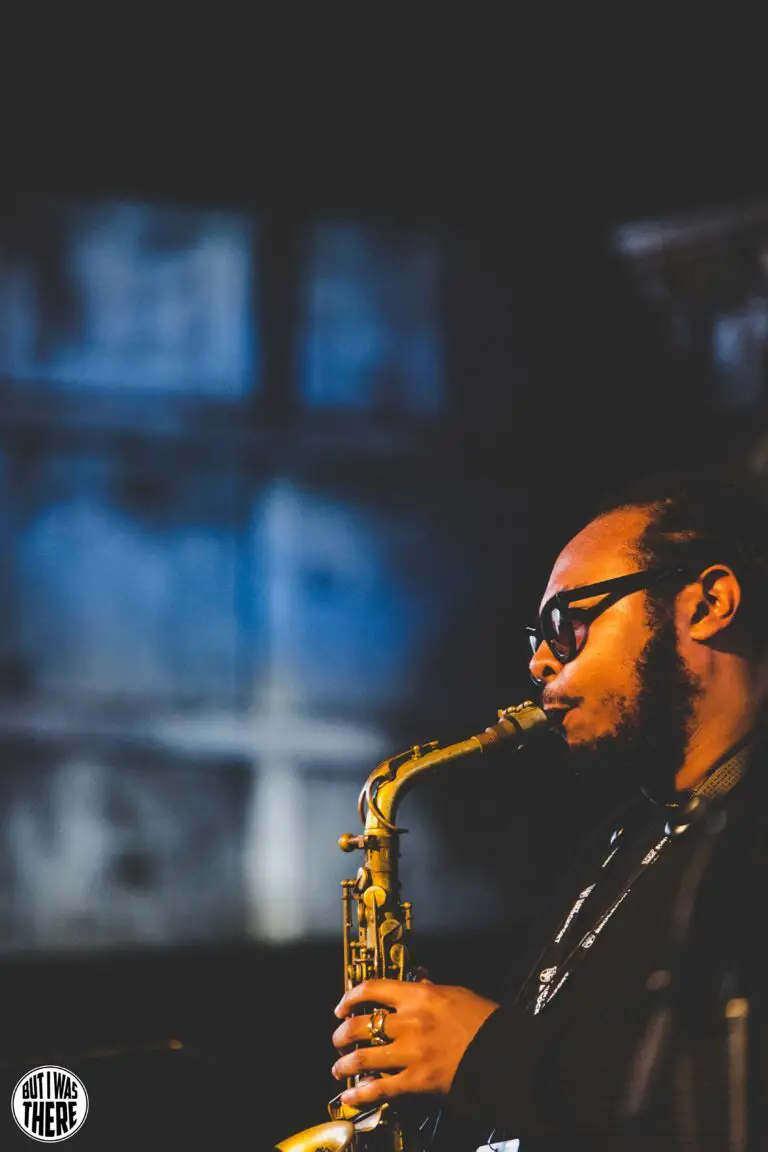 Our jazz fest ended on another high note, with Immanuel Wilkins' quartet working through material from his January release Seventh Hand. Similar to Frisell's set in the same theater, themes wove in and out of free form dissonance in an hour long non-stop set. Mellow contemplative beauty burst into a flourish of action from the four instruments, with Wilkins and drummer Kweku Sumbry building toward a fiery finish. Another hour downed in no time flat. And with music like that, a seeming marathon nine-day festival is over before it started and we are already pining for the 20th edition. See you again on Jazz Street in 2023!