Our annual recap of the Best of 2019 has arrived at music festivals. Just like when fans arrive at these ever-popular weekend extravaganzas, we're bright-eyed and bushy-tailed looking forward to what surprises lay around the corner. Our staff has been to dozens of festivals around the country, and of course, across New York State, where we have the most music festivals of any state! Whether it's the original Woodstock, Summer Jam at Watkins, The Clifford Ball, Mountain Jam or Jazz Fests, New York is home to some of the most historic music festivals in American music history.
If you missed our earlier selections for 2019's best "under the radar" bands, and our albums of the year, go here and catch up. What festivals had the kids dancing and shaking their bones? Let's take a look at the best festivals in New York State.
Best New York State Festivals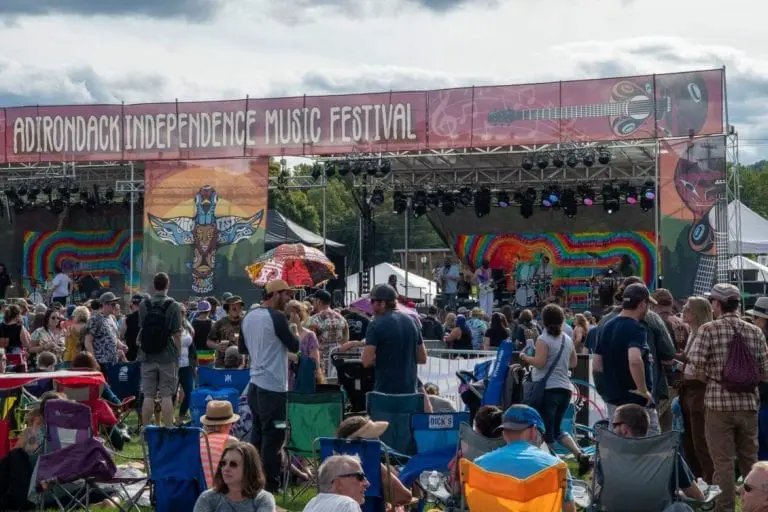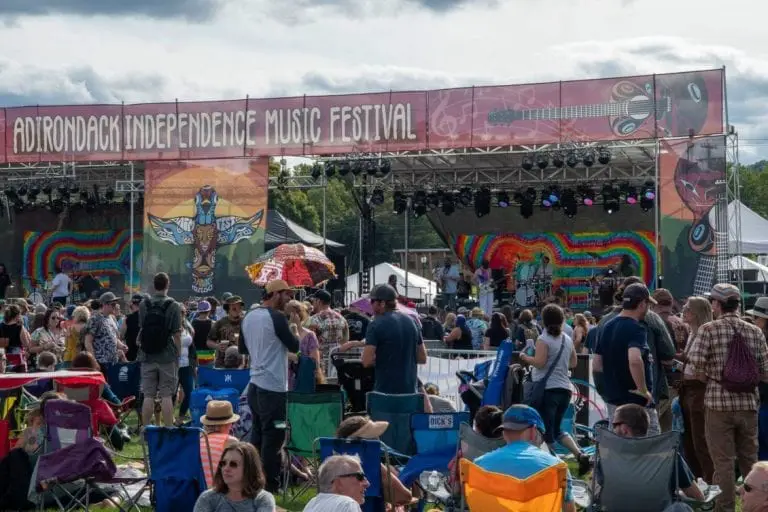 Adirondack Music Festival
In only it's fifth year, Adirondack (aka, ADK Fest) Music Festival has established itself as the Labor Day weekend event in Lake George, with fans pouring in from across the Northeast to see Twiddle, Pigeons Playing Ping Pong, Pink Talking Fish, Everyone Orchestra, G. Love and Special Sauce, and many more. For two days and two crazy late nights, Charles R. Wood Park, just a stones throw from the shores of Lake George attracted thousands of live music fans in one of the most intimate settings you'll find for a music festival. Miles Hurley said of the festival:
All of this top-notch live music was met resolutely throughout the weekend with a positive and welcoming vibe, upheld via a sense of strong community and creativity. For mid-size festivals Adirondack Music Festival is one of the best you can experience in the ever-musically-fertile land of upstate NY—yet here's to a steady growth from mid-size to who knows how big.
Here's to another fantastic year of ADK Fest in 2020!
Governors Ball
Despite most of Sunday's performances being cancelled due to intense storms in the area, Governors Ball was a rousing success, with performances by Tyler the Creator, Florence and The Machine, Nas, Lily Allen, Lil Wayne, and The 1975 among others. The 2020 edition will return to Randall's Island June 5-7, although the festival has been looking into relocating to the Bronx for future installments.
CGI Rochester International Jazz Fest
Now in it's 18th year, one of the most well known annual festivals in New York, CGI Rochester International Jazz Fest, brings together musicians and jazz luminaries from across the country and the world. The eight day-long festival will introduce you to new artists, hard to catch acts and significant musicians who should be on your radar.
Eli Stein profiled 10 artists that caught his eye (and ear) at the 2019 installment, including Girls in Airports, Enemy, Paris Monster and Spaga, to name a few. Read more about these acts and get ready for the 2020 edition, to be held July 19-27.
Night Lights Music Festival
A staple of Western New York, Night Lights Music Festival once again brought a diverse lineup to the Heron Farm and Event Center in Sherman, NY. Staples such as Aqueous, !!!, Big Something, and Girl Talk headlined the affair, but the visual thrill is a major draw year after year.
Kat Horton, Night Lights Marketing and Artist Relations specialist said to NYS Music, "While creating the lineup for the festival each year it is always a priority to make sure to share new music. We want to be your gateway festival, we want you to trust us and trust that we will blow your mind." She also explained that while curating the lineup, the focus is to tell a story. "We try to create an ebb and flow to the layout of each daily schedule, we want the weekend to create a story."
Check out some of the action from this year's installment from Strawberry Island Dweller here.
Best Out of State Festival
Peach Fest was the runaway winner this year, and for good reason. The lineup for this year was stacked top to bottom with a who's who of jambands, classic rock acts and up and coming groups, including Goose, who put on a memorable set that burst them out into as of the strongest and most exciting new acts. Writer Jared Lindquist said of the festival, "This weekend was full of great music and rarely ever had a lull in things to do. Spirits were high and the weather was great until the yearly rain on Sunday night. Peach is an event not to miss." His detailed take on the festival, covering sets from Pigeons Playing Ping Pong, Trey Anastasio Band, Mungion and more can be found here.
The 2020 edition of Peach already is a contender for lineup of the year, with Oysterhead, Joe Russo's Almost Dead, String Cheese Incident, moe., Umphrey's McGee, Twiddle, Turkuaz, and dozens more. Find out more info on Peach Fest 2020 here.