The 19th edition of the CGI Rochester International Jazz Festival returns to Rochester's East End June 17 to 25. For Rochester's music fans there's no better way to welcome summer. After two years bereft the best nine days of live music of the year, this year's festival is going to feel extra special.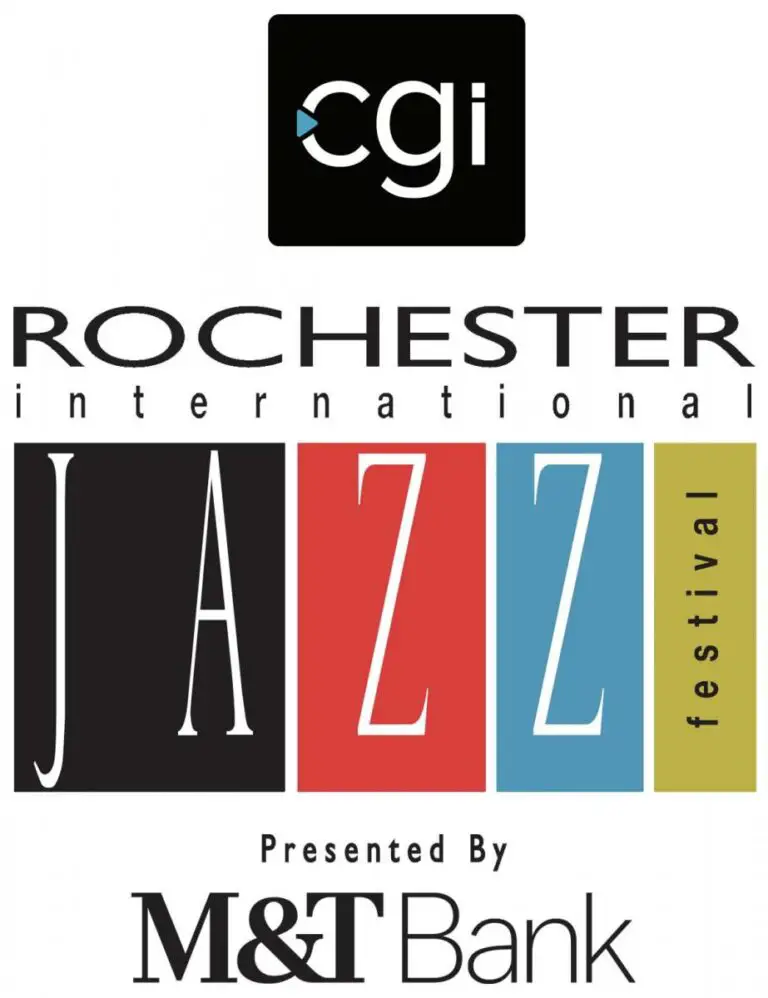 The festival producers are constantly tweaking the formula every year, and this year is no different. The Hyatt Regency Ballroom joins as the new Club Pass venue this year and the Little Theater and Theater at Innovation Square (nee Xerox Auditorium) return after renovations. But the biggest change this year is the headliner program. Usually ticketed events held at the gorgeous Eastman Theater, this year they will be provided for free at Parcel 5. While we still maintain the best way to enjoy the festival is with a Club Pass (available in both 9- and 3-day options), we won't fault anyone from going the free route this year. There are many great options, a whopping 130 free shows across five stages, ranging from fresh local talent to seasoned international megastars.
But as you head out to enjoy your free concerts, stick some cash in your pocket, say $30 or $60, and sneak in a club show or two. Tickets for the Club Pass concerts are $30 (or $35 for Kilbourn Hall) and can be purchased at the door right before showtime. Here are some can't-miss artists you can catch before (or after) hitting the big outdoor shows.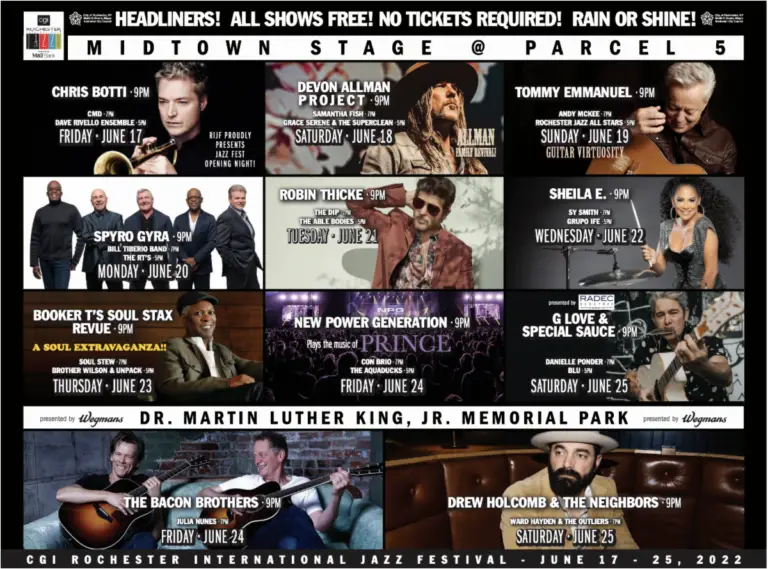 All headliners are at the Midtown Stage at Parcel 5, unless otherwise noted.
Friday June 17
Chris Botti at 9pm, CMD at 7pm
Recommended club shows:
Giveton Gelin
Max of Eastman Place, 6:15pm & 10pm
Young self-taught Bahamian trumpet player Giveton Gelin is a rising star, one of those you saw-em-when Jazz Fest stories you'll be telling in a couple years to anyone that will listen.
The Cookers
Kilbourn Hall, 6pm & 10pm
Just across Gibbs Street, the exact opposite show will be happening, but no less riveting. A supergroup of well-seasoned players, Billy Harper, Cecil McBee, George Cables, Eddie Henderson, and Billy Hart, will present one of the most impressive collective resumes of the festival.
---
Saturday, June 18
Devon Allman Project (with the Dirty Dozen Brass Band) 9pm, Samantha Fish 7pm
Recommended club shows:
Ranky Tanky
Kilbourn Hall, 6pm & 10pm (also at the Hyatt Regency Rochester Ballroom Sunday June 19, 7:45 & 9:45pm)
This South Carolina-based quintet actually channel the music of West Africa adding in some American roots elements for a lively and infectious sound that is spiritual and uplifting.
Kind Folk
Wilder Room, 6pm & 10pm
A young group with no defined leader, this Brooklyn-based quartet fuses styles and melds their talents to create a four-headed monster of jazz.
---
Sunday, June 19
Tommy Emmanuel 9pm, Andy McKee 7pm
Recommended club shows:
Bill Frisell
Temple Theater 7pm, 9:15pm
Despite returning for his festival-leading 9th time, he, his magical guitar, and whatever group he brings, will never not top our list of must-see shows. This year his trio will include Thomas Morgan and Rudy Royston.
Under the Surface
Glory House International 7:30pm & 9:30pm
Heavily improvised and full of that mystical ethereal quality that seems to always emerge from the Global Jazz Now Series year after year, this multi-generational trio of Danish musicians is going to turn some heads at this year's festival.
---
Monday, June 20
Spyro Gyra 9pm, Bill Tiberio Band 7pm
Recommended club shows:
Sammy Miller and the Congregation
Kilbourn Hall 6pm & 9pm
Drummer Sammy Miller leads this septet that plays what they appropriately call, "joyful jazz." If you want to leave a set with a smile on your face, this is your place.
Ana Egge
Little Theater 7pm & 9:15pm
Egge is a singer-songwriter that has lived a life and isn't afraid to sing about it, with some honest and rich folk tunes that will stick with you. She'll round out her trio for these shows with Alison Shearer on sax and the RT's Alden Harris-McCoy on guitar.
---
Tuesday, June 21
Robin Thicke 9pm, The Dip 7pm
Recommended club shows:
Oskar Stenmark Trio
Glory House International 730pm & 930pm
Music is in his blood, literally tracing back to 1762. Trumpet, cornet and flugelhorn player Stenmark leads his trio fusing sounds of his native Sweden with those of his adopted home of New York City.
Jeremy Beck and the Heavy Duty Horns
RIJF Big Tent 8:30pm & 10pm (also on Monday at Montage 6pm & 10pm)
Keyboardist Jeremy Beck brings an eight-piece horn-heavy band that blends gospel, soul and rock into a funky stew. The Big Tent will be jumping.
---
Wednesday, June 22
Sheila E. 9pm, Sy Smith 7pm
Recommended club shows:
Arturo O'Farrill Quintet
Kilbourn Hall 6pm & 9pm
Grammy winner and founder and director of the Afro Latin Jazz Alliance, O'Farrill most often plays with his Afro Latin Jazz Orchestra, he brings his smaller Quintet to the festival, but we still imagine there will be plenty of chair dancing.
Stephane Wrembel
Theater at Innovation Square 6:30pm & 8:30pm
A Rochester favorite, Wrembel is one of the leading curators of Gypsy jazz guitar and other than just plumbing and recreating it's history, he also redefines it with incredible guitar wizardry. If you seen him before, you won't miss it, if you haven't, here's your chance get aboard.

---
Thursday, June 23
Booker T Presents: A Soul Stax Revue 9pm, Soul Stew 7pm
Recommended club shows:
Big Lazy
Montage Music Hall 6pm & 10pm (also on Friday at the Little Theater 7pm & 9:15pm)
A trio of guitar, bass and drums, Big Lazy has honed their craft in the small spaces of New York City, arriving at a sound that overextends their number and instrumentation, simultaneously noir and pastoral, gothic and modern.
Itamar Borochov Quartet
Wilder Room 6pm & 10pm
Israeli-born trumpet player blends influences, both religious and secular, from the Middle East and North Africa with more traditional jazz for a uniquely satisfying sound.
---
Friday, June 24
New Power Generation 9pm, Con Brio 7pm (also at MLK Park: The Bacon Brothers 9pm, Julia Nunes 7pm)
Recommended club shows:
Jonathan Scales Fourchestra
Montage Music Hall 6pm & 10pm
Has there been a steel pannist at the festival before? Regardless, Jonathan Scales will be the best to have played it, and it won't be a mere novelty act either. This might be your favorite discovery of the festival.
The Huntertones
RIJF Big Tent 8:30pm & 10pm (also on Thursday at the Hyatt Regency Rochester Ballroom 7:45pm & 9:45pm)
The Huntertones return to the festival with their horn-heavy big sound funk party that seems custom built to fill the RIJF Big Tent.
---
Friday, June 24
G. Love and Special Sauce 9pm, Danielle Ponder 7pm (also at MLK Park: Drew Holcomb and the Neighbors 9pm, Ward Hayden and the Outliers 7pm)
Recommended club shows:
Immanuel Wilkins
Temple Theater 7pm, 9:15pm
Wilkins' debut was named the #1 jazz album of the year by the New York Times, and his 2022 follow-up with the same quartet was described by Pitchfork as "ocean-deep jazz epics." This is a young saxophonist with a lot to say and contribute to the jazz world, an apt artist to close out the festival with.
Kurt Elling "Super Blue" with Charlie Hunter
Kilbourn Hall 6pm & 9pm
Seasoned and renowned jazz vocalist Kurt Elling will be featuring his new blues-based project, Super Blue, featuring none other than Charlie Hunter on his custom bass/guitar.