For six years, acclaimed bassist Michael Bisio and his artist wife Dawn have been bringing some of the jazz world's finest to Lace Mill, the 55-unit affordable artist housing, gallery and performance space in Kingston that is also their home.  On Thursday, March 24, the Bisios presented yet another astounding hour of improvisational invention in their long-running performance series, when the bassist was joined by guitar great Nels Cline, pianist Thollem and drummer Michael Wimberly.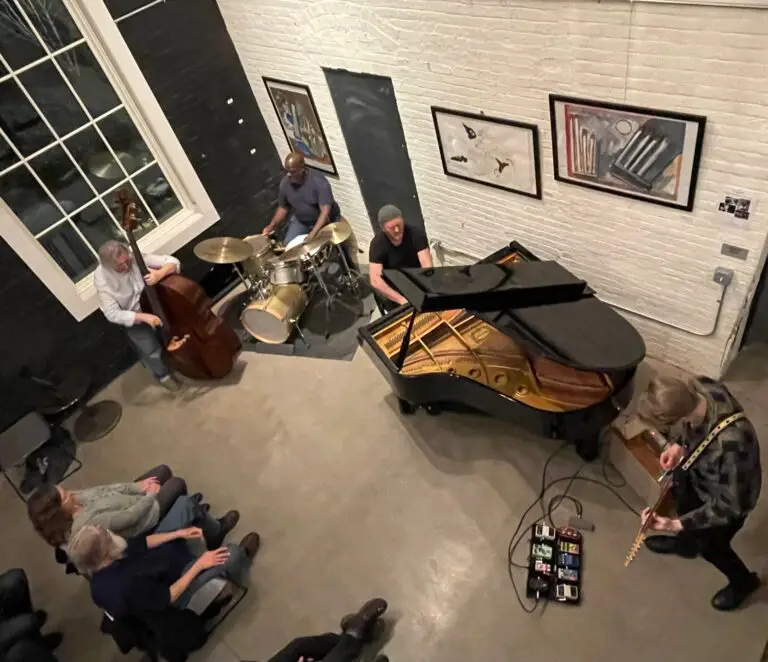 Bisio has been called "a poet, a wonder and one of the most virtuosic and imaginative performers" on the double bass. He has over a one hundred thirty recordings in his discography, more than two dozen as leader or co-leader as well, as a dozen more documenting his extraordinary association with piano icon Matthew Shipp. His newest release which dropped a few days back, MBefore (Tao Forms), is an already critically-raved about work that finds Bisio in the company of another Hudson Valley great, world-renowned vibraphonist and Creative Music Studio founder Karl Berger, along with Mat Maneri (viola) and Whit Dickey (drums). Guitarist Nels Cline has been featured on over 200 recordings over the past few decades in every conceivable genre.  But Cline is best known for his 17-years and counting stint as lead guitarist for Wilco.  Drummer Wimberly has propelled greats like Charles Gayle, Henry Rollins, David Murray and Steve Coleman's always excellent 5 Elements ensemble, while the perpetually globe-trotting Thollem has recently completed a 25-album cycle, one that found him collaborating with over 70 musicians worldwide.
The 40 or so attendees who packed the small performance space at Lace Mill included quite a few of Bisio's fellow musicians and collaborators including the aforementioned Berger and Juma Sultan, the forever young percussionist best known for his appearance with Jimi Hendrix at Woodstock.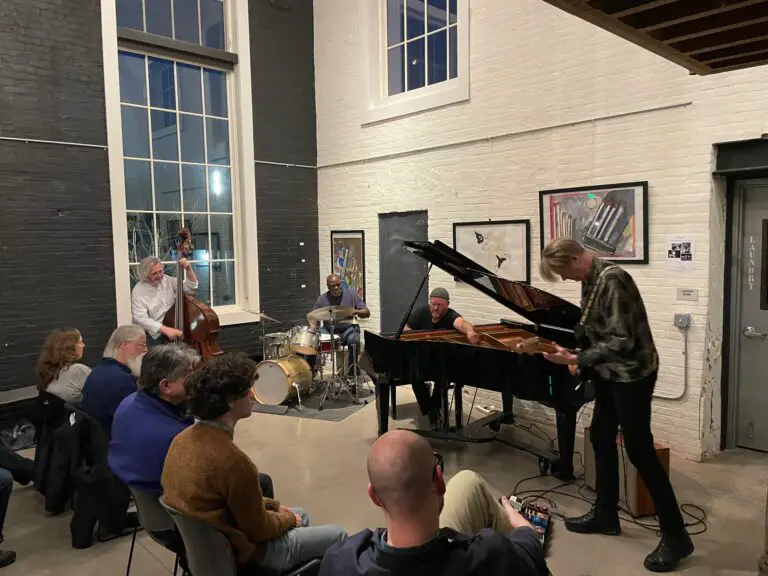 Bisio and company collectively conjured two, 30-minute improvisations during the concert. These were really ever-evolving examples of spontaneous composition, ones that demonstrated both their individual instrumental mastery and the resources in seemingly shortest supply among musicians – the arts of listening and injecting silence to give oxygen to the music.
The first improvisation kicked-off with Bisio moving from resonant chording to drone-like bowing, then to rubbing the strings behind the bridge and even punching his double bass.  Pianist Thollem alternated between machine gun runs a la Cecil Taylor and tapping, plucking and even drumming the insides of his instrument.  A master of stomp box f*ckery, Cline kept a clean and relatively untreated sound on both improvisations, crafting new harmonic avenues for exploration with his spare but richly intelligent chord structures and his darting leads.  It was a place where subtlety and cacophony co-existed, all within an arresting, ever-spiraling musical architecture, one that seemed to evolve into whole new nations of sound every four or five minutes.  The piece concluded with a thundering solo by drummer Wimberly, who used sticks, brushes, mallets and his bare hands to wrestle unique sounds from the world's oldest instrument.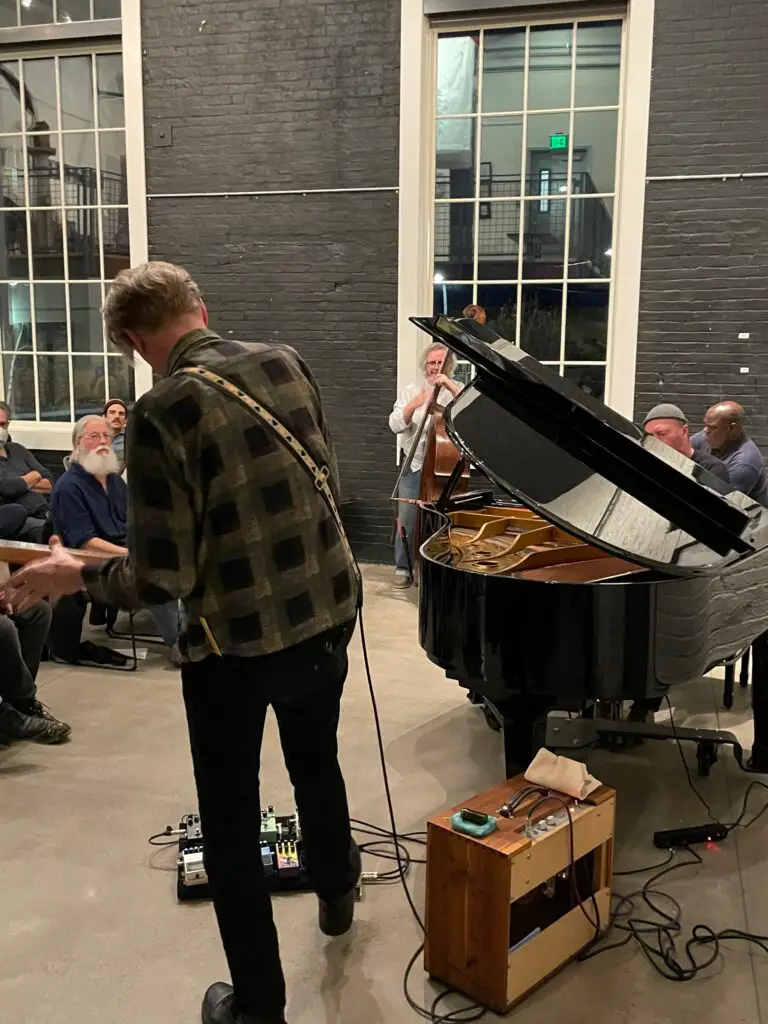 The second improv commenced with Thollem singing and whistling into his piano. He was soon joined on the vocalese by drummer Wimberly, who together created a sound resembling the chanting of monks, a Cambodian temple music of sorts. Cline added to the drama by getting percussive on his Fender Jazzmaster guitar, now outfitted with two sticks to mute its strings.  The whistle of a passing freight train on the tracks adjacent to Lace Mill only added to the otherworldly ambience. In this latter musical adventure, Bisio took a masterful 5-minute solo. It concluded with his bowed bass generating high-pitched overtones that sounded like a Shehnai, a double-reeded Indian wind instrument heard on tracks like The Beatles' "Inner Light," or a flock of seagulls caught up in a typhoon!  There was a wonderful guitar solo from Cline propelled by Thollem's thunderous chordal comps and Wimberly's circular drum rolls and shouts.
Bottomline? Dissonance never sounded so luscious!
Bisio will be back at Lace Mill on Sunday, April 10 at 4 pm for a performance with the quartet featured on his new release, MBefore (featuring wonderful cover art by his wife Dawn).  Hudson Valley guitar aficionados can catch Nels Cline on Saturday, April 2 at 8 pm at Colony Woodstock. 
Bisio, Berger, Sultan and many more of the Hudson Valley's most creative jazz and electronic improvisers are being featured at a new concert series at the Kingston Library curated by another Lace Mill resident, Daniel Rhiner of the Kingston Artist Collective.   More excellent improvisational ensembles are being presented regularly, both live and via concurrent livestreams curated by owner D.b. Schnell at Green Kill, his long-running art and performance space at 229 Greenkill Avenue in Kingston.