Since 2010, the annual Alternative Guitar Summit has presented dozens of daring players who push the boundaries of this ubiquitous instrument to their most inventive, unexpected and beautiful extremes.  Now the festival's founder, Brooklyn-based guitarist/composer Joel Harrison, is revealing the inspirations and creative journeys of 27 of guitardom's most intrepid masters in a new book, Guitar Talk: Conversations with Visionary Players (Terra Nova Press). 
Harrison's overview of creative guitaring begins with some of the influential icons who emerged in the 1970s including Pat Metheny, Ralph Towner, Fred Frith, Henry Kaiser and the criminally-underrated Michael Gregory Jackson. Jackson is a multi-genre master namechecked as an influence by the likes of Metheny as well as Vernon Reid, Bill Frisell and Brandon Ross, who are also featured in the book.  Nels Cline, Julian Lage, Elliott Sharp, Ben Monder, Anthony Pirog, Mike and Leni Stern, Mary Halvorson, Wayne Krantz, Liberty Ellman, Dave Fiuczynski, Wolfgang Muthspiel, Ava Mendoza and Sheryl Bailey are also profiled in-depth. Harrison also explores lesser-known artists like Nguyên Lê, Rez Abbasi, Miles Okazaki and Rafiq Bhatia who are marrying the melodies and rhythms of their ancestral lands to the outer reaches of jazz.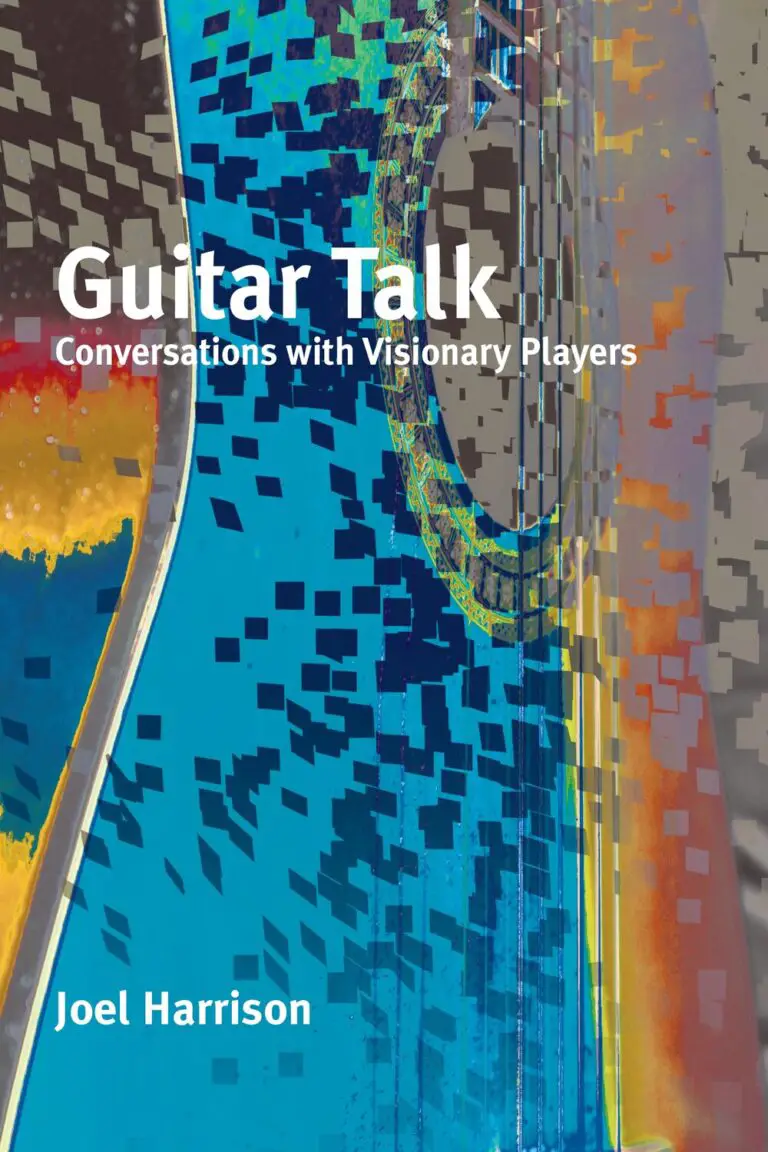 As evidenced with a listen to any of the above, an enormous, fast-expanding range of approaches and sounds now exist within modern guitaring. The instrument can howl, hum, scrape, scratch, scream, sing, pluck, grate and soothe. What stands out in this book is not so much the instrument itself, but rather the wonderful and idiosyncratic personalities of these bold souls. They are all united by their sometimes wild, often zigzagging and ultimately profound journeys toward beauty, meaning and excellence in their work.
As an accomplished player who has known or collaborated with these artists over decades, Harrison is uniquely equipped to orchestrate these interviews. They are far more informed, revealing and absorbing than the ones you might read in general music media or hear on NPR. His intimate knowledge of their lives and creative struggles provides a unique perspective on this breed of musicians. They are the ones who take the road far less traveled to create artistry that never approaches cliche. 
The book begins with a profile of Ralph Towner.  Towner was the man who brought nylon-string classical guitar and acoustic 12-string into jazz, along with a litany of rich classically-informed compositions, through his work with Oregon, Weather Report and his solo ventures.  He speaks about the impact of Big Band, Brazilian and Bach on his work. He also relates a humorous story of finding himself in folk singer Tim Hardin's band at Woodstock '69, playing one of the "worst sets" of the legendary festival to a crowd of 450,000. 
Many guitarists interviewed speak about the scene in Boston that grew up around the Berklee College of Music in the 1970s. It was an especially fertile one which launched players like Bill Frisell, John Scofield, Mike and Leni Stern and Pat Metheny to name a few. Metheny speaks about the development of his renowned sense of melody with his namesake quartet and also his lesser-known explorations to jazz's far reaches with the Synclavier, Ornette Coleman and his Orchestrion records.  A name that comes up with Pat and several other guitarists is Berklee educator Mick Goodrick, a chordal master who taught many of these names and shared guitaring duties with a young Metheny in the Gary Burton Group.
Harrison has a special reverence for the music of Michael Gregory Jackson. Jackson is a genre-hopping instrumentalist/improviser, as well as a later-day singer/songwriter in the R&B mold, who emerged as a teen in the mid-1970s NYC loft jazz scene with the Oliver Lake Group and groundbreaking solo records like his 1976 debut Clarity. Jackson packed influences ranging from Son House, Stockhausen, Hendrix, Albert Ayler and Stevie Wonder into his fast-evolving style, leaping from avant-garde to R&B to CBGB's proto punk.  His searing melodic style and techniques, like his use of volume pedal swells, has been noted as an influence by Metheny, Frisell, Mary Halvorson and others.  The element of racism, the fact that the massively talented Jackson didn't quite breakthrough to the big time, is sighted not only by the author but in interviews with Vernon Reid and Brandon Ross. After a quiet period, Jackson re-emerged in a big way in the last decade, recording acclaimed discs both here and in Denmark that are firmly rooted in his initial avant style.
In his interview, Bill Frisell charts his development from his busier, fuzzier earlier style to what Harrison labels the "deceptively attainable haiku style" of current day. Like many here, Frisell credits his sense of melody and harmony to his study and friendship with the great Jim Hall, along with a love of pop songsmiths like Burt Bacharach, someone his younger self would've considered "way too corny."  There's also a fun story here about how his teenage R&B band beat one with future members of Earth Wind & Fire in a high school battle of the bands.
The husband-wife guitarists, Mike and Leni Stern, speak frankly of their battles – in developing  unique and differing styles and with substance abuse.  Mike relates how his ill-fated jamming partner Jaco Pastorius was the unlikely figure who sent him to rehab, while Leni relates the challenge of being one of three women in a Berklee guitar class of over 200.  Mike also discusses the slings and arrows from critics for his now much imitated heavy metal bebop style introduced with Miles Davis on "Fat Time." This was the searing opening track of Miles' 1981 comeback album, a track titled for the nickname the trumpeter gave the then hefty guitarist.
Nels Cline speaks of his light bulb moment of guitaristic inspiration: hearing Hendrix's "Manic Depression" at age 12.  He also discusses the influence of artists as disparate as The Allman Brothers, early Weather Report and the avant-gardists of the AACM collective have had on his style. Cline is one of many musicians here who frankly discuss the financial struggle faced as a creative musician. He relates how he was about to quit full-time music and get a day job when he was called to join Wilco.  He laments how current listeners seem to lack the attention span of those of decades past and how much more challenging it is to create a 5-second solo for a Wilco song than an expansive jazz improvisation.
Vernon Reid credits his interest in music to the now rare instrumental hits that made the pop charts when he was growing up, The Surfari's surf standard "Wipe Out."  He also discusses his shift from the avant-garde to MTV and stardom with his rock band, Living Colour.  Like Reid, Brandon Ross thinks the jazz university complex has maybe made for learned but less innovative musicians.  He relates the huge impact that hearing Joni Mitchell's "Dawntreader" had on him as a second grader, something that has influenced his shimmering acoustic work with singer Cassandra Wilson and on his own solo records.  Ross also addresses the impossible financial challenges faced when festival bookers and A&R people can't define a band and chose not to support adventurous bands like his edge-pushing trio, Harriet Tubman.  David Tronzo, the innovator who brought slide guitar into the Sun Ra-like avant-garde, speaks about how the financial woes facing musicians out of the mainstream has played a role in his decision to forsake the road for a teaching gig.
Nguyên Lê is one artist who represents how jazz in evolving with the growing impact of non-Western musics and musicians, something evidenced in his album, Tales of Vietnam, and in the Indian/Cuban informed work of another interviewee, Rez Abbasi.  Young Brooklyn guitarist Ava Mendoza details how she is using free jazz, noise rock, ragtime, blues and punk to create wholly unique sounds –  in soundtracks, in collaboration with artists like John Zorn and works like her solo CD, Shapeshifters.  Veteran player and educator Dave "Fuze" Fiuczynski has been using his fretless guitar to explore the microtonality of world music for years.  Here, he discusses his journey to departing from even-tempered 12-note per octave scales for ones with 24 to 128 tones per octave.
No guitarist among the edge-pushing modernists in this book may be as busy as Mary Halvorson.  On the subject of being a woman in jazz, she says that many of her greatest role models and advocates have been men. But the danger for women is in the learning phase – when men might try and convince you that youcan't play. Halvorson recalls her beginnings studying traditional jazz harmony and standards before burning out and turning to the more adventurous compositions and improvisational style of her teacher Anthony Braxton.  Her singular style emerged at this time, in part with her creation of unique intervallic exercises that are still a hallmark of her work.  Through a recent MacArthur Grant, she has furthered her work on several projects. This includes her three-woman/three-man Code Girl ensemble and a move into writing songs with lyrics, inspired by her love of Fiona Apple and Robert Wyatt.
Harrison's book concludes with a wonderful discography of selected listenings. You can also check out his recent CD Guitar Talk, a collection of solo pieces and duets with artists like Ben Monder and Steve Swallow.  The release was celebrated with a recent performance by at Brooklyn's newest jazz institution, the wonderful Soapbox Gallery, which can be seen below.