HANZOLO! The indie group with an explosive, emotional sound mixing soul, jazz, rock and funk, hail from Cooperstown, and bested Albany's Fine Grain en route to winning the finals of NYS Music's March Madness 2022.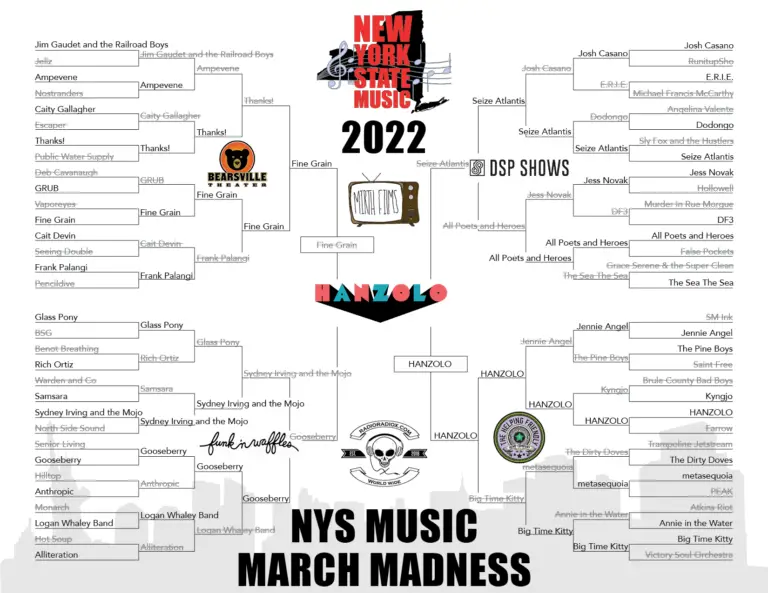 HANZOLO, hailing Cooperstown – where 5 of the 7 members attended Cooperstown High School – formed in 2016 after playing in a variety of groups from high school and into college. The group's name derives from the name of a samurai, Hanzo, and a certain science-fiction cowboy.
Band members include Carl Loewenguth (vocals, guitar), Nick Summers (keyboard, trumpet), Jack Loewenguth (bass), Nate Olmstead and Sebastian Green (drums), James Matson (trombone), and Joey Katz (keyboard, saxophone)
Since forming, HANZOLO have opened for bands like Lawrence, Wild Belle, and *repeat repeat. They released their first album Table Butter in 2019, an apt title given they have been compared to Table Butter: soft enough to spread yet hard enough to keep its shape.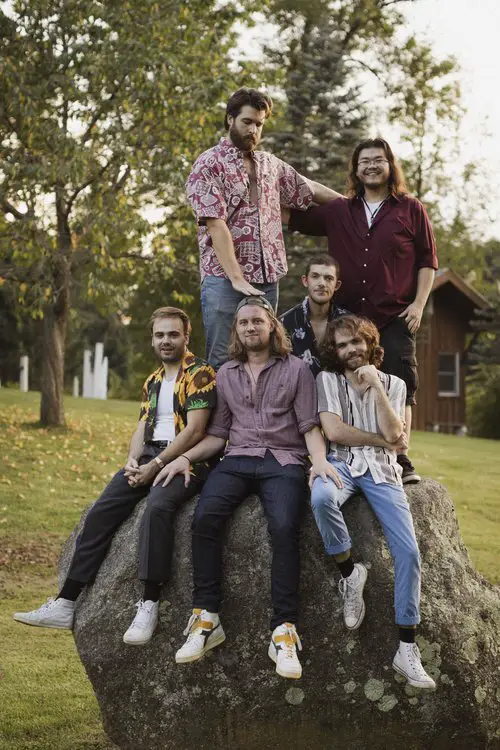 As COVID-19 led to a music industry shutdown in 2020 and most of 2021, the band took the time to refine their second album, HANZOLO. In September 2021, the group won the EQX Battle of the Bands and opened Albany's annual Pearlpalooza music festival.
They have played regularly in NYC at The Delancy and Rockwood Music Hall, and look to expand their audience in coming months with festival appearances that are soon to be announced.
Closer to home, HANZOLO play regularly in Albany at Lost and Found, as well as Ommegang Fire Pit Fridays in the summer, Black Oak Tavern and Foothills PAC in Oneonta.
The self-titled second album was released on Christmas Day 2021, the result of a Kickstarter campaign that netted over $14,000. With COVID sidelining the band from touring, they used the time to put more focus on the quality control of the album and launch the band into their next phase in a well-timed manner.
They've also got a selection of HANZOLO merch you can pick up here.
HANZOLO 2022 Tour Dates
April 8 – Arts Gala at The Madison Theater, Albany
April 14 – Pauly's Hotel, Albany (with JDolla)
April 24 – The Range, Ithaca (with Q-Tip Bandits)
April 27 – Lark Hall, Albany (with Q-Tip Bandits & E-Block)
June 11 – Cooperstown Blues Express, Cooperstown
Congratulations HANZOLO, NYS Music's 2022 March Madness Winner!

Since 2015, NYS Music has crafted a friendly March Madness competition that spans all musical harbors of the Empire State. As fans and musicians, the NYS Music team aims to spotlight the great talent found across New York in a friendly contest, bringing broader attention to the next generation of artists and bands on the rise. March Madness 2022 highlighted 64 bands and artists you might not know, but should know, as these homegrown talents are making waves through the New York State. Review each round below.
HANZOLO joins previous NYS Music March Madness winners include Organ Fairchild (2021), Black Mountain Symphony (2018), Root SHOCK (2017), Sprocket (2016) and Lucid (2014).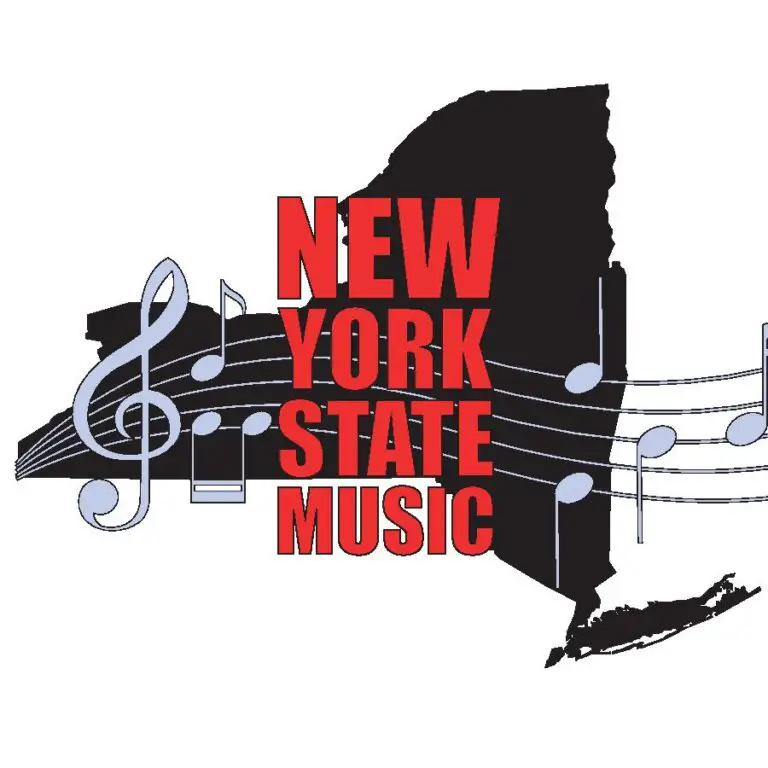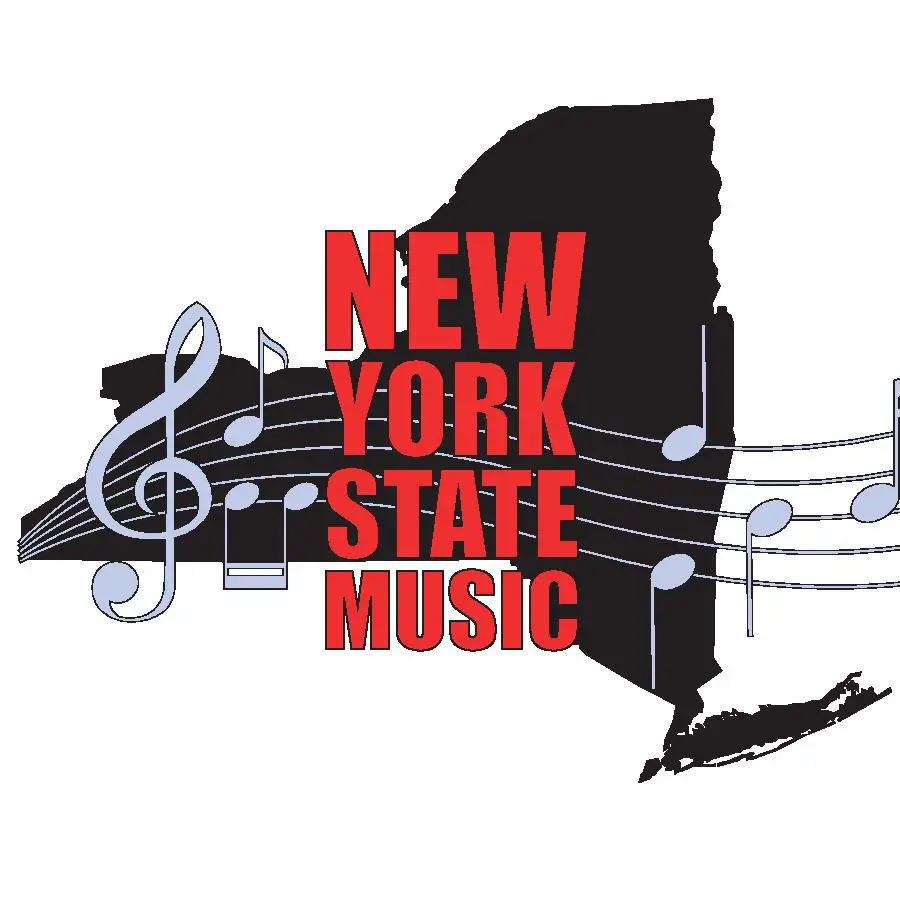 Our sincere thanks to the sponsors of NYS Music March Madness 2022 – Bearsville Theater, Funk n Waffles, DSP Shows, The Helping Friendly Hemp Company, The XPerience Monthly and Mirth Films.