Two Truths, Rochester's newest indie pop/rock outfit, was conceived during the 2020 COVID-19 pandemic by musicians and roommates Blake Pattengale and Garrett Mader. Quarantine went quite swimmingly, as this new indie pop/rock band set off on the right foot with their first single "Brushstrokes," with their forthcoming debut EP, Electric Campfire.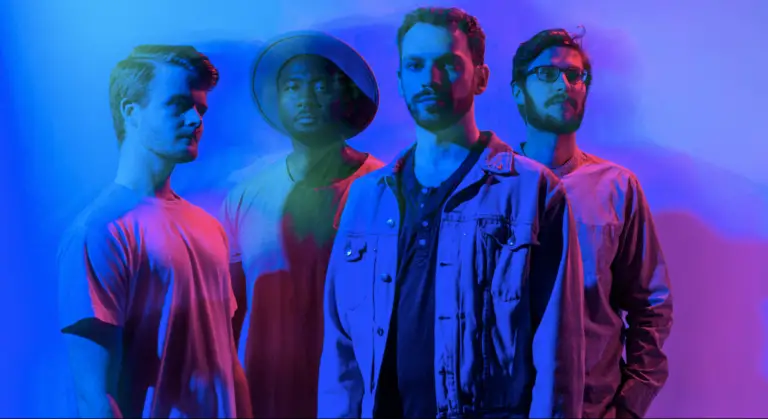 To fill out Two Truths, Max Greenberg joined on keys and Byron Cage on drums. Together their band's sound pulls from a range of genres from Americana to rock, mixed with folk and a little electronic. Pattengale provides down to earth lyrics which are complimented by full vocal harmonies with electric drums and synths.
As ambiguous as "Brushstrokes" sounds, the song itself has more meaning than what meets the eye.  Kerry Regan portrays a man who is looking to connect with his lost love. We see him at his art studio to revisit an old painting. The story unfolds to explain the man's dreary present day life, compared to his past young happy and inlove self. A scenic picnic, a couple running through the fields accompanied with "When I was a younger man, I'd chase you through the fields that we painted with soft brushstrokes."
Kerry Regan becomes covered in paint, attempting to immerse himself in his past with his young lover. The music almost feels ambient through its synth texture and angelic guitar picking. Luckily for the protagonist, he finally finds himself in the painting with his lover.
Two Truths serves up true potential in their first single, and we're excited to see where they will go next. Follow Two Truths on Instagram.
The music for "Brushstrokes" was produced by Pattengale & Mader in Pattengale's home studio, accompanied by Max Greenberg & Byron Cage, Mixed by Pattengale and Mastered by Ed Brooks. Video production for "Brushstrokes," was made possible with collaborations by Olivia Rose (pre-production, artistic director, actor), Krit Upra of Floated Magazine (videographer, post-production, director), with additional help from Jeanne De Keyserling (painter, actor) & Kerry Regan (actor).