More Than Music LLC has announced the kickoff of a new series of artist showcases, dubbed as "More Music Less Violence," taking place on September 12 at The Ground Up Café in Albany.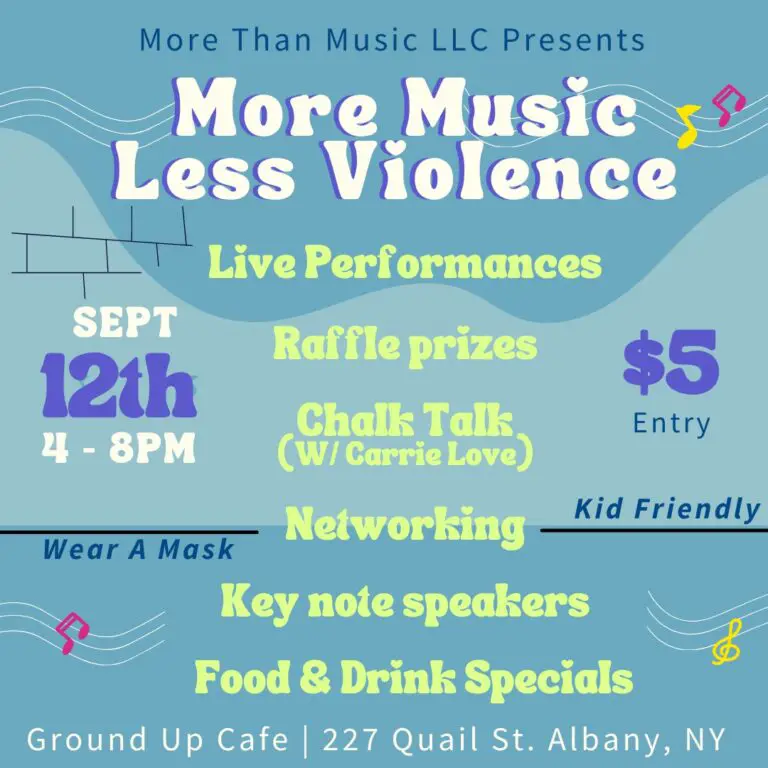 "More Music Less Violence" came into being as a pop-up event during Summer 2020, in the heat of the COVID-19 pandemic, focusing on bringing people together to heal the community through arts. A year later, COVID-19 restrictions are scaled back, and the Capital Region is still seeing an influx of gun violence peppering the area. The need for "More Music Less Violence" is ever-present, and returns ready to stay. 
In keeping with the spirit of a positive energetic message, the first showcase is filled with a Capital Region roster of 11 young, bright talents. Included among the lineup are Freedom Stratton, Triya Love, Alexys Rae, Jaccpot, Ricky Bandana, Tony Twix, Rell Dolo, Chaz Money, Astrx Boomin, B Lyriq and Iveilah Dutton.
More Than Music LLC CEO Mario Johnson – aka DJ HollyW8D – will be debuting a special surprise set as well. Originally from Brooklyn, DJ HollyW8D energizes crowds throughout Upstate New York and has always gravitated to music throughout his life and hopes to bring versatility in his music mixing wherever he goes. Drawing inspiration from many including his mother, Sean P. Diddy Combs and DJ Puffy, HollyW8D aims to inspire others with his daily grind and optimistic energy.
Due to the COVID pandemic there was no events going down, so I made an event. Music is a common factor that always brings people together and growing up in Brooklyn you saw violence every day. I don't want to see it where I am living now.

Mario Johnson, CEO of More Than Music LLC, on his inspiration behind the event.
Intermittently throughout the evening, various representatives will be presenting on the issue of violence in the Capital Region. Guests can expect to hear from Councilman Owusu Anane of the Albany County 10th Ward, Albany Mayoral candidate Greg Aidala, representatives from the Boys and Girls Club of the Capital Area and Jerry Ford from TEAM H.E.R.O.
There will be an assortment of other activities for those in attendance, including live painting with artist Heartless Harlot, and kid-friendly interactive Chalk Talk with Carrie Love, who teaches kids how to silently protest. All attendees will have access to the photobooth and will receive a raffle ticket upon admission that can be used later for merchandise.
The event will be held from 4pm – 8 pm at Ground Up Cafe at 227 Quail Street in Albany.