The center of the jazz center universe shifts around throughout the year. New York. New Orleans. And for few days every summer, Newport. The Newport Jazz Fest returns in 2021 from 7/30-8/1 at Fort Adams State Park and the Fort will swing again!
This year's lineup brings a highly diverse lineup of new, old, east west, big, small, and everything in between. It will present artists performing from familiar places of comfort and also in new, exciting, never-been-heard before ways proving that the country's oldest music festival is still capable of keeping things fresh.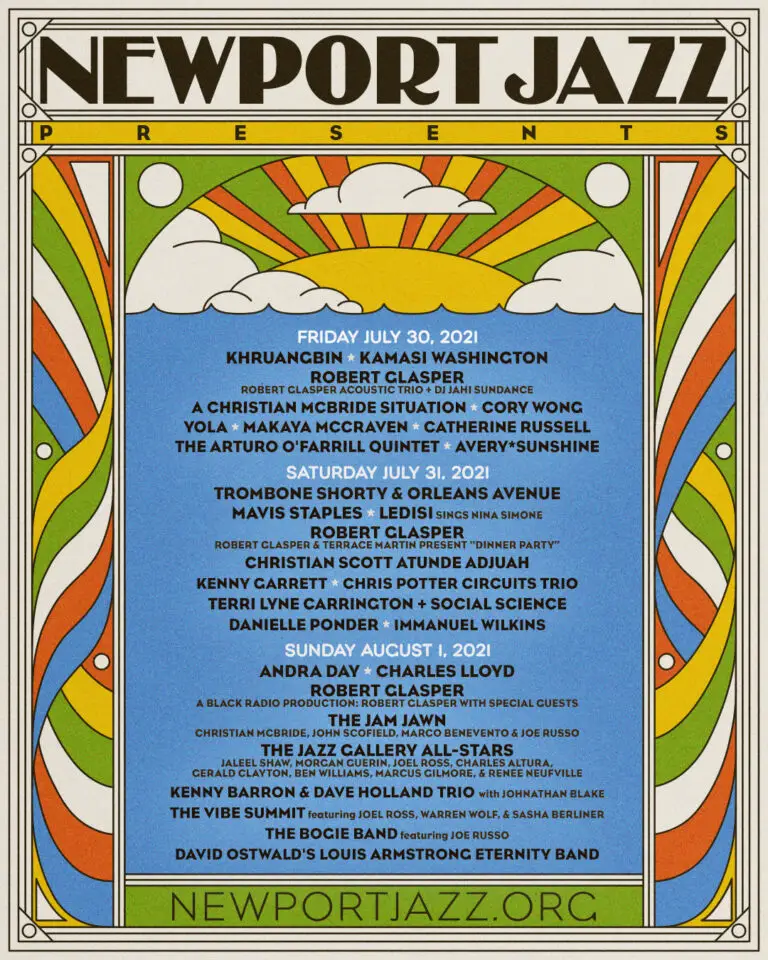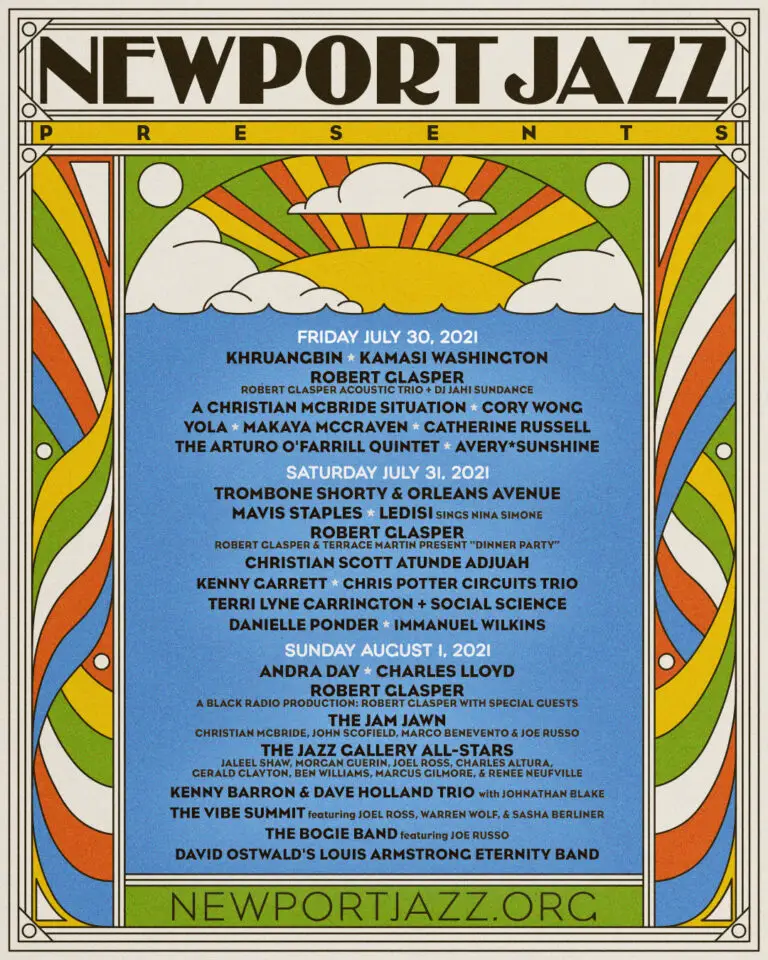 Just skimming across the top the headliners alone set-up the diversity that peppers the lineup below. Austin Thai-infused funk trio Khruangbin close out Friday, New Orleans stage party Trombone Shorty finishes off Saturday and singer and Academy-Award nominated actress Andra Day closes out the weekend. Festival impresario, George Wein, praised sang her praises in one of his famous email transmissions:
[She] greatly impressed me in her Academy Award nominated performance in the United States vs. Billie Holiday. I think that's wonderful. But more importantly, Andra Day is one of the finest singers I've heard in years. I think when you get to know her, you will put her in the ranks with Billie Holiday, Sarah Vaughan, Ella Fitzgerald, Nina Simone and a few other magnificent artists we've had the privilege of presenting.

George Wein
Festivals past will get tributes, with Grammy-winning singer Ledisi playing a set of festival alum Nina Simone and longtime alum of the Folk Festival, Mavis Staples, to play a set of… Mavis Staples. David Ostwald will bring his weekly Birdland gig to the Newport stage paying respects to jazz pioneers like Louis Armstrong, Bix Beiderbecke, Duke Ellington, and Jelly Roll Morton.
Newer sounds will command the stage for much of the weekend however. Festival Artistic Director Christian McBride brings his newish band featuring DJ Logic, as well as a jam session featuring jamband-stalwarts Joe Russo and Marco Benevento, and fusion guitarist John Scofield. Robert Glasper will also feature a DJ, Jahi Sundance, in one of his three sets, which all should prove to be forward-thinking.
On Sunday, the Newport audience will get big doses of some lesser-heard sounds. Vibraphone players Joel Ross, Warren Wolf and Sasha Berliner join together for a set showcasing their instrument. New York's Brandee Younger and Rochester's Mikaela Davis will put together a set featuring their harp playing.
Joining Mavis Staples on the soul singing front, another Folk Fest alum (and 2021 Folk On artist) Yola will show the jazz audience why she is a rising star worthy of joining Staples as a festival crossover. Lesser-known soul singer and beloved Rochester native Danielle Ponder will introduce herself to her biggest audience yet.
The full lineup is stacked top to bottom. There are no miss-able sets. Fortunately for those wanting to catch as much as possible, the usual four stage set-up has been reduced to just two and the near half-capacity crowd should make getting around a bit easier. See the full lineup below. It isn't too late to join in on the fun, while Friday and Saturday tickets are sold out, Sunday is still available.
Friday
Khruangbin
Kamasi Washington
Robert Glasper Acoustic Trio & DJ Jahi Sundance
A Christian McBride Situation
Cory Wong
Yola
Makaya McCraven
Catherine Russell
The Arturo O'Farrill Quintet
Avery*Sunshine
Saturday
Trombone Shorty & Orleans Avenue
Mavis Staples
Ledisi Sings Nina Simone
Robert Glasper & Terrace Martin present "Dinner Party"
Christian Scott Atunde Adjuah
Chris Potter Circuits Trio
Kenny Garrett
Terri Lyne Carrington & Social Science
Immanuel Wilkins
Danielle Ponder
Sunday
Andrea Day
A Black Radio Production: Robert Glasper with Special Guest
Charles Lloyd
The Jam Jawn: Christian McBride, John Scofield, Marco Benevento, Joe Russo
The Jazz Gallery All-Stars (Jaleel Shaw, Morgan Guerin, Joel Ross, Charles Altura, Gerald Clayton, Kendrick Scott, Renee Neufville)
Kenny Barron & Dave Holland Trio (with Jonathan Blake)
The Vibe Summit (Joel Ross, Warren Wolf, Sasha Berliner)
The Bogie Band featuring Joe Russo
David Ostwald's Louis Armstrong Eternity Band
Brandee Younger with Mikaela Davis