In celebration of their 25th year of providing music education to America's youth, the all-volunteer Mockingbird Foundation has announced a free, three-day streaming event that features a host of musicians, educators, and other speakers. The Mockingbird Sessions will stream live on June 4, 5, and 6 on Fans.live in what will be a celebration of music, education and community.
Thanks to the efforts of dozens of people and multiple studios, Mockingbird Sessions includes an impressive schedule of artists including never-before-seen combinations; a series of Masterclasses showcasing the artistic philosophies of various artists and instruments; video testimonials from past Mockingbird grantees; and more.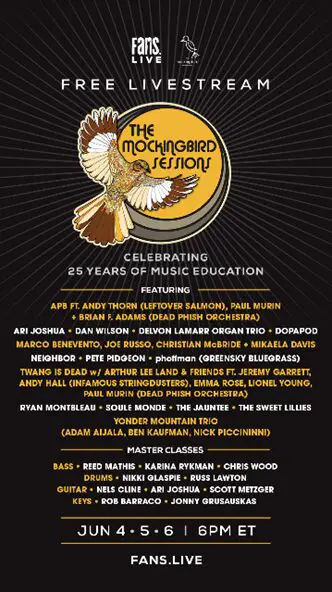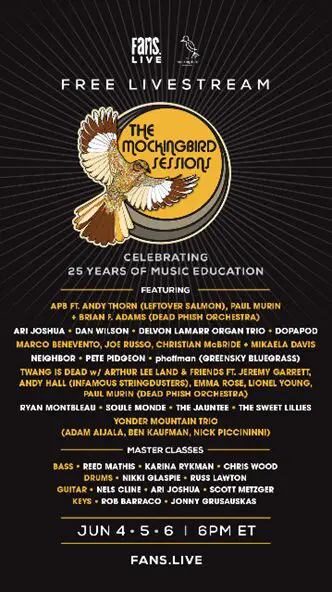 Mockingbird Sessions includes artists such as Marco Benevento, Joe Russo, and Christian McBride in a once-in-a-lifetime quartet with harpist Mikalea Davis; The Delvon Lamarr Organ Trio; The Yonder Mountain String Trio; Paul Hoffman (from Greensky Bluegrass); and many others in unique pairings and groups that were curated specifically for this event.
Masterclasses will also be presented. These are se to showcase the artistic philosophies of various artists and instruments, like the bass panel featuring Reed Mathis, Karina Rykman, and Chris Wood and hosted by Dr. Stephanie Jenkins (noted host of the Phish Studies Conference in 2019). Testimonials by grantees will be sporadically shared during the weekend as well, and a limited edition print from artist Cory Rowe will also be available for purchase.
The Mockingbird Foundation is an all-volunteer, fan-founded and managed 501c3 organization that has now been around since 1996. With the core goal of supporting music education for children, it has been operated entirely by fans, without any paid staff. The Foundation has now made 493 grants in all 50 states, totaling more than $1.8M. Funds for grants are obtained through generous donations from a loyal base of music fans, as well as through books, recordings, artwork, merchandise, and other special events.