The late, great Edward Van Halen wasn't the first musician of Indonesian descent to set the world ablaze with his fiery guitar work.  That honor goes to The Tielman Brothers, a quartet of Indonesian immigrants to Van Halen's native Holland, who helped pioneer a new musical genre in the early years of rock-n-roll. It was a fusion of exotic world and American musics – a high energy, theatrical and largely instrumental guitar-driven variety played by Indonesian immigrants to the Netherlands dubbed Indorock. Although it was big in continental Europe for a time, Indorock has remained virtually unknown in the world beyond.
Tielman's story begins in 1945 in Surabaya, Indonesia, then a Dutch colony. That was when four brothers – Andy, Reggy, Loulou, Ponthon and their sister Jane – were inspired to start performing traditional folks songs and dances at parties by their musically-inclined father, Herman. Within a year and half, they were on tour as The Timor Rhythm Brothers, playing the music and dances of their homeland with costumes and even war-like rituals employing spears and swords. The musical style they played, kroncong, was a fusion of traditional Indonesian music with Portuguese fado and saudade, sounds that came to these islands when European explorers arrived, with their guitars, in the 16th Century.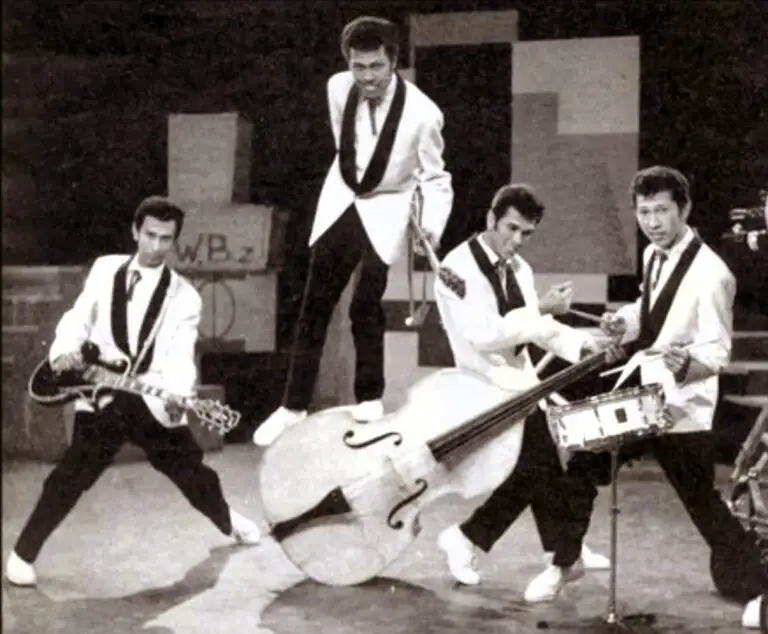 All that changed in 1951 when the Tielman's heard the hillbilly rock of "Guitar Boogie" by Arthur Smith. In search of a harder, more American sound like Smith's, they moved brother Loulou over to the kit drum set. They eventually began to add covers of hits by Les Paul, Elvis, Chuck Berry, Fats Domino and Gene Vincent to their act –  all propelled by the ferocious guitar licks and versatile vocals of Andy Tielman.
The Tielman's joined the wave of more than 300,000 Indonesians who would emigrate to Holland. They brought spice to its culture, cuisine (the famed rice buffet, Rijsttafel) and music. In 1957, the family relocated to Breda, Netherlands where they began playing as The Four T's. Their big break came in 1958 when they secured a gig in the Hawaiian section of the Dutch pavilion at the World's Fair in Brussels. Hawaiian music was becoming a global sensation at that time. Naturally, it became another ingredient in their fast-expanding polyglot musical brew, along with a little country & western, rockabilly and their native folk. 
The World's Fair crowds were blown away by their frenetic brand of rock-n-roll. It was a roar of volume and energy complimented with showy antics like tossing their guitars, playing them with their teeth, their toes, behind their backs and heads, and upside down – all without missing a note or beat. It was Hendrix's bag of tricks, minus the burning guitar, ten years before Monterey Pop. Their electrifying act quickly garnered bookings far and wide, including some in Hamburg's notorious Reeperbaum red light district, commencing two years before the Beatles' first stint.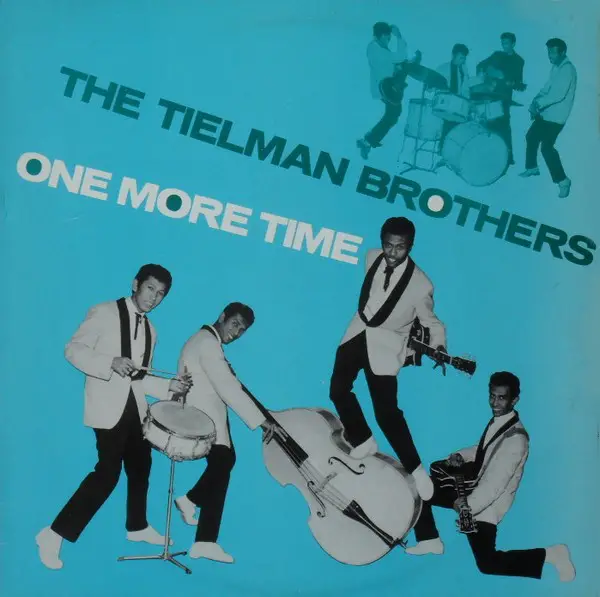 A year later, they would finally be performing as The Tielman Brothers, in Holland and mostly frequently Germany. The year also saw the release their debut single, "Rock Little Baby of Mine,"  widely considered the first-ever Dutch rock-n-roll record. Around the same time, brothers Andy and Reggy started playing their signature Gibson Les Pauls. It was something that would influence a host of European guitar heroes-to-be including Jan Akkerman. The blistering technician who led Holland's most internationally successful Indorock band, Focus of "Hocus Pocus" fame, Akkerman got turned on to the Tielman's and their Les Pauls at age 12, while watching a performance on German TV.
"Andy's white Les Paul was cool, but seeing Reggy playing his Black Beauty, I knew that was my guitar and I would have to have one someday," says Akkerman. "I had played a Gretsch White Falcon in a bunch of bands since my dad bought it for me in 1963. But I had wait around seven more years or so, until my days in Focus, to finally get a black Les Paul Custom. It was an instrument that became a signature of my sound and the bands through the mid-70s."
The Tielmans stuck with Gibson guitars until the mid-60s when they moved on to Fender Jazzmasters. Lighter axes made their acrobatics easier to perform and became choice for the majority of Indorockers. Interestingly, Andy created a custom 10-string Jazzmaster in order to thicken his sound.
Much of The Tielman Brothers' notoriety came as a result of high octane performances on Dutch and German television, ones that we can enjoy today thanks to YouTube. 
On January 23, 1960, Holland was hit with an earthquake of Indorock sound and sight… when The Tielman Brothers appeared on AVRO TV's "Weekend" show. 
The slim, sharply dressed brothers kicked off their performance with "Black Eyes."  It's a sleepy Santo & Johnny-esque ballad driven by trills and tremolo at first, which then moves onto a stop-time tango beat, and finally, a Gene Vincent/Cliff Gallup-styled rockabilly rave-up to close. Brother Andy was centerstage with his inspired riffing and cool lounge lizard presence – using bends, slides, muted strings and classical-styled tapping to ring harmonics out of his guitar.
This TV performance also included "Rollin Rock," six-minutes of the brothers pulling out all stops on their instrumental Indorock prowess and showbiz schtick. Drummer Loulou played Andy's guitar with his sticks and solos repeatedly. He walked around his kit as he thumped away. Ponthon alternatively runs, rides and slides his big acoustic bass across the stage. Then positioned himself beneath it as he took his solo. Andy swung for the fences as usual – playing his Les Paul with his feet, his teeth and behind his back, the latter while dancing atop Ponthon's bass.
The Tielman's performance also included their radical new single, "18th Century Rock."  Could it be they started the whole European classical/prog rock thing with this rockabilly'd-up version of Mozart's "Piano Sonata No. 16 in C Major?"  The stodgier segments of Dutch society were not impressed and criticized the band heavily in media. Interestingly, they would go on to enjoy greater success in Germany, Italy, France, Switzerland and Sweden than Holland.
The first Indorock bands I heard in Holland were the Poetiray Brothers, Electric Johnny and his Skyrockets, The Crazy Rockers and the Tielmans with Andy at the helm, who were the best of the lot. What a great talent he was, a genius in his own right who I had the pleasure to see and play with many times. Andy and the Tielmans were more of an influence on me than the Beatles or the Rolling Stones. I put him right up there in my favorites, with Jimi, Django and Julian Bream.

Jan Akkerman
"I remember seeing them one night in the '60s in the Hague at a chic place called Palais de Dance," Akkerman recalled.  "What I heard and saw was unbelievable, as it always was. They played high-energy rock-n-roll, romantic ballads and even instrumental covers of tunes from West Side Story. I heard from Andy that when they played at the Star Club in Hamburg, The Beatles would come listen and watch him play his guitar with his teeth!"
The original band of brothers would stay busy, add some new members and release a steady stream of singles and albums until a serious car accident caused two to leave the band in 1964.  The band, then with only Andy aboard, scored their biggest hit in The Netherlands with the Hawaiian-inspired vocal ballad, "The Little Bird," which reached #7 in the Dutch Top 40 in 1967. 
Even after a move to Australia in his later years and the dissolving of the band in 1979, Andy continued to be a popular performer, returning to Europe to play and record and sometimes re-make his hits until his death in 2011.
"After I left Focus in 1976, Andy came to visit me often and we even recorded an album, R&R, Our First Love, which sadly never got released," adds Akkerman.  "A few month before his death, I ran into him at an Indonesian marketplace in the Hague. His daughter was playing violin; she was very good and he was very proud, more proud of that than anything at that moment. Shortly after that, I got the news he was terminally ill, but he kept playing till his last breath. Andy, for me, is still numero uno."
The Tielman Brothers combined the very best of many good things. They boasted the intricate instrumental guitar stylings of The Ventures, The Shadows, Link Wray and Dick Dale, with rockabilly/pre-punk energy, relaxing South Sea islands folk balladry, some Great American songbook croonery, primitive prog rock with their classical interpretations and much more. It was all delivered with the kind of crowdpleasing antics that may obscure the instrumental brilliance at first glance. 
As Akkerman relates, The Tielman Brothers were just the tip of the Indorock spear. Some lesser known groups of Dutch/Indonesian musicians slightly preceded them like The Real Room Rockers; and many more followed, including The Crazy Rockers and The Blue Diamonds. They are all well worth the listen.
Also worth a long listen and look is Akkerman's work on the spectacular, new 9-CD,2 DVD Focus 50 Years anthology. This elaborate boxed set collects remastered editions of the band's seven studio albums, plus assorted b-sides, alternative mixes, unreleased outtakes, demos and live and television performances from the Indorock/prog/fusion band's peak years, 1970 -1976.