Dive bars and small clubs are generally the starting point for any fledgling band looking to make it big. Ideally, the goal is to move up to bigger and better venues eventually. Well, today, we celebrate one of the few tiny clubs that became renowned worldwide and a dream destination for any band. CBGB opened its doors 47 years ago,today, and the music world hasn't been the same since.
Located in the heart of New York City's Bowery district, CBGB was not always the musical Mecca it would come to be. It was previously a biker bar known as Hilly's on the Bowery, one of two local establishments that owner Hilly Kristal managed. When his other bar was forced to close, Kristal redirected his efforts to the one left standing and made a life-altering change. On December 10, 1973, the Bowery dive bar officially became CBGB & OMFUG.
The CBGB acronym stands for Country, Bluegrass and Blues, Kristal's initial vision for the music he wanted played there. The OMFUG supposedly stood for "Other Music For Uplifting Gormandizers." Although a gormandizer is a term often used in reference to someone who eats food ravenously, in this case it would be the music that was being consumed. However, Legs McNeil, one of the true punk music journalists of our time and a CBGB regular in its heyday, claims the "U" in OMFUG was often left open to interpretation.
At its inception, CBGB stayed true to Kristal's musical vision. But that would soon change, starting in February of 1974 when they booked local act Squeeze. This marked the first shift from country and bluegrass to original rock acts performing there. Another factor that led to the change in format was the nearby Mercer Arts Center burning down in August of 1973. For years, local unsigned bands of all styles had a place to play music there. Now they were in need of a new stage.
Eventually, the bookings at CBGB would lean more and more towards rock. Bands like Television, a local band at the forefront of the newly emerging punk music scene, would begin playing there. Other bands like the Patti Smith Group, Talking Heads, and Angel and the Snake (eventually renamed to Blondie) later got their start here as well. Rock legends The Ramones also played their first gig ever at CBGB in August of 1974 to a comically small crowd in hindsight.
While the early years of the club were rife with bands that would later become nationally known, CBGB was far from a financial success. Per Kristal, it was not until sometime in 1976 that the club started paying for itself. During this time, he also established two "set in stone" rules that would go on to define the ethos of this establishment. Bands had to play original material only and they had to move their own gear. In return, Kristal would allot most of the door money to the bands, encouraging them to develop a following and return.
That first year was an exercise in persistence and a trial in patience. My determination to book only musicians who played their own music instead of copying others, was indomitable. Originality (to me) was prime, technique took second place.

Hilly Kristal
Within a few years, CBGB was a known place for local artists of all kinds to experiment, play and do whatever they want – as long as it was original. It would only be a matter of time before acts based outside of New York City would begin to appear. In 1977, The Damned played a show there that marked the first time a British punk band ever played in America. Elvis Costello later opened shows there and The Police would also play their first American gigs here. As the 1980s rolled on, CBGB became primarily a haven for hardcore punk and metal acts.
With its growing success, the club was able to expand a little and a neighboring storefront soon become the CBGB Record Canteen, a record shop and cafe. In the late 80s, this was converted into an art gallery and second performance space. This would be a place for the "other" musical acts to perform, catering to fans of folk, jazz or experimental music.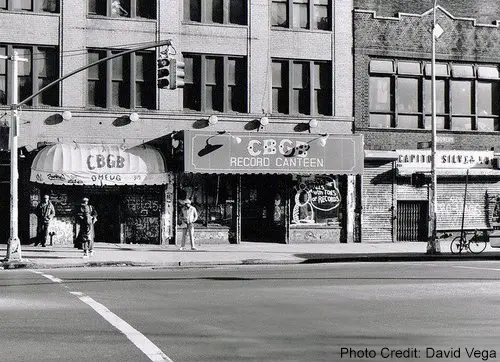 Sadly, the turn of the century would begin the downfall of this iconic music venue. CBGB would soon enter into a protracted dispute over allegedly unpaid rent amounts. In 2005, atop its normally paid monthly rent of $19,000, CBGB was sued for some $90,000 in rent allegedly owed to its landlord, Bowery Residents' Committee. Kristal claimed, and the court would later agree, that he was not properly notified about the increase in rent, marking the debt invalid. However, the two sides were unable to come terms on a new rental agreement and the soon-to-expire lease would not be renewed.
The last show at CBGB took place on October 15, 2006 and was broadcast live on Sirius Satellite Radio. Fittingly, New York City and club legend Patti Smith was the headliner, aided by Flea of the Red Hot Chili Peppers and Television's Richard Lloyd. Smith's rendition of "Gloria" was notably interlaced with snippets of The Ramone's classic "Blitzkrieg Bop." And during "Elegie," the final encore, Smith named musicians and other music figures who had died since playing at CBGB. This marked a somewhat somber end for a venue that was undeniably full of life for decades.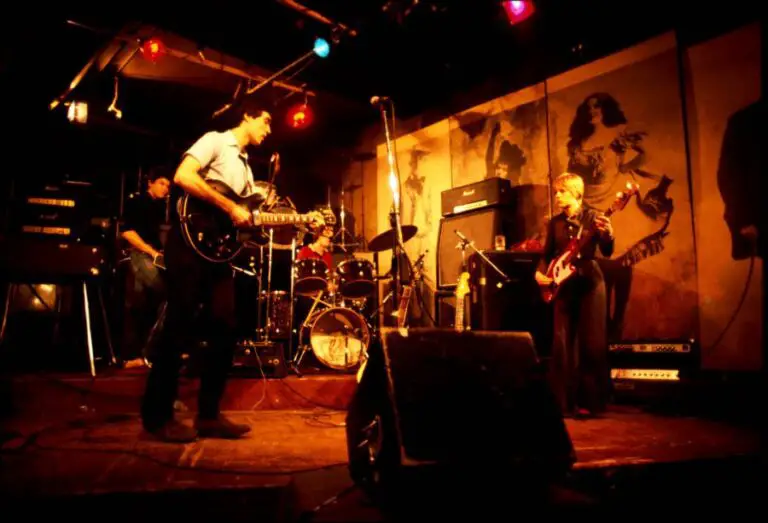 Even though no more music is played here, the legacy of CBGB continues to live on. It remained open as CBGB Fashions—retail store, wholesale department, and an online store—until October 31, 2006. And in 2008, fashion designer John Varvatos opened a store there, although in tasteful fashion. Aside from a few needed upgrades, the entire interior of the club remained the same – stickers, graffiti and all – as it housed CBGB memorabilia and clothes for sale. It even has its own movie that came out in 2013.
Aside from the venue itself, CBGB Radio would later launch on the iHeartRadio platform in 2010. CBGB music festivals would later begin to sprout in 2012. And the following year, the building itself at 315 Bowery was added to the National Register of Historic Places as part of the Bowery Historic District.
CBGB was founded in 1973 on the Bowery, in a former nineteenth-century saloon on the first floor of the Palace Lodging House. The legendary music venue fostered new genres of American music, including punk and art rock, that defined the culture of downtown Manhattan in the 1970s, and that still resonate today. In this role as cultural incubator, CBGB served the same function as the theaters and concert halls of the Bowery's storied past.

National Park Service nomination form
The spirit of CBGB and the early punk era also lives on through new forms of audio storytelling like the immersive audio walks created by arts and culture app, Gesso. Their Punks + Poets audio walk begins in Washington Square Park and ends in Tompkins Square Park, illuminating the birth of punk music in the area.
It's truly amazing that such a small club could leave such a big impact on society. The music it inspired and the artists it gave a home to read like a Who's Who of rock music. Kristal's willingness to pivot from his original vision and adapt to the surge of new wave and punk rock that the 70s and 80s brought with it helped define a generation of music.
For one last look at CBGB the way it was, check out the video below.