Apple butter toast is nice, but how about apples and Biscuits this Halloween? Lafayette Apple Festival Grounds, in conjunction with Creative Concerts, are bringing the Disco Biscuits to Syracuse for a 3-night Drive-In run over Halloween weekend, October 29-31.
The Disco Biscuits 3-Night Halloween run will offer fans the opportunity to safely enjoy live music while following social distancing guidelines. A car pass provides a designated space for a standard passenger vehicle and entry for a maximum of four  people per vehicle.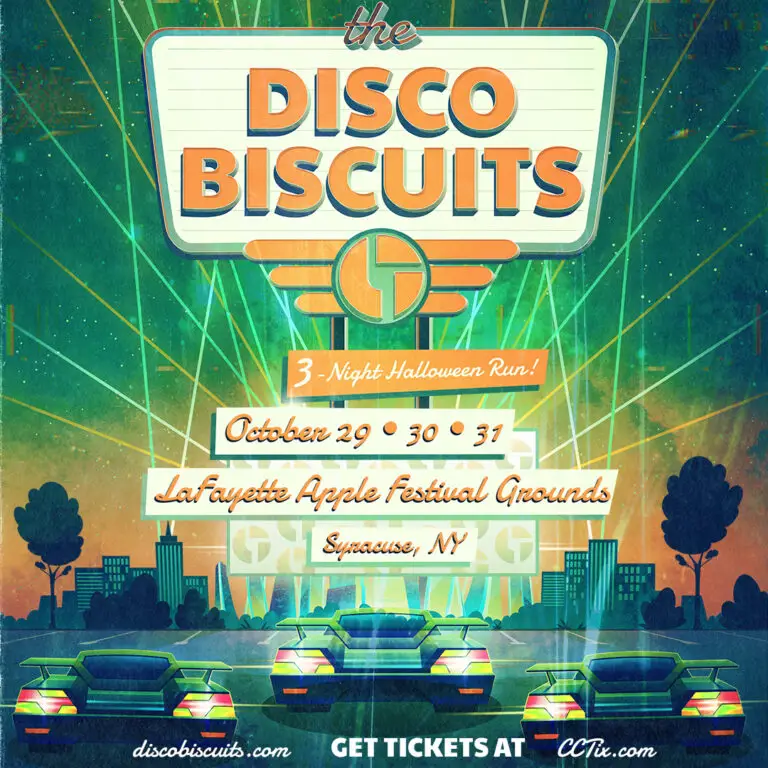 Concertgoers will be able to enjoy the full Disco Biscuits concert production within their designated space for the duration of the event. Fans may bring their own prepared food and beverages to enjoy during the show.
Tickets go on sale to the general public on Friday, September 25 at 10AM ET. For more information visit CCTix.com. 
The LaFayette area of New York produces a great deal of apples amid a rural atmosphere, rolling hills, and beautiful fall foliage. Lafayette Apple Festival is one of the Northeast's premier arts and crafts shows, and is within walking distance of the site where the Cardiff Giant was discovered in 1869.
The Disco Biscuits played a very memorable Halloween in Syracuse in 2015 at Crouse-Hinds Theatre when they put the disco in Disco Biscuits. The show featured the Philly Stray Horns in the second set, along with vocalist Alita Moses who sang on covers of "Get Down On It," "Funky Town," "You Should be Dancing," "Born to be Alive" and "Give it to me Baby." Listen to the full show here and watch the first set below.
Last November, the Disco Biscuits played SI Hall at the New York State Fairgrounds in Syracuse, and a month later closed down Playstation Theater in Times Square. Watch the 45-minute "Spacebirdmatingcall" from SI Hall below, including a Tractorbeam jam on Crackazat's "Fly Away."