These days, large outdoor spaces are pretty much the only way to get your live music fix. Well there soon will be one more venue option available for bands and concert goers like. Local business Canna Provisions Presents, based in Lee, MA, will be sponsoring Roll On In – a pop-up venue that now inhabits a meadow located in town.
Roll On In is committed to providing socially distanced entertainment, in a world where live music and music culture came to a complete stand still back in March. It boasts festival-level production on stage and large LED screens and line arrays in an effort to deliver the visuals and harmonics that are both so missed in these socially distant days.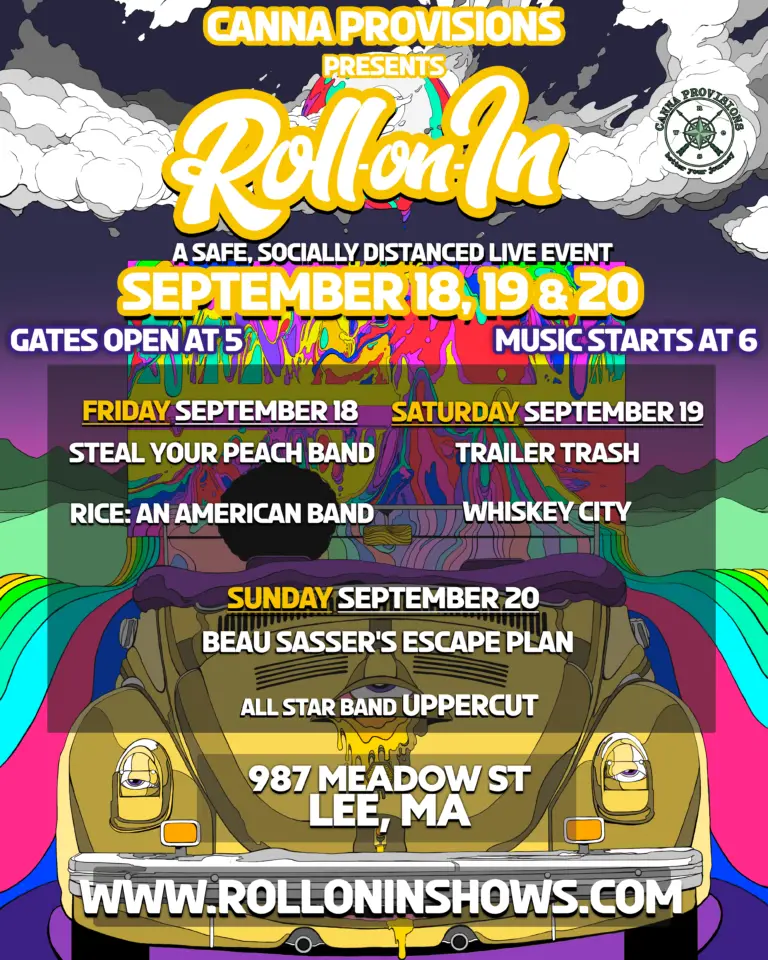 This weekend will mark the opening weekend with three nights of live music currently scheduled. Friday, September 18, will feature Rice: An American Band and Rev Tour's Steal Your Peach Band – an all-star collective of Northeast musicians playing Allman Brothers and Grateful Dead tunes.
Saturday night sees two Massachusetts-based bands take the stage in Trailer Trash and Whiskey City. And Sunday, Beau Sasser's Escape Plan will headline and be accompanied by Uppercut – another ensemble of musicians collected from bands like RAQ (Todd Stoops), Turkuaz (Mikey Carrubba) and Star Kitchen (Danny Meyer).
Patrons can arrive each night at 5 pm and enjoy a full night of music with great food options also on site. Music begins at 6 pm and runs until approximately 10 pm each night. Cars with anywhere from two to six people will be allowed entrance with a cost of $25 per head. For more information and tickets, please visit rolloninshows.com.
Canna Provisions is responsible for the one recreational marijuana shop that has been nothing short of a cash cow for the town of Lee, MA. They are a committed community oriented company that clearly recognizes the importance and vitality of the live music industry. More concerts are expected to take place at this new pop-up venue until November.