Throughout the summer, protests surrounding the shootings of unarmed Black Americans led to calls for police reform, with success that can already be seen across the country and world. Black Lives Matter has changed the national dialogue on race and brought it out of the shadows. There is one musician who has been using his improvisation skills to bring to light those who have been killed or injured at the hands of the police – Donald Sturge Anthony McKenzie II.
McKenzie is a prolific improvisational drummer with a fierce discipline and connections to the late '80s hip hop scene in Brooklyn. Learning from Everett Collins (Isley Brothers) and world-renowned drumming teacher, Dom Famularo, McKenzie has developed a firm basis in theory and has evolved thanks to his discipline behind the kit. Having traveled the world performing, McKenzie has toured and recorded with instrumentalist Elliott Sharp, guitarist Marc Ribot, and Grammy nominated jazz composer Roswell Rudd, among others, and backed hip hop and R&B artists including Pharoahe Monch, P.Diddy, Grave Diggaz, New Kingdom, to name a few. McKenzie also serves as musical director for Kat DeLuna, and teaches master classes at the Brooklyn Music School.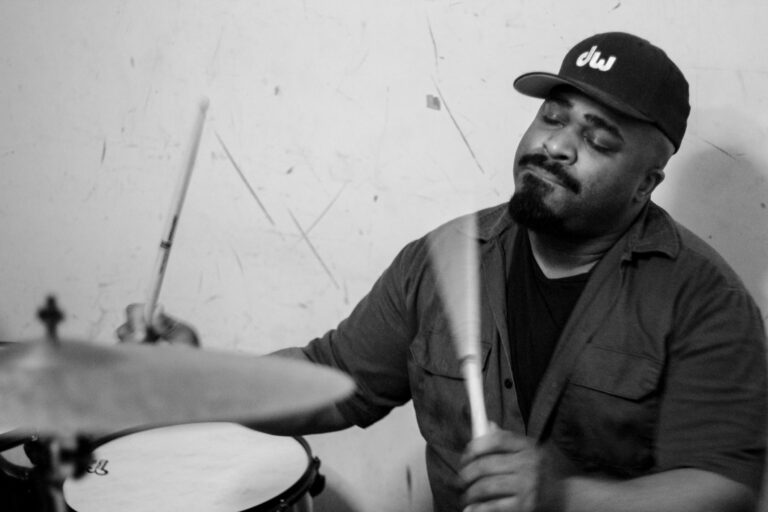 Best known for Silenced and Silenced II, two extremely powerful albums with tracks named after a POC who lost their lives due to police brutality, McKenzie is wrapping up Silenced III, a double album to be released in late 2020.
McKenzie spoke with NYS Music about Black Lives Matter and his Silenced albums, playing with Nels Cline, how Vernon Reid has helped him along in his career, and the next chapter for the compelling improvisational drummer.
Upon first glance at Silenced, the track names stand out, each being a Black American who were victims of police violence, many lesser known names. The tracks themselves are entirely (99.5% as estimated by McKenzie) first takes and unedited version. While smaller parts may need to be cleaned up, the goal was to have it completely unedited and completely improvisational. McKenzie shared his insight into these two unique factors:
If one person can be drawn to my music, my art, for music's sake, the musicality of my work, and they see a song title – if one person goes to Google and researches their name, I think I've done a service to the world. A lot of people are not as aware of the injustices and the every day trauma of living in America in Black skin.

It's a way to move a person closer to acknowledgement of certain people's humanity. Not 100% of name titles are people that have been killed by police, some are people who were killed in tragic circumstances.
McKenzie wants people to research these individuals – he does not seek to tell people to do this, or to be shamed or browbeaten into researching someone. Giving these names to song titles allows, in this words, for "the art to travel while he sleeps."
If it leads to someone saying "Who is Malissa Williams?," then it is a service to the world and the people as well. Let's say my album is being played in Ukraine – everybody has their own strife and troubles and drama – they could be listening to this and wondering, 'Who are these people?' I wanted people's names to resonate on a global scale, as far as my art can take it.
Linking up with Wilco's Nels Cline would lead to the high-powered "Sandra Bland," the first track off Silenced. The pair did not discuss what they would play, nor did they run down or plan it out – the track is fully improvised, purely organic and in the moment. You can hear the first to the last note they played together on "Sandra Bland." And they've played together since, with Sean Lennon and Captain Kirk (The Roots), but the first notes from McKenzie and Cline are on Silenced.
The first time I met Nels Cline I was on a trio gig with Elliot Sharp and Melvin Gibbs, and Nels was on the same bill and I just loved his sound and his playing. While I was recording these albums, I wondered if I could get him on this. I was walking by the music store Main Drag, in Williamsburg, Brooklyn, and just by chance he just happened to be walking out and I was like, 'Nels, what's up?' and we made arrangements to play and he was the first one that recorded on this album."
Once he cut "Sandra Bland" with Cline, McKenzie sent an unmixed version to Living Colour guitarist Vernon Reid, who, according to McKenzie, "went crazy," and expressed interest in being on a track, which would later be titled "Eric Garner." It turns out McKenzie and Reid have a long history going back to Living Colour's rise to prominence in 1988 with the release of "Cult of Personality," and the two would link up to perform in Reid's Masque.
I think that improvisation (with Cline) set a high bar, and while some musicians might have been scared off from the studio concept, and some are competitive (especially guitar players) Reid loved the challenge and having played together since 1995, we have a great musical relationship. It was superb.

I met Vernon around 1988-90 when I was 17. Living Colour had a special place in young Black musicians' hearts, esp those who were playing instruments. Most people were pure hip-hop heads, into the drum machine, and that's great too, but as a drummer and those who were guitar players (Eddie Reyes – Taking Back Sunday) – we'd all go in the house and play Living Colour covers, Slayer and Metallica covers, all in my parents garage. Vernon was an idol of mine. The video for "Cult of Personality" changed a lot of people's trajectory in life; that was a big deal for me.

I was playing (drums) in the rap group New Kingdom and I was at the record label, on top of Tower Records at 4th and Broadway. In that building was Island Records and I used to hang out the label, drink the water, absorb the whole thing of being in the music business. There was a release party for a Gravediggaz album that I was on and Vernon came to pick up his invite. He gave me a copy of his first solo CD with Masque. I was so impressed I went home and practiced it; I was just so impressed that he would semi-remember me from stalking him as a teenager.

Long story short, something happened with his (Masque) drummer, a friend of mine, Curtis Watts, and Vernon asked me to step in and I showed up at rehearsal, I was over-rehearsed – I knew every song, every inflection.
From connecting in 1995, to recording with Masque, Reid would use McKenzie in many of his projects, with the Yohimbe Brothers and DJ Logic, the third Masque album, live performances, improv, and soundtrack work. McKenzie notes the depth of the connection: "Vernon is just my guy, Vernon is like a musical father to me."
McKenzie's collaborations started when he was 16 and recorded a demo for TBT records with the band Three Feet Deep. And while the band was not signed, listening back recently, McKenzie notes, "It's still happening." The next group he performed with, Gravediggaz, would lead to broader connections.
I used to be at the recording studio hanging out with Wu Tang Clan – this was Firehouse Recording Studios – and I went to the same high school as De La Soul in Amityville – they knew I was eager and into my music, so they always wanted me around, so that was a big deal.
This connection at age 16 would allow McKenzie to hang out with rising artist A Tribe Called Quest, who he has memories of going to a Hampton's homecoming game with on the bus, alongside De La Soul, Tribe, Hieroglyphics, and road manager Chris Lighty (Violator).
I started out playing more straight material – less improvisational music – but as I've developed and gone on in my career and life, I've realized that more of a Cecil Taylor improvisational path is better for me, as opposed to recording in sections. I love playing in the moment, and in an improvisational setting. That's where I've seen my individuality and creativity coming to life. That's where my head is right now and I want to just move forward and push forward with that.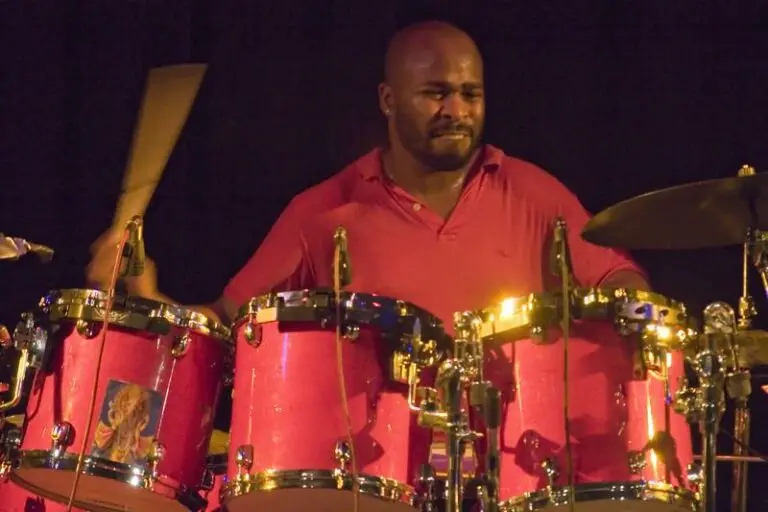 Two years since Silenced II, a new project is in the works – a double album – inspired in part by the Black Lives Matter movement and protests this summer.
I'm working on a double album right now. I don't want to be the guy to milk this cow. I made a statement, and the statement is relevant today. I think that capitalism under this American imperialism and colonialism, it will still say relevant. We seem to try to disconnect ourselves from the violence and oppression overseas and the violence of the military and violence of the police; it's just different GPS points. I made a statement and it's relevant, but it would be suppressive and anti-creative to keep doing the same thing.

When I made that statement with Silenced and Silenced II, I had no idea that the situation in America would come closer and bring people closer to what I was saying years ago. But that's what's happened. It's been three years since I got in the studio and played these tunes. I have more work than play but I don't want to tip my hat, a good way to maybe give you an inkling, yes it will be a majority improvisational, which is I think a really strong way to express myself at this point in my life, and it will be a double album and really like an audio Jackson Pollak.
With two young children, McKenzie has been focusing on parenting during the pandemic, doing his best to mitigate the damage of sudden isolation from school and peers.
I've been able to use the studio and just be here for days on end and just practice and practice and listen to music and a lot of great drummers. I get inspiration from visual things so I look at different artists and get different sounds from different art. Someone said they hadn't ever heard birds chirping in Brooklyn, because there were no cars, and no one was out, and that has been a source of inspiration.
Overall, McKenzie has been spending time with his children who have been the focus of his attention as he moves forward in a positive way for everyone's benefit.
He's also been in the studio, using French band Gojira's studio space since they are out of town and admire what he does. "Stuff like that would never happen if the lock down didnt happen, the studio would be full up," said McKenzie. They love what McKenzie is doing and offered up the studio for him. His next studio offering drops this fall.