In a year where things can't seem to get any worse, Added Color provides a rare hopeful vision. The Brazilian-American Brooklyn rock band returns with their new song "Something Better," the lead single for their upcoming November EP, If You Had It All.
"Something Better" impressively tackles a myriad of problems plaguing Western culture without skimping on any of them. Using topical slogans like "resist" and "I can't breathe," it sounds like a socially conscious mosh pit. The accompanying lyric video complements the song with a staticky aesthetic, depicting this year's protests, inedible fast food, and corrupt politicians. But despite including the likes of Donald Trump and Brazil's Jair Bolsonaro, Added Color believes these presidents merely personify deep-rooted societal issues:
We feel that the greed, corruption, and cruelty that is embodied by world leaders such as Trump and Bolsonaro is a symptom of something that's been decaying for quite a while now. A lot of people are depressed; a depressing amount of people are addicted to drugs. Police brutality is a massive issue—it seems we hear a new heart-wrenching tale of senseless loss of life on a daily basis. Access to decent healthcare is a nightmare for millions of people in what is supposed to be the richest country in the world. Fast food franchises reign supreme; it's a challenge to eat decently in a lot of places.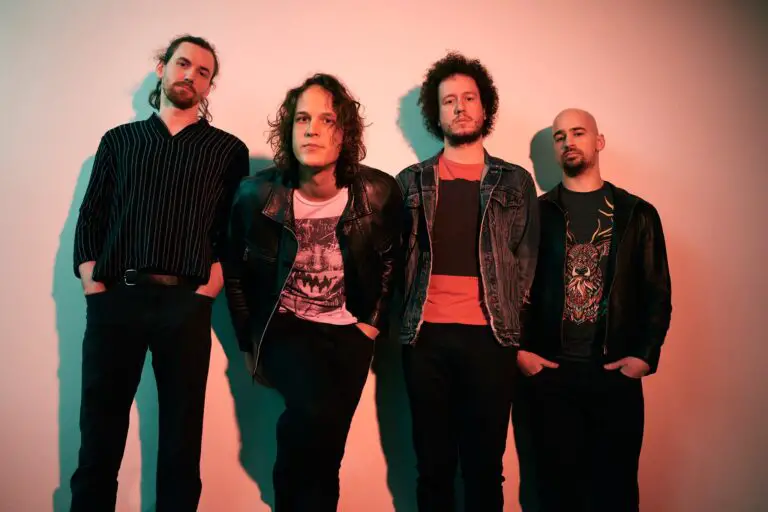 It all amounts to a huge macro need for Something Better. The capitalization is not just because it's the name of a song. It's an idea for another world: one that we all deserve, and one that we can create together." Of course, the song's bridge decides that "Something Better starts with you.
"Something Better" precedes Added Color's November EP, If You Had It All. The band is releasing the EP through Damp Interactive, in partnership with global distributor Symphonic Distribution. Recorded and produced by Johann Meyer (Gojira, Mastodon, Shinedown) and Jamie Uertz (Blind Melon) in Brooklyn, guitarist and vocalist Kiko Freiberg says If You Had It All is "darker, more political, and more powerful" than past projects. Drummer and singer Daniel Freiberg elaborates:
"The EP attacks the 'free world' as a society designed for failure, where corporations and government work hand in hand to thrive off the backs of the oppressed. Unfortunately, it took a pandemic to make the world pay attention to the societal diseases that plague our revered 'Western Society.' It's time to make a change."
Added Color has played in over 25 states as well as internationally. They've toured in Morocco five times, including at the 2019 L'Boulevard Festival, and played at some of Brazil's biggest music festivals. Since the pandemic has stopped them from touring, they've instead planned live performances online. Every Tuesday at 3:00 P.M. ET, the band streams their "Chevy Expressions" series on Instagram Live.
Stream "Something Better" here, and visit Added Color's website for more information.