Award-winning blues and Americana vocalist Shemekia Copeland has released her new song, "Uncivil War." "Uncivil War" takes no sides and speaks to every person's desire to be safe and free. Featuring iconic mandolin Sam Bush, dobro master Jerry Douglas and background vocals from popular alternative band The Orphan Brigade, the song is simultaneously comforting and challenging, as Copeland sings, "Same old wounds we've opened before / Nobody wins an uncivil war." Copeland delivers the song with passion and insight about the uncertainty in the world while still finding hope for the future. The song, written by John Hahn, will be featured on Copeland's upcoming Alligator album.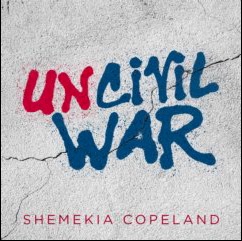 Copeland express the message she communicates in this song:
It's not just a song. I'm trying to put the 'united' back in the United States. Like many people, I miss the days when we treated each other better. For me, this country's all about people with differences coming together to be part of something we all love. That's what really makes America beautiful.
When she first came onto the scene at age 18 with her debut album, Turn The Heat Up, Copeland quickly became a blues and R&B force to be reckoned with. Copeland's previous album, America's Child, won the Blues Music Award for Album Of The Year, and was named the #1 blues album of 2018 by MOJO magazine. Copeland recently received the 2020 Blues Music Award for Contemporary Blues Female Artist Of The Year, during a special online ceremony. Copeland is currently hosting her own blues radio show on SiriusXM's Bluesville.