Superfly has announced it's "Small Business Live" concert to help support small businesses during these trying times. The one-day musical experience will raise money for the Accion Opportunity Fund and provide grants to the most at-risk small businesses that were hit hardest by COVID-19. It will do this while also having a focus on those businesses run by women, minorities, and people of color. Some of the big names on the docket include 2 Chainz, Nathaniel Rateliff, T-Pain, and Brandi Carlile among many others. The concert will take place on June 20 from 4PM – 10PM ET and can be viewed on many streaming platforms including YouTube, Facebook, and TikTok.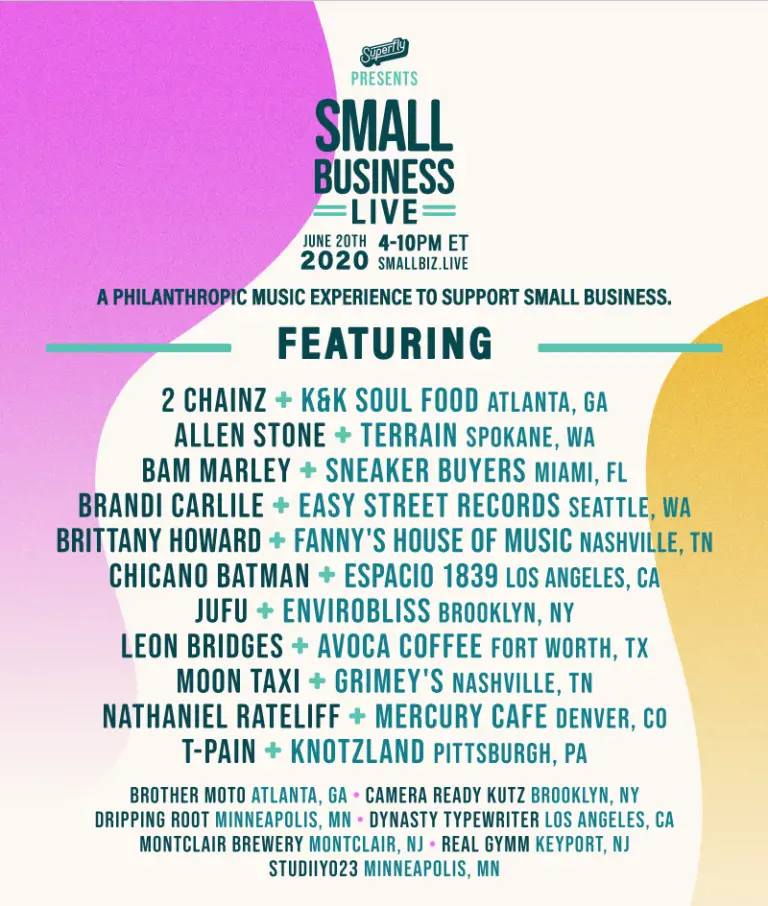 The benefit will feature artists performing at different small business they feel strongly about. The musicians will be delivering their performances from different locations all over the United States and will be sharing stories about the businesses they know, love, and are trying to supporting with this benefit.  
The benefit will be featuring 2 Chainz performing at and supporting K&K Soul Food in Atlanta, GA, Allen Stone performing at and supporting Terrain in Spokane, WA, Brandi Carlile performing at and supporting Easy Street Records in Seattle, WA, Brittany Howard performing at and supporting Fanny's House of Music in Nashville, TN, JUFU performing at and supporting Envirobliss in Brooklyn, NY, Leon Bridges performing at and supporting Avoca Coffee in Fort Worth, TX, Moon Taxi performing at and supporting Grimey's in Nashville, TN, Bam Marley performing at and supporting Sneaker Buyers in Miami, FL, Nathaniel Rateliff performing at and supporting Mercury Cafe in Denver, CO, and T-Pain performing at and supporting Knotzland Pittsburg, PA, and many more.
The benefit is being put on by Superfly in partnership with TikTok, AT&T Business, GoDaddy, Vistaprint, Square, Bustle Digital Group. To donate to the cause please visit the Accion Opportunity Fund to support local and small businesses.
For more information visit Superfly's website for Small Business Live.