"It's not who you know, it's who you don't know;" the well-worn oft-repeated mantra of the Rochester International Jazz Festival not only rings true but pays dividends when heeded. Over 18 years the producers have followed a successful formula mixing well-known talent, historically-significant acts or tributes, returning favorites, local talent, up-and-comers, and unknown, sometimes unpronounceable names from places spanning the globe.
It's these last two that tend to define our Jazz Fest experiences. Other than their status as unknowns, the other thread common to these artists was their ability to make sixty minutes feel like thirty. We weren't checking the clock or getting antsy for the sets that lied ahead, our attention was commanded in full. These are the artists that blew us away most in 2019, artists you should most definitely give a listen to.
A Danish quintet featuring no girls, actually had to leave one of their members behind at the airport, as sax player Martin Stender's visa was denied. It didn't matter much to our ears as remaining members: Lars Greve (sax), Mathias Holm (keys), Victor Dybbroe (percussion) and Mads Forsby (drums), were still one of the highlights of the festival. The band, together ten years, moved between ethereal soundscapes, intense evil marches and organ-rich spacey grooves, mixing in infectious rhythms and melodies along the way. Their music would only be called jazz because, what else would you call it.
So much great music is played in three beautiful churches during the Rochester International Jazz Festival. Rarely does the church become the instrument. Kit Downes, a British keys player who we'll hear from again, below, took on the task of playing the Christ Church's Craighead-Saunders organ, the most accurate baroque organ in the Western Hemisphere. It sits above the pews in the balcony so a video feed was provided for the audience. The action of Downes playing the organ was almost as intriguing as the sounds filling the great hall. Almost but not quite.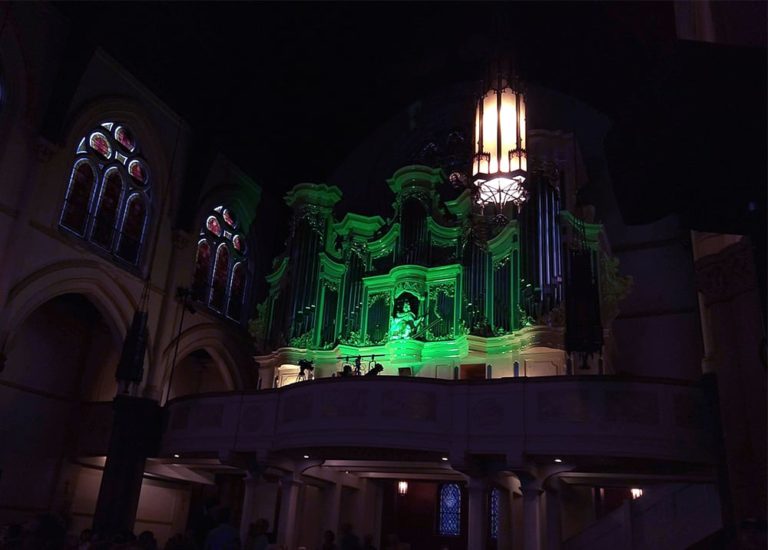 As the sounds were some of the most unique and exciting we have ever heard at the festival. He played melodic and accessible pieces mixed with some longer, more improv-heavy works. The highest notes chimed like jingle bells and the lowest were guttural deep rumbling moans that were felt as much as heard. It was a cultural experience beyond just a set of music at a festival, and one we won't soon forget.
Kit Downes was back the next night playing the piano in a trio, joined by Frans Petter Eldh on bass and James Maddren on drums. This was not a set where the audience would be clapping mid-song for impressive solos, because there were no solos. Or were they always soloing? It was an intense tangle of piano, bass and drums that was constantly in motion – flowing in waves of energy that always seemed to trend upwards with little in the way of ebbing. They could be melodic or dissonant, rocking or sparsely quiet, but always together.
In what became a three-day British jazz game of Six Degrees of Separation, Enemy drummer, James Maddren, was back at the Christ Church the next day as a part of saxophonist Trish Clowes' band. Ross Stanley on organ and piano and Chris Montague (from NYS Music's favorite of the 2015 festival, Troyka) on guitar.
Montague had proven to be a marvel on his last visit, and Trish Clowes bears the band's namesake, but this was a band's band with no clear leader musically. The sound varied from number to number: high speed melodic chases, punchy avant garde jams, spacey organic textures and even Weather-Report-inspired rock fusion. As if that range wasn't enough, they also added recorded samples on "I.F." and Clowes, singing on the beautifully meandering epic "Free to Fall."
Give a listen/look at their brand new video for a song inspired by the great sci-fi film, Arrival.
Swedish reed player Thomas Backman, last seen at the Jazz Fest as a part of Klabbes Bank (yet another NYS Music fave) in 2017, returned with his own unit. He was backed by keys, drums and bass, with the women on keys and drums taking vocal duties on various tunes. They seemed to make their way through their 2018 debut in order, possibly in full. Each player was a creative mastermind, maximizing their possible range and output. Whether teetering into techno, bursting into bombast, or coasting quietly on a beautiful melody, the quartet had the audience rapt for the full hour.
Austrian pianist, David Helbock, brought his Random/Control group which was as interesting a trio as you'll find. Johannes Bar played sousaphone, trumpet, an interesting wood block didgeridoo, various percussion, electronics, and at one point a long plastic tube with a red horn attached to the end. Andreas Broger played multiple reeds sometimes two at a time. Helbock was a non-traditional player, diving inside the piano almost as much as on the keys, while also banging a kick drum and wood blocks. All three played the piano together at one point, knocking on it inside and out. They played Duke Ellington's "In a Sentimental Mood," Cedar Walton's "Bolivia," and John Williams' theme from the movie "Catch Me If You Can," but as you can imagine, none of it sounded quite the same.
By now you're sensing a pattern. Yes, the European groups dominated the festival highlights this year, but there were some wow moments from closer to home as well. This Brooklyn-based duo of Josh Dion on drums, vocals and keys and Geoff Kraly on bass and modular synthesizer, had an in-your-face garage rock energy with some beautiful R&B soulfulness. It was heavily drenched in electronic sounds yet always rooted in the organic. Original songs from their recently released debut were joined by completed deconstructed covers of "Life is a Carnival" and "Have a Talk with God."
OK, back to England for one more amazing artist. While many others wowed us with unusual instrumentation or arrangements, saxophonist Nubya Garcia just wowed us with flat out fiery playing. The festival decided to add some additional Made in the UK sets outside of its usual spot at Christ Church. It was a wise move in the sense that allowed them to book more of the talent bursting forth across the pond, but in this case the outdoor Jazz Street Stage was an odd placement. Garcia's quartet, including Sam Jones on drums, Taber Gable on keys and Daniel Casimir on bass, weren't playing the most accessible music that would normally grace the free stage. The nuances of what they were laying down were difficult to parse out among the drinking partying masses. On the other hand, it was a great opportunity for the non-Club Pass crowd to see such a high level of playing and composition. Garcia didn't impress with the amount of notes she played, rather with the power and thoughtfulness put into each one. Rochester caught her on her first ever North American jaunt and certainly caught a rising star, one to keep an eye on for sure.
The Disco Biscuits' Aron Magner has put together a new piano trio with some of his Philadelphia buddies, Jason Fratacelli on upright bass and Matt Scarano on drums. The music certainly hews more toward traditional jazz from his usual jam-tronica fare, but in their live set, one of their first-ever, it proved to be anything but traditional. It was a roller coaster ride for the ears: spaciness climbed to full-on rock which fell back back down. Funky rocking electronic turned into catchy piano melodies and back again. Magner spent almost as much time playing electronic as he did acoustic and Fratacelli ran his bass through enough filters to escape the limits of his acoustic instrument on many occasions. So much to say, that this wasn't your average jazz piano trio and the whooping and dancing crowd made that all the more clear. They were tight, unique and exciting.
Give a listen (debut album to be released July 19):
A trio from Asheville, consisting of Jon Stickley on guitar, Lindsay Pruett on fiddle and Hunter Deacon on drums, have all the makings of a great Americana act. And while that is where they are generally categorized, they are so much more than that. Stickley is a guitar whiz and can flatpick with the best of them, but he's just as happy to sit back on a bass line for bit or shred out a headbanging rock riff. Likewise, Pruett also has the chops to run with any bluegrass unit, but doesn't rest there long with this trio. Deacon is a flurry of activity on the drums, jumping from jazz to techno to rock, sometimes in the same song. Even an old fiddle tune like "Jerusalem Ridge" gets dressed up and knocked down with dance-ready beats and guitar pyrotechnics. Individually they are all musicians of remarkable talent, but as showcased in their sets at the new-to-the-festival Geva Fielding Stage, the bands most brilliant moments were when they locked together as a threesome, which they exhibited more often than not.
Best of the Rest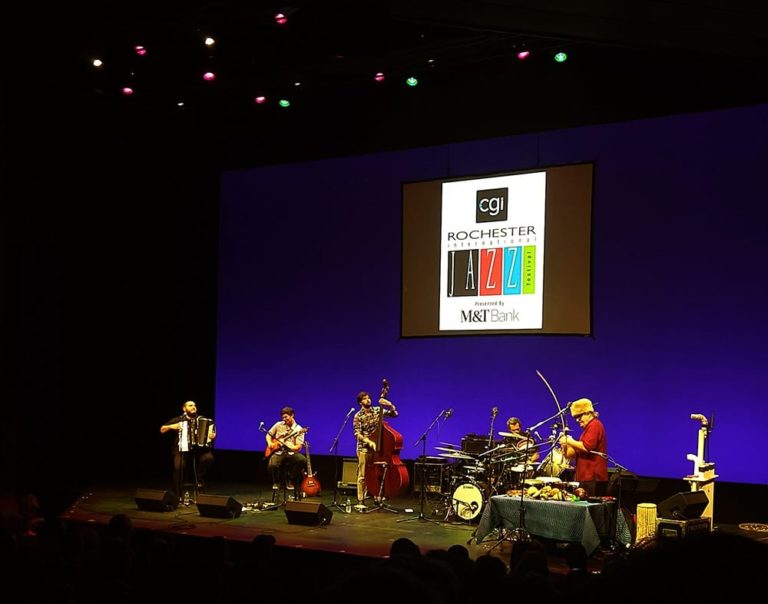 It wasn't entirely "who we didn't know" for the full nine days of the festival, we caught plenty of greatness from proven talents. Bill Frisell was back again with his trio of Kenny Wolleson and Tony Scher and they played two hour-plus sets with nearly no breaks – from blues to Beatles to Bacharach to Bill, unbelievable through and through. Vibraphonist Stefon Harris and his quintet Blackout schooled the audience in music as art, both with their phenomenal playing and in Harris' frequent asides. Local sacred steel legends, The Campbell Brothers, blessed the audience with their breathtaking interpretation of John Coltrane's "A Love Supreme" in addition to opening up a Sunday evening church service at the Squeezers Stage with their usual roof-raising fare.
Cyro Baptista premiered his new quintet which was filled with worldly and joyful sounds from his "weapons of mass percussion." Guitarist Lionel Loueke and Raul Midon shared the Kilbourn Stage for a set that mostly saw them go their separate ways. Both showcased their incredible guitar and vocal prowess, but only combined forces on two tunes. Loueke took on the first 30 minutes of the set, while Midon played his own full hour set, taking the full festival set time over by 40 minutes. Even so it was difficult for anyone to walk away, and encores were still called out for. Alas, another edition of the Rochester International Jazz Festival is now in the books, see you all again next year!