The sun was hot, quickly rolling into sets, swimming and hanging at the beach with friends. The pressure of squeezing so many good bands into one day grew daunting, but others vibed out. Nearly every band was packed – both Full Sail and Blackcraft stages shared adjoining beach and in the end, the mass of people merged as if they were one.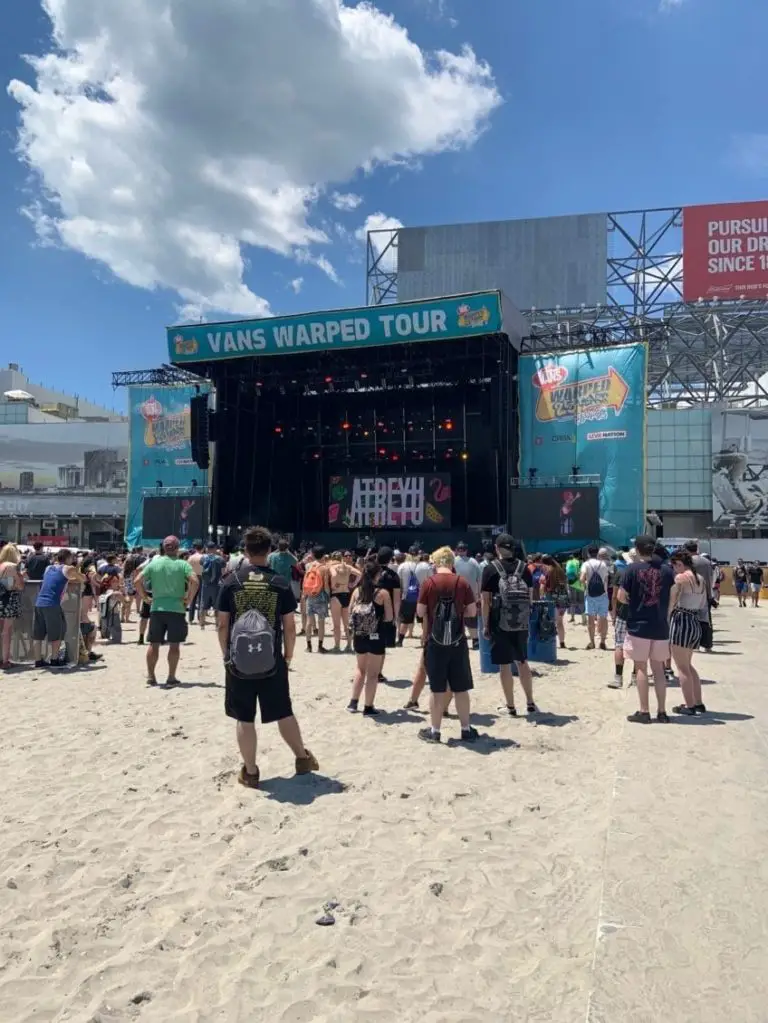 California's Atreyu took Van's "Off The Wall" mainstage at doors. Over the past 15 years the band, who has preserved a near original lineup, pulled out all the stops from favorites "Becoming The Bull" and their cover of Bon Jovi's "You Give Love a Bad Name," with a metal twist, of course.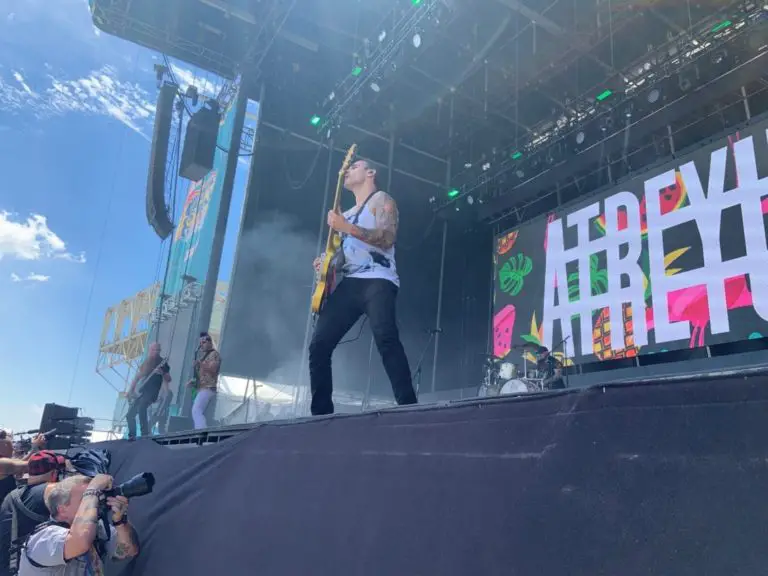 Guitarist, Travis Miguel, was hyped on the gig. "It's not every day that you literally get to play on the beach. Usually when you're at a big festival like this, nine times out of ten it's in the middle of nowhere in some field. It's nice to see the Atlantic Ocean from the stage." This energy and consciousness allowed longtime brotherhood to shine though in the delivery of their material from intense oldies like "Blow" or the more cinematic "House Of Gold," from their latest album, In Our Wake.
"Vans Warped Tour is pretty surreal; I remember my first Warped Tour was 1998 and Deftones played, CIV and Rancid. Incubus played on this little flatbed-truck-stage before anyone knew who they were. It was a long day, I remember getting sunburnt and the Deftones went on – everyone lost their minds in a dirt field in Orange County. It was gross, pulling dirt buggers out for two days and beign sunstruck… but with that being said I had the fucking time of my life," said Miguel.
"I've gone to Warped Tours since then, but in 2005 we actually played and that was surreal because not long before that – I was the kid going to Warped Tour having the time of my life. To be asked to play the 25th Anniversary is cool because it is like bringing back old memories: seeing crew people, friends I haven't seen in years, and you pick up right where you left off. It's sensory overload because there's so much going around: press, a half pipe out there, a human cannonball, music everywhere – it's a fun day for sure."

Travis Miguel, Atreyu.
"Now that I'm older, looking back, it's safe to say that everybody in the band's view is: we're extremely lucky to be doing this. We don't take it for granted. There's a lot of bands we came up with back in the day that are long gone and the fact that we still get to do this, essentially the same five members for 15 years…I'm definitely proud of that."
Atreyu embodies the morals of Warped, fans and crew alike. "We've all seen each other at our best and our worst. It's very much a brotherly relationship between the five of us: we get on each others nerves just as much as actual brothers would, I've been in two of their weddings and we've been apart of each other's big life moments. It's definitely a family vibe," said Miguuel.
---
Sunday kicked in, full force from the start, making it difficult to navigate through all the great bands playing. The beaches were packed – a sea of people relaxing or constantly shifting from stage to stage. Mid-afternoon highlights included Circa Survive frontman, Anthony Green, crowd-surfing his way from the mainstage into the Atlantic. 
Punk-rockers, Keep Flying, dominated the Monster Energy stage early on in the day with their addictive horn lines and heart-racing tempos. The sextet blew up at last years Warped Tour, and if you didn't know any better, you would think they had been there from the start. They controlled the crowd with showstopper "I Always Knew," both visually and musically overstimulating. Not to mention the electrifying horn section, intricate harmony and energy from each member.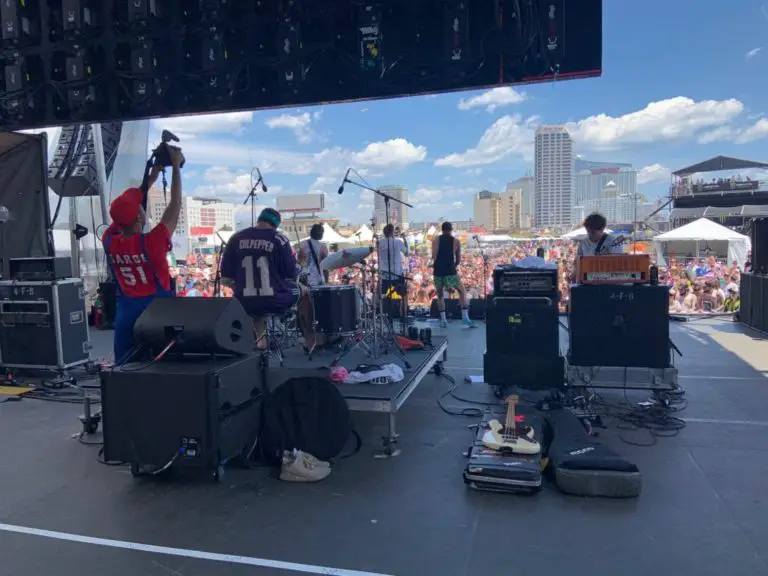 The day carried on with Worcester, MA veterans, Four Year Strong. Contrasted by their laid back vibe and over-familiarity with Vans Warped Tour, the four piece pulled out all the stops. Opening with "Heroes Get Remembered, Legends Never Die," FYS set the bar with signature double-bass, dueling-guitar and dueling-vocal exchanges. The crowd was absolutely insane.
There was just too much to digest: Big D and the Kids Table, Dirty Heads, The Used and Bowling For Soup – but the day rolled on. The Skatalites changed the pace on The Blackcraft Stage with authentic reggae flare. As the sun set and punk-rockers grew tired, a solid crowd swayed for Kingston, Jamaica's finest. Atlantic City was blessed by none other than "The Queen of Ska," Doreen Shaffer, who soulfully harmonized with the band. Born in the 1940's, Shaffer filled the crowd with a youthful energy, and soul.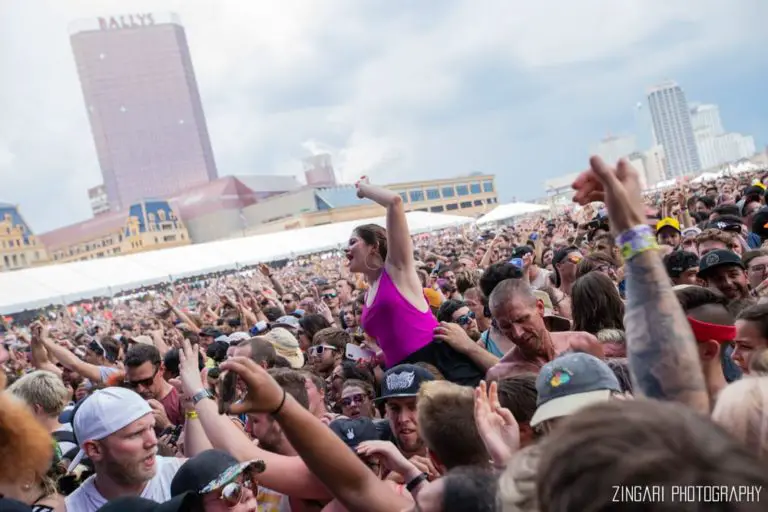 Cusped between electronic, pop and rock genres, Andy Black turned heads for unfamiliar listeners, drawing them to the Monster Energy stage as they passed on the beach. His most explicit example, the album titled track "Ghost Of Ohio" fuses these elements into something obscure and refreshing. Fans of any taste can harmonize with his energy and showmanship. 
Taking Back Sunday warmed up the main stage for Warped closers' Blink-182 with driving tracks like "What It Feels Like To Be A Ghost," while lead Adam Lazzara strut the entire length of the stage, twirling his microphone like a noose. Later in the evening, ska legends, Reel Big Fish, drew attention from the Full Sail stage as the crowd shifted angles to The Blackcraft stage for an epic RBF Set. Kicking of the set with "Asshole," turning backstage into a skank-inspired dance party. 
Vans Warped Tour did an amazing job attending to sparse incidents in the pits or those who needed medical attention. Surrounded in a mosh-pit or relaxing by the beach was one in the same, because everyone truly had each other's backs. The mass of Vans Warped Tour cannot be defeated, as we all plead for another year.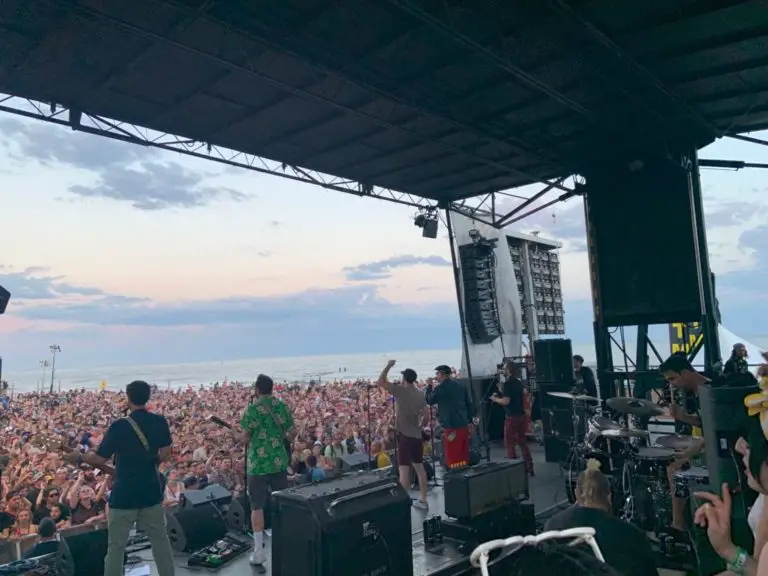 Interviews with Atreyu, Matt Butler, Kaleido and Shiragirl spoke on behalf of the festival as a whole: its status, impact, family vibe and overall positivity. Regardless of why you were there, who you were with and who you saw, Vans Warped Tour's 25th Anniversary Tour was the necessary cap to years past.
"It's amazing to see how the tour has grown and affected so many people," said Brooklyn's Shiragirl. "To be apart of this is a huge honor – there are so many amazing bands. We are super stoked to be apart of the final chapter. Last year we were lucky enough to bring back the stage for the final full cross country tour. I just have nothing but great things to say about Kevin Lymann. I wanna be like him when I grow up."
Stay Tuned for the full Post Warped Tour interview with Shiragirl.