For those of us 25 or younger, Vans Warped Tour has spanned our entire existence – an accumulation of memories, music and friendships interlocked like puzzle pieces from across the country. Each individual has intertwined their story – that admits them into the Warped family. A place where most narratives overlap: growing up listening to pop-punk and rock or aspiring to be on the big stage, old attendees now take the main stage, influenced by the masses before them. Fans threw down, attacking their most inspirational bands with vigor in the pits, belting lyrics verbatim spewing with good vibes, and sand.
Last weekend marked the second final Vans Warped Tour for a 25th Anniversary bash, after curator, Kevin Lyman announced the 'last' run in 2018. The tour was on its East Coast stop in Atlantic City, New Jersey for a jam packed weekend of music on the beach. Nearly 60,000 people crowded the beach to send off the tour in natural rockstar fashion. Promptly at noon the boardwalk was lined for miles with distinctly Vans Warped veterans, band t-shirts and friends to see their favorite headliners from Blink-182, A Day To Remember, Simple Plan, Good Charlotte, 311, CKY, Taking Back Sunday, Andrew W.K. and so much more.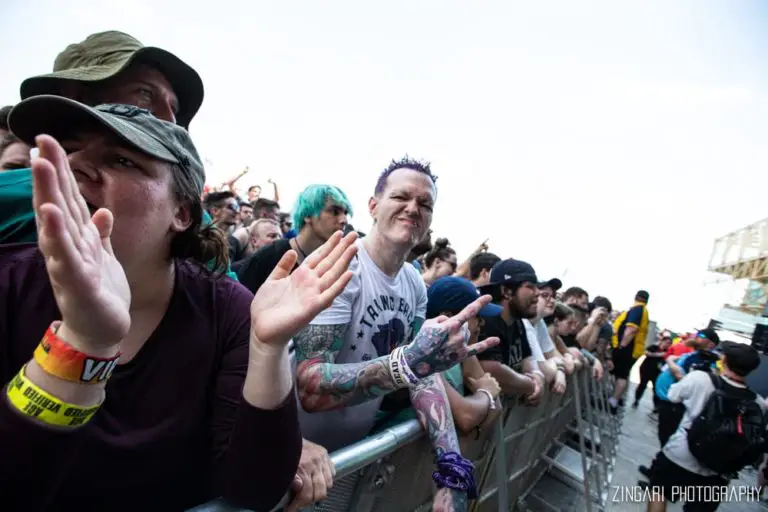 ---
The sun was blistering overhead Saturday afternoon as Manhattan's own, Matt Butler took an early set on the Monster Energy Stage. The folky, singer-songwriter gave a refreshing outsider's perspective that pushed Warped fans outside of their comfort zone. Butler has gathered the sounds and stories of the road, shaped in 'Warped' roots; he grew up playing in punk and rock bands at CBGB's and Arleen's on the lower East Side. "My Favorite bands in high school were Nirvana and Fugazi… my favorite album was Ten by Pearl Jam," said Butler. "I got more into folk and songwriting because of a band called The Replacements and Bruce Springsteen [laughing]. That's always the bridge – as we say that in Boardwalk Hall, very appropriate." 
Butler's contrasting genres is something that stacks his arsenal, using it to his advantage. "Our presentation is so different than everybody else's that it has its own draw. I played on Warped Tour all last summer solo – me and an acoustic guitar only. For the 25th anniversary show I wanted to bring a full band, but we were never going to try and compete with some of the other groups here, so we kept it as intentionally stripped down as possible… And I figure im the only harmonica player on the tour at the moment [laughs]. Ya Know."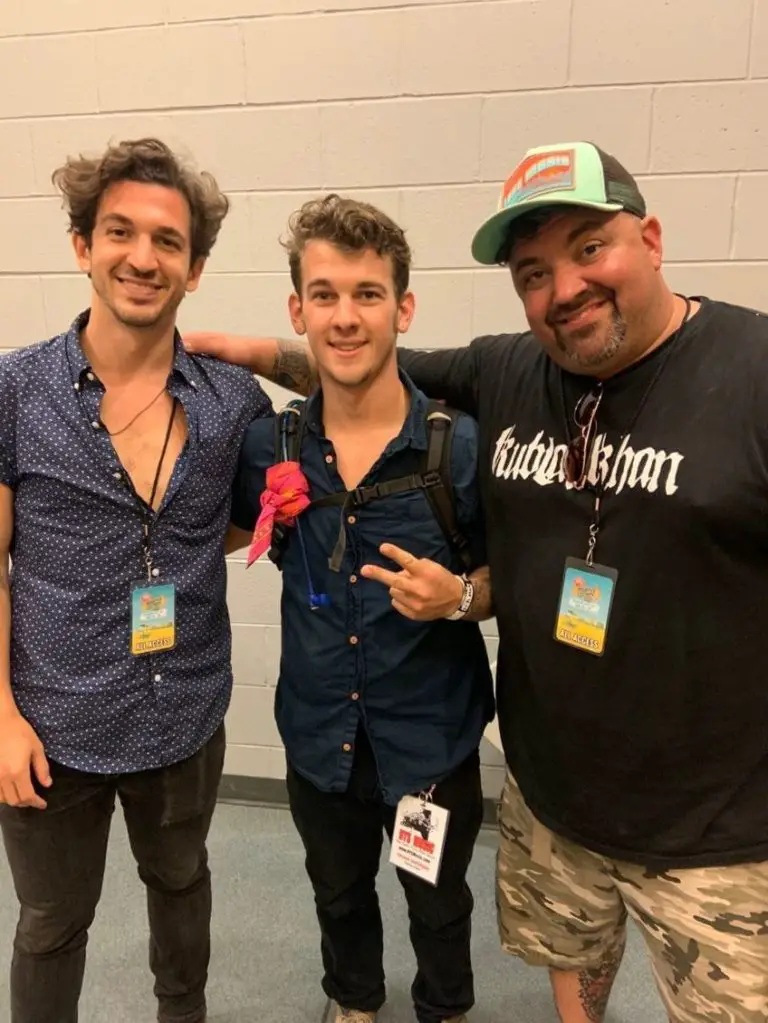 "I was drawn to music for as long as I can remember, but music seemed very difficult and inaccessible. As a kid I was pretty insecure and wanted to do things where I was confident I could do it well. I felt like it was this equation: 49% terrified and 51 % desperate, enough to where I have to try this. You have to risk being rejected and judged. That's part of the plan, that it's so scary. I think that whatever you're scared of doing most, that's probably what it is that you're supposed to be doing – on an evolutionary level."

Matt Butler
His story is unique, capturing the heart of Vans Warped Tour evolution. As Butler is on the brink of studying music, learning jazz and notation, he taps into the vividness of creating something new. "I tell ya what man, anytime you make something new for yourself again you always remember how exciting it can be and why you live it."
"I haven't played with a band in a while, so playing here today I felt pretty pumped." Backed by Astoria's Holy Vulture siblings, Misia and Dante Vessio, the world drum and bass duo allowed Butler to become vulnerable to punk fans. This kick off was the start of a reunion; for Butler he was looking forward to seeing old friends, one playing drums for Tatiana DeMaria and another playing bass for Glassjaw. "It's funny because the three of us actually played Warped together a couple years ago at Jones Beach. It's an honor. It's such an institution of a tour and Kevin is someone to idolize on some level, he's just a great guy."
Butler's set featured numerous tracks recorded this past March, but not yet released including soon-to-be single, "Tell Lucy That I Love Her." Butler wrote the tune inspired  by a tour of state prisons, and at this point he has played around 200 jails in the past 16 months. The idea quickly boomed from a fan-funded endeavour to Butler securing his 501(c)(3) non-profit, to officially bring curated arts programs to jails and underserved institutions – a heart-wrenching inspiration and driver for his music. At certain times it can be as little as four people in a room where they collectively share stories, experiences and music. "It's a way to see the country, I'll tell you that. This new song (Lucy) comes from the perspective of someone incarcerated."
"I can talk about the storytelling component forever. What we've done, and what I see it as – we just travel the country with an acoustic guitar telling stories. I think if you do that long enough and you're open to it enough you can tap into collective consciousness and that's where stories and songs get channeled from – and hopefully it resonates and connects with people." 
---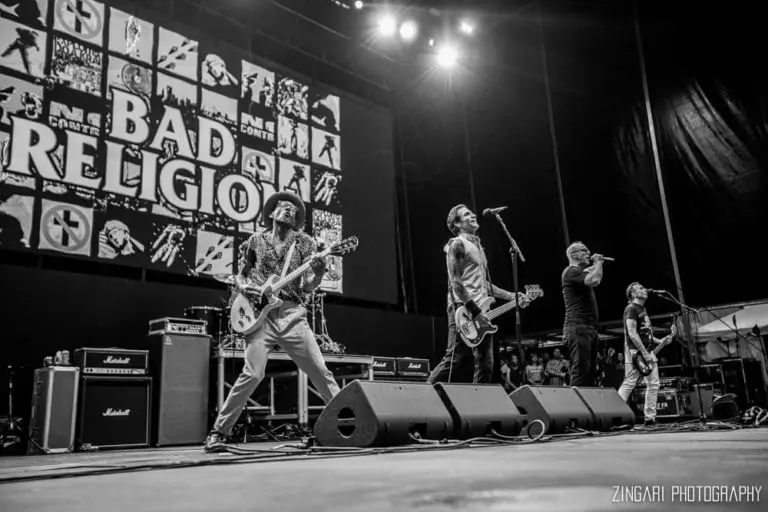 The day saw Less Than Jake, Travie McCoy, Bad Religion, CKY and many more. Fans crowded each stage, big or small and shifted with the tide between the well crafted set changes. Each band drew their most loyal fans in, while the tides washed curious listeners in, late into their sets. The day was hectic with freestyle motocross over head and an arching half-pipe backdropped by the Atlantic Ocean. Afternoon sets from Shiragirl and Kaleido, who NYS got to speak with, kept the anticipation high.  
---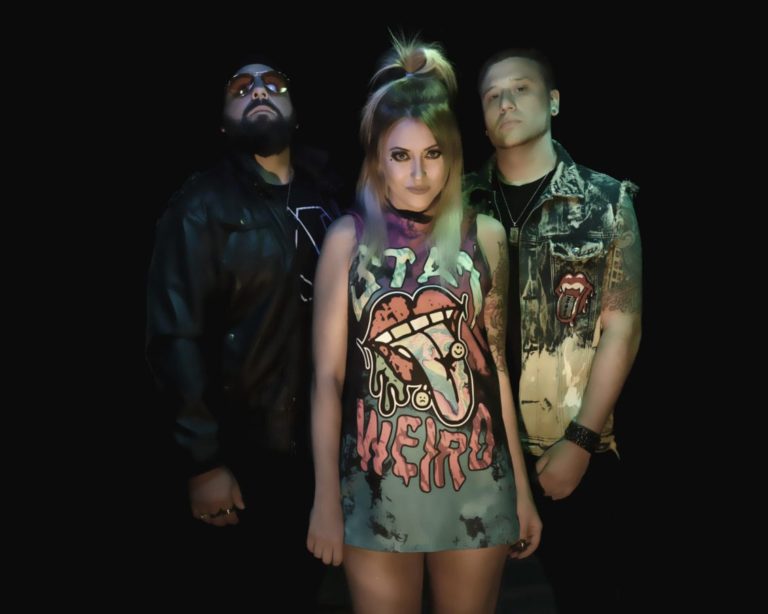 As the day started to settle in, a dark cloud loomed over the beach. Detrioit rock band, Kaleido, anxiously awaited a pre-set storm as frontwoman Christina Chriss yearned for the stage. "We were one of the last bands that got to play Saturday due to weather and we were just freaking out. This big grey/black cloud was coming ever closer And I thought: this is gonna start right when we go on, like are you kidding me?" It didn't. 
"We've played random dates and cities on the warped tour since 2013," said Chriss. "So it's really, really, special to be apart of the 25th anniversary; Kevin just knocked it out of the park like he always does. This lineup is just insane. I have been jokingly saying: it's woodstock for scene bands – straight up. It is s just fucking amazing, so were really honored to be apart of it. A bunch of bands that were huge influences of ours have a big hand in influencing all those things that you collect, and it comes out [in Kaleido's music]. A lot of these bands are apart of that." 
Kaleido's set was no different, a band that draws on so many diverse forms of art. They're heavy pop, emotion and life wrapped into an ever-changing tube. Their newest single, "Pretending," was released two weeks ago – a heavy-driving tune that you'll be sure to throw down to, and swept fans at Warped. The rest of the EP will be out July 19 and is the truest, purest form of what Kaleido really is; Chriss affirmed. 
"Inside of the kaleidoscope are a bunch of different pieces: the different colors, the different shapes – they all come together to make one beautiful image, that as you shift can change. I feel like I am that as a human with all of those influences and all of that music. 

Christina Chriss, Kaleido
" I am a chameleon type of person. I like lots of different things. I'm not in just one lane," intensley weaving her hand through the air, her palm set to kill. "So I take all of those things and internalize that, and then let it out the other way with the creativity of writing songs. All audio and video come together to create my art," inflecting hints of passion through her midwest accent. "I am the human kaleidoscope."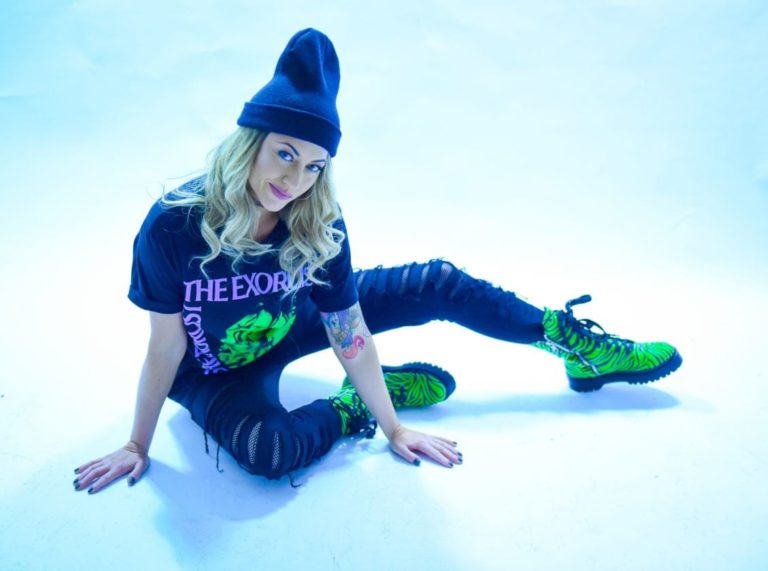 Chriss touches on basic human emotions and songs that people easily relate to. Kaleido's high energy shows become intense, as if the dawn of a storm, piercing fans like lightning. "I like to connect with people from the stage and enter their souls with my eyes. Come get some," said Chriss as she broke into an evil-type laugh.
As the rain broke, lightning bridged the sky and boardwalk. What about A Day To Rember? What About 311? What about Wage War? Are They Gonna Play? I wanna wach 'em! – Chriss thought aloud during our interview with excitement and color. 
---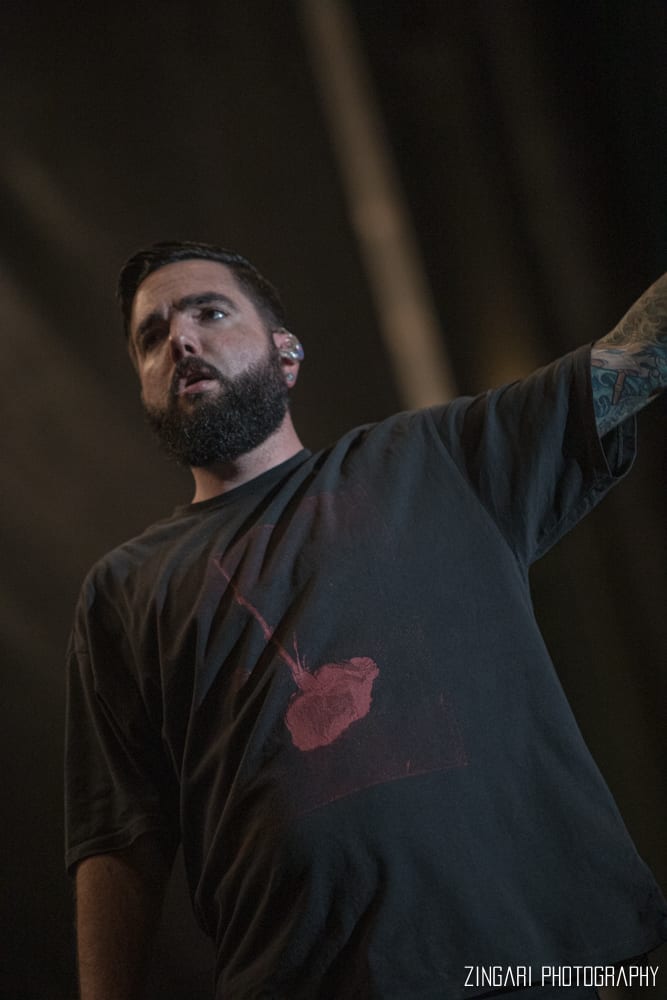 After a two hour delay the desolate beach grew new life as everyone recovered. It was a timid storm in the wake of Saturday's headliner, A Day To Remember. The beach went dark with silhouettes spanning the entire boardwalk. ADTR showed no mercy kicking things off with "2nd Sucks." Vocalist Jeremy McKinnon, announced "Sticks & Bricks" was named from the security guards of the Vans Warped Tour, a song not originally printed on the setlit. Security had a signal alerting that the crowd was going to be insane, foreshadowing the moments to come as the band let loose into a storm warning. 
A Day To Remember has a unique ability to contrast intense breakdowns with driving lyrics and melody, blending worlds of warped. The set list showed little rest as people toppled over each other and McKinnon enticed 'crowd-surfing a crowd-surfer.' Driving through  "All I Want," "I'm Made of Wax, Larry, What Are You Made Of?" and "The Plot to Bomb the Panhandle" bodies passed overhead and we were lost in this ocean of people, only to letup for the sentimental acoustic "If It Means A Lot To You."
Suddenly a harmonious beach began to sway, with lighters overhead. Par for the course would be closer, "The Downfall Of Us All" – a fitting end to the day. New and old fans alike created a community in and outside of the pit. A Marshmello character emerged with a t-shirt cannon celebrating the band's most recent single and collaboration with the EDM star.   It was just nuts. In the short 40-minute set we left dripping sweat and covered in sand as nearly 60,000 people slowly evacuated the beach, yet again.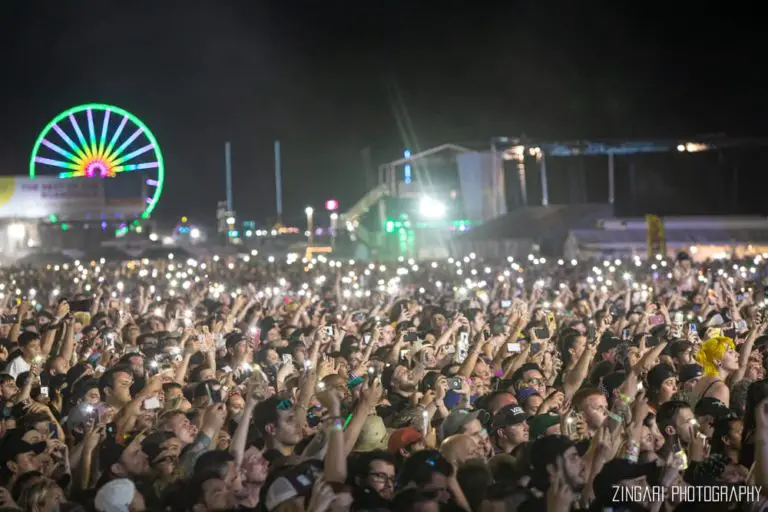 ---
---