Welcome to NYS Music's comprehensive guide to all the music festivals found in the Empire State throughout the Summer of 2019! Read on to learn about what festivals are coming up, ticketing and lineup info, and what past years can tell us about what to expect for next year!
---
August 2-3
Historic Cobblestone District – Downtown Buffalo, NY. T
It's a good spot for a mid-level band…they treat you like a king. At the end of the day, when you treat your musicians well, they're going to play better, your patrons are going to be happier…it works all around. It's definitely a music venue for musicians.

-Dave Loss & Evan McPhaden (Aqueous)

Read more at NYS Music…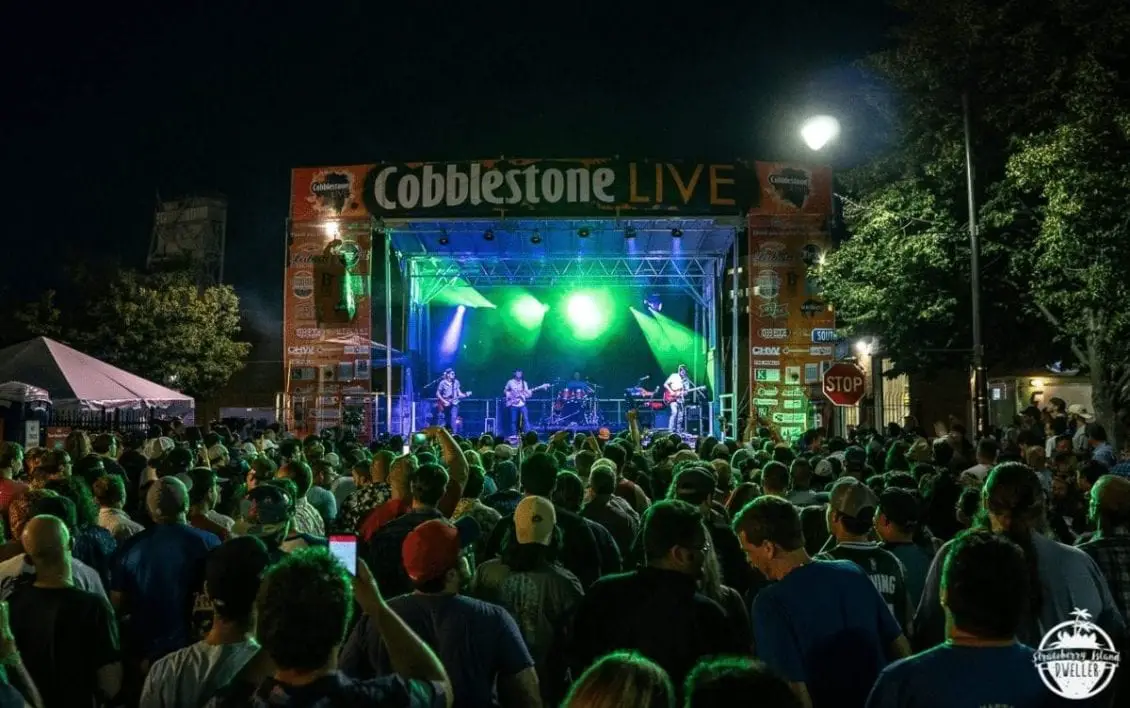 Past Highlights: Broken Social Scene, The Sheepdogs, Turkuaz, Aqueous, Chicano Batman, Golf Clap, Andy Frasco & the U.N., Michelangelo Carruba Super Jam, Ratboys, Dynamo.
2019 Lineup: Aqueous, Sloan, Tauk, Joy Wave, Billy Strings, Langhorne Slim, Witty Tarbox.
Pricing: $35 Two-Day Pass ($45 Walk-up), $20 Single Day, $100 VIP. *Late night passes to be announced
Stay Updated On Social Media: Facebook, Instagram, Twitter.
---
August 2-4
Dodds Farm – Hillsdale, NY
Emerging Falcon Ridge Folk Festival Artist, Ian Flanigan seamlessly weaves intricate acoustics and lyricism across supportive cello arrangements and skillful percussion. His sound — an eclectic blend of progressive folk and percussive finger-style — is reminiscent of the road less traveled, paved with poignant lyrical truths of his past.

Read more at NYS Music…
Past Highlights: Adam Ezra Group, Beth Molaro, Buddy System, Bunkhouse Boys, The Clayfoot Strutters, Dan Navarro, Dar Williams, Eclectic Dance Orchestra Sun. 
2019 Lineup: Andrew VanNorstrand, Stephen Kellog, Annie & the Hedonists, Annie Wenz, Beth Molaro, Buddy System, Carolann Solebello, Crys Matthews, Emma's Revolution, The Falcon Ridge House Band (Mark Dann, Eric Lee, Radoslav Lorkovic).
Pricing: $175 3-Day Ticket w/ Camping; $130 Without. (May 16-July 10th). FREE for Children 12 & Under. All 3 day tickets include Pre-Fest Thursday admission.
Stay Updated On Social Media: Facebook, Twitter.
---
August 2-4
3336 Rt. 215 – Cortland, NY
The art and music festival started with a house show featuring a stage on the lawn and acoustic acts on the back porch of the farmhouse. Over the past decade, it has grown into three-day-long music festival in a natural amphitheater nestled between the rolling hills of Cortland.

Read more at NYS Music…
Past Highlights: Sophistafunk, Root Shock and NYS Music 87/90 artist, Space Carnival, The Unknown Jones, The Neighbors, Dirty Blanket.
2019 Lineup: The Comb Down, The Blind Spots, The Speculators, Digger Jones, Root Shock.*A special film screening Sunday with live score by Chris Kuklis and The Seedstock Cinematic Orchestra.
Pricing: $15/$20/$10 Single Days, $40 Weekend, Pass, $55 w/ camping (plus online ticketing fee).