Dead Horses, a duo from Wisconsin, and Honeysuckle, a trio from Boston, met somewhere in the middle Tuesday night – geographically in the middle via Rochester, NY to be exact – as a part of the latest show put on by Honest Folk. The show itself also met in the middle musically, landing squarely within folk traditions both new and old.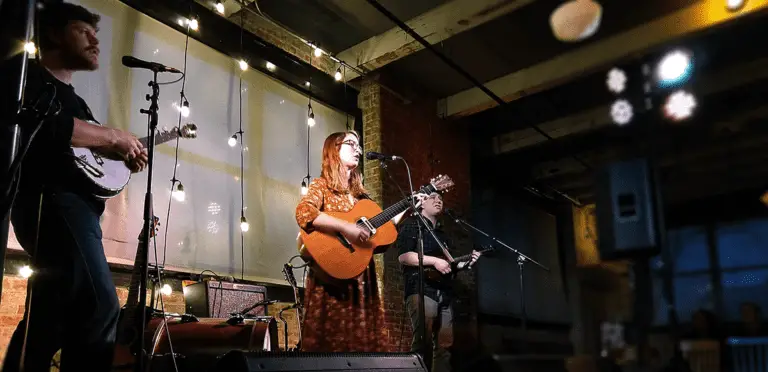 Honeysuckle opened the night. Guitar, mandolin, banjo and a kick drum blended into a joyful swirl of acoustic strings and beats. They played some new, as-yet-recorded songs to keep them "on their toes." Though early in the set, "Catacombs," off their 2017 release of the same name, kept the audience on their toes as well. An airy and floating psychedelic segment broke into a full-fledged mandolin-led jam before slinking back into the main song.
They weren't afraid to break free from folk and bluegrass expectations, mixing the two and then splashing in some more modern elements from pop, rock and jazz. Most noticeably, Chris Bloniarz's mandolin was being fed into a rather large bank of effects pedals. He used them subtly, allowing his playing to shine through and it never overwhelmed the acoustic three-piece sound.
On a new song, "Windstorm," lead singer and guitarist Holly McGarry explained that it was written as a reaction to someone who once wrote a mean poem about her, saying she dressed like an old woman. She wore it like a badge of honor though; old women are great dressers! Appropriately enough, their music also had a timeless quality to it, but in a youthful and new body.
The band exhibited wonderful three-part harmonies throughout the set, but truly flexed their vocal chords with, as they deemed it mandatory, a cover of Crosby Stills and Nash's "Helplessly Hoping." They nailed it, silencing all doubters, if there were any remaining at that point in the set.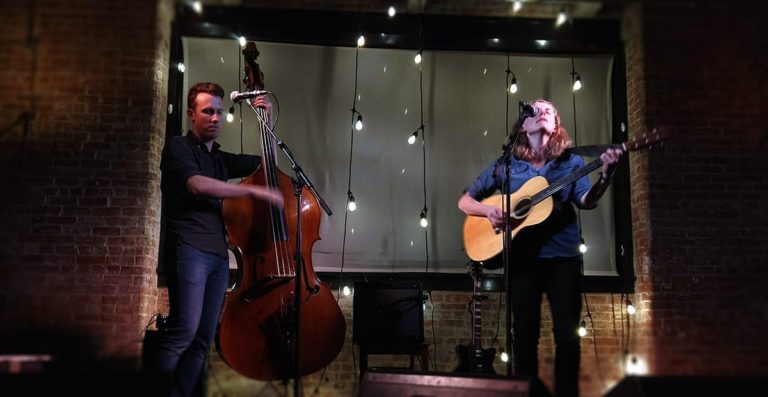 Dead Horses, comprised of Sarah Vos on guitar and Daniel Wolff on double bass, played a set of sparse, sometimes dark, folk songs with their Midwestern charm shining through. They met and matched their openers in vocal prowess with Vos carrying the bulk of the load. As lyrically excellent as their songs were, some of the most captivating vocals were ooh's and mmm's or the chills-inducing extended and repeated "sweeeet"s during the song "Brothers." In "Turntable" Vos sang, "If my heart was a turntable, and my belly was the speaker and my soul the needle," which just about sums up their songwriting as well as one could.
Wolff's bass carried the heft of the instrumental melodies, plucking out the bottom, bowing higher registers and banging out rhythms off the body, at times all in the same song.
The band has been writing songs and releasing them as singles when they're ready, not waiting for a full album to emerge. New tunes like "Birds Can Write the Chorus," "A Mighty Storm," and the "Family Tapes" show how the band is still developing their sound. On the latter, in a short span, the song moved through at least three distinct sections, stepping away from a more traditional structure.
Generally a taboo question for a band, Dead Horses were forthcoming about the origin of their band name. Named after a friend who died of a heroin overdose, they feel a need to be open about it since it is such a prevalent issue that needs even more exposure than it currently is receiving.