What better place to start NYS Music's City Guides series, a monthly musical tour through New York State's cities, than far West, on the shores of Lake Erie, in The Queen City of Buffalo. Home to the die-hard Buffalo Bills fans, surrounded by the sweet smell of Cheerios from the General Mills cereal plant, and comprised of stunning neoclassical architecture, this city is a little slice of snowy heaven packed full of action.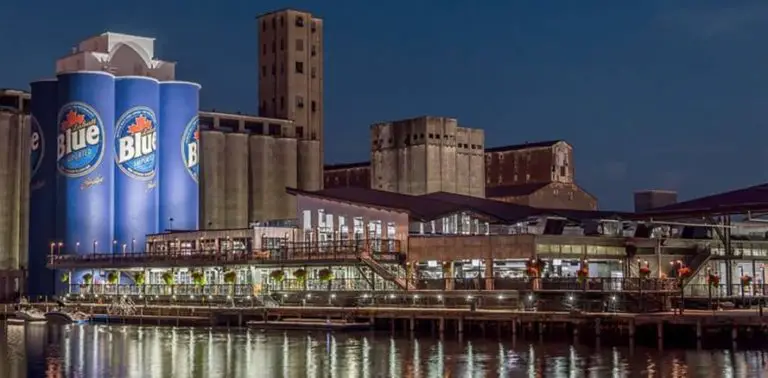 One of its longstanding claims to fame is the musical talent that seemingly is bred in Buffalo, NY. From activist singer-songwriter Ani DiFranco, R&B singer and instrumentalist Brian McKnight, to drummer and co-founder of the alternative rock band Weezer, Patrick Wilson, and finally, to the masterminds behind everyone's favorite karaoke jam, "Iris," The Goo Goo Dolls, Buffalo has supplied music with some staple artists from a plethora of genres throughout the years. The music scene of the city now is as hot as ever and this article highlights all the can't miss music action in Buffalo.
Theatres
Shea's Performing Arts Center – Shea's is not only one of the most treasured gems in Buffalo, but also a National Historic Site as the theatre was built in 1925. Extensive amounts of work and volunteering has been put into renovating and ensuring that this theatre is still up and running for Buffalo and beyond to enjoy. It now hosts a plethora of installments of Broadway shows, as well as huge musicians such as Mariah Carey and Bob Weir. This versatile venue is devoted towards sustaining a classic theatre that the youth can enjoy art in for years to come. Take a look at their upcoming schedule.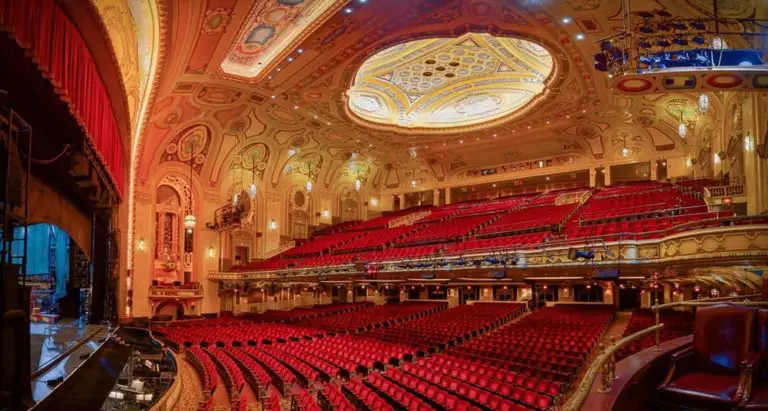 University at Buffalo Lippes Concert Hall – Every year, at the University at Buffalo's state of the art facility, the Department of Music hosts over 150 public performances. Here anything from string quartets, to pianists, guitarists, jazz ensembles, and even computer music concerts can be experienced and heard. This is yet another somewhat hidden gem of Buffalo as locals can see the fresh faces of music that are learning and perfecting their craft in their hometown.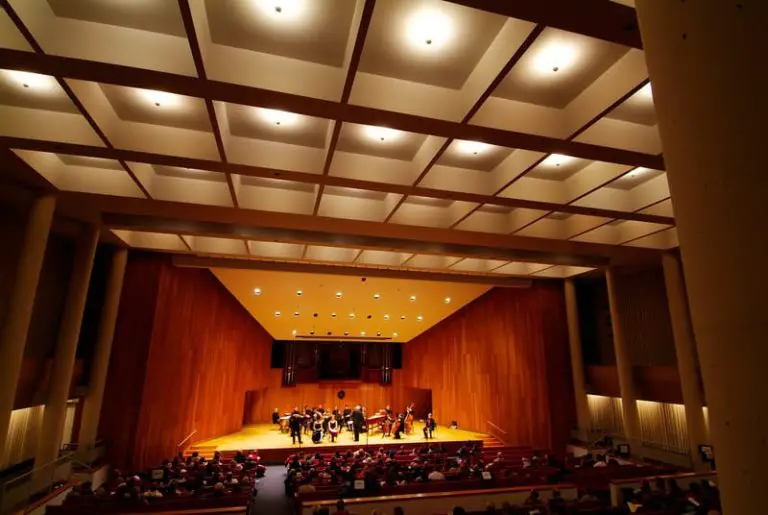 Arenas
Key Bank Arena – Not only is this massive entertainment home to the NHL's Buffalo Sabres, but it also houses some of the world's biggest musicians as their tours come through Buffalo. Since the grand opening of the venue in 1996, the arena has hosted over 23 million guests at its countless events in its over 19,000 seating capacity space. In the months to come, the KeyBank Center will host huge tours such as Ariana Grande, Fleetwood Mac, Cher, Justin Timberlake, Twenty One Pilots, and Carrie Underwood, among many others. For large-scale fun and entertainment all year long, this staple of Buffalo is a go-to.

Darien Lake Amphitheater – About 40 minutes outside of Buffalo, is Western New York's destination for summer concerts. This large amphitheater is where many Buffalo natives travel for summer concerts of all genres including country, rock, and reggae to name a few. Alternative Buffalo 107.7|104.7 hosts most of their larger shows here, including the upcoming shows for The 1975, as well as Beck and Cage The Elephant. Other shows for this upcoming summer include Chris Young, Zac Brown Band, 311 & The Dirty Heads, Heart, and KISS.
Music Festivals
Cobblestone Live Music and Arts Festival – Presented by Buffalo Iron Works & Lockhouse Distillery & Bar, this year will the third annual Cobblestone Live Music & Arts Festival. It will be held on August 2nd and 3rd in the historic Cobblestone district of downtown Buffalo, with two outdoors main stages, one inside Buffalo Iron Works, and an electronic stage and lounge inside the Distillery. Spread across these 4 stages, there will be over 25 artists featured, to be announced in the coming months, as well as festival games, local food trucks, vendors, cider, beer and a specialty beverage menu courtesy of the two producers of the festivals's venues. The festival has been growing and will be sure to continue to grow in years to come, making it one to watch in the Buffalo area.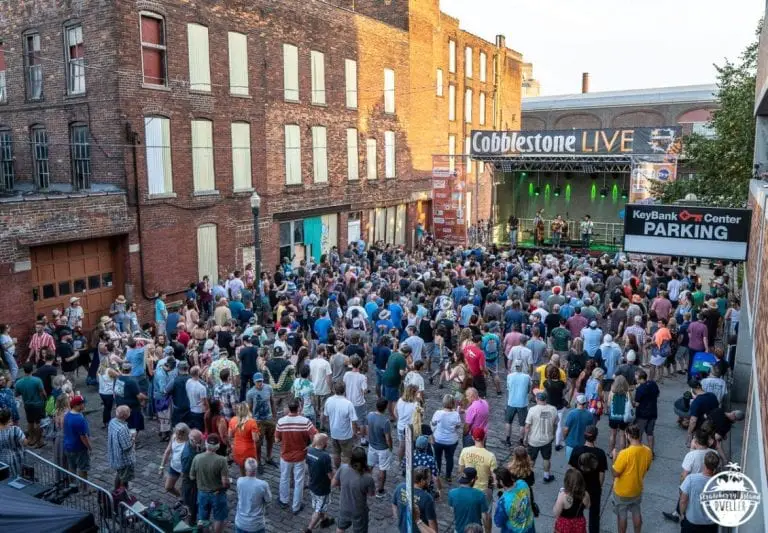 Beau Fleuve Music Festival – Not only is this festival a staple in the Buffalo area, but it is internationally recognized as a trendsetting, one of a kind celebration of arts and music that bridges the gaps between generations, cultures, and beyond.  The festival has been a great success in the past, bringing in a diverse lineup of artists.  Keep your eyes peeled for updates on this year's events.  
Notable Venues
Rec Room – Rec Room is the newcomer in Buffalo's venue scene. Following the closing of the beloved Waiting Room, former owner Chris Ring poured his energy into opening this new venue that he hoped would have something for everyone. On top of stellar live music, the venue hosts parties and karaoke nights that keep the fun going at all times. The venue opened for "test" shows in August and fully set sail in September and has been making waves ever since. The future of this venue looks promising as their upcoming shows are pretty stacked.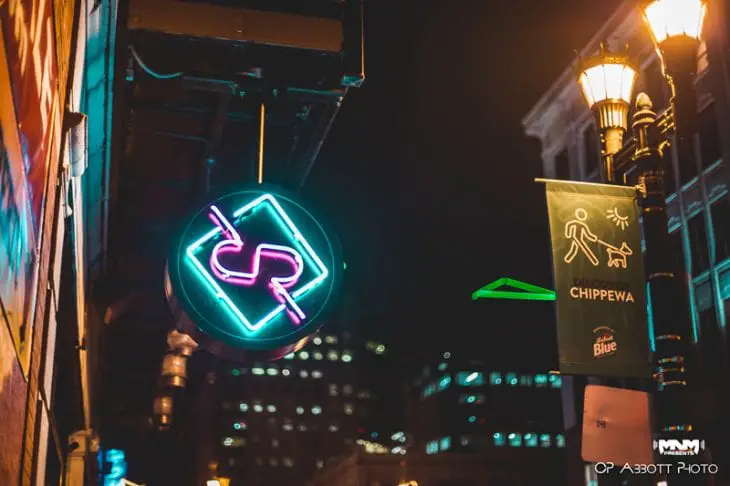 Town Ballroom– Yet another historical piece of Buffalo's musical lineage. Town Ballroom was originally called The Town Casino in the 1940s and '60s and hosted performances from legendary musicians like Frank Sinatra, Nat "King" Cole, John Coltrane, and Les Paul. After a turbulent few years and switching ownership, the venue was restored to the former glory of the original venue in 2005 and has since been continuing its legacy of incredible shows. Upcoming shows include Action Bronson, Snarky Puppy, and Tom Morello.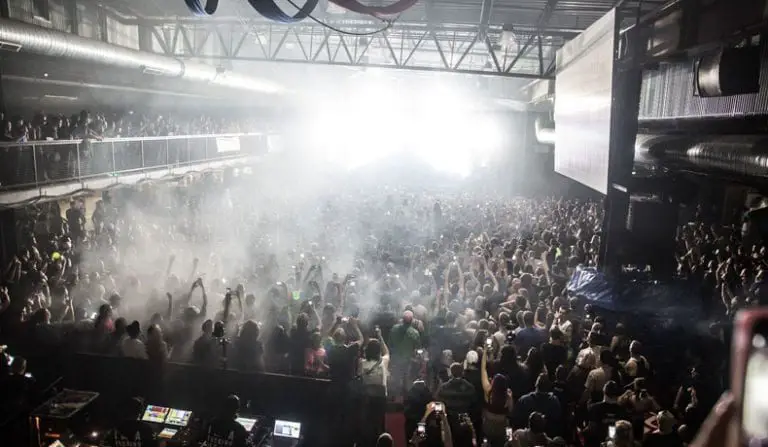 Iron Works – Right next to the musical giant of Buffalo, the KeyBank Center, is the live music, full bar, and your go-to destination for chicken wings: Iron Works.  Voted "Best Music Venue in Buffalo" in 2017 by the Buffalo Spree Awards, this venue hosts a variety of acts such as local bands, cover bands, and national touring acts such as the upcoming KT Tunstall show in May.  Check out their upcoming events to plan a night of good music and good food.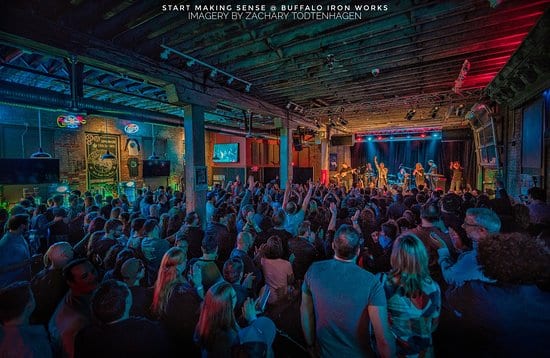 Riverworks – Located right on the banks of the Buffalo River is another versatile venue of the city. In addition to skating, rope courses, a brewery, and river boat tours, Riverworks puts on a variety of live music shows throughout the year. Their space can produce both indoor and outdoor shows, and hosts artists from every genre from rock, country, to dance music.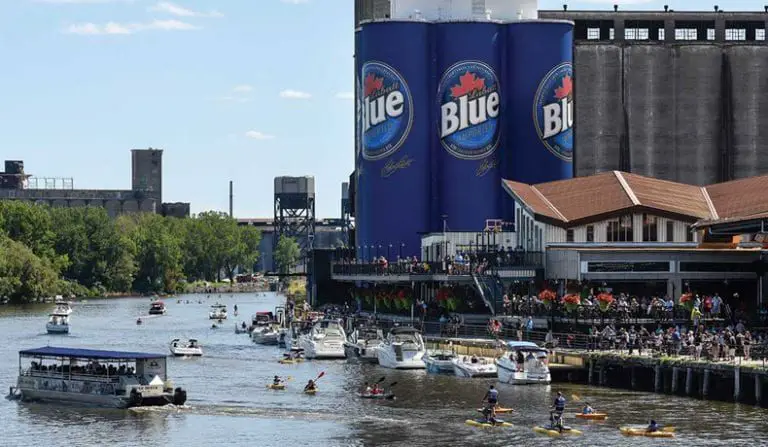 Nietzche's – They say it best themselves, "Life without music would be a mistake." A longstanding favorite of NYS Music, Nietzche's has been a staple venue of Buffalo for over 25 years. Notable for its welcoming reputation to national and regional touring acts alike, and for being the jump-off points for big musicians, Nietzche's is still kicking and going strong. Currently hosting a multitude of local acts from not only Buffalo, but all across New York State, Nietzche's is always serving up good times and great music.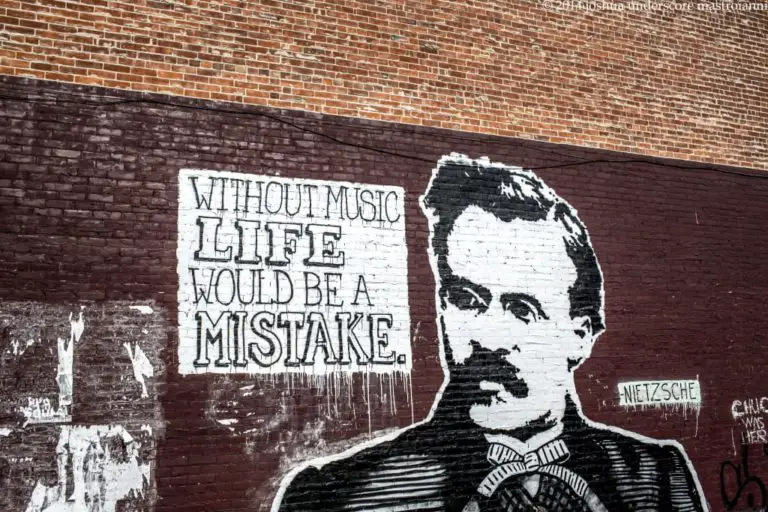 Sportsman Taven – Opened in 1985, the Sportsmens Tavern has won over the hearts of Buffalo natives and quickly became one of the best venues in the county.  It is another great place in Buffalo to catch local acts on one of their Emerging Artists nights, local bands, and bigger nationally touring acts.  The undeniable character and longstanding charm of this venue is a "can't miss" of Buffalo.  Check out their upcoming shows. 
Unique Venues
Asbury Hall – Once a Gothic Revival-style sanctuary, this eye-catching venue within Babeville, the arts space founded by Ani DiFranco and Scot Fisher, has been completely remodeled into a music hall with plenty of character. Asbury Hall can accommodate a more intimate crowd of 1,200, compared to Buffalo's large scale event spaces, and has hosted incredible singer-songwriters such as its own Ani DiFranco, Sufjan Stevens, and Tallest Man on Earth. While Asbury Hall is regarded as one of the most intimate concert venues within Buffalo, Babeville also houses The Ninth Ward, a subterranean bar and listening room, and an art gallery, Hallwalls Contemporary Arts Center. Check out the events calendar to catch a show at this iconic venue.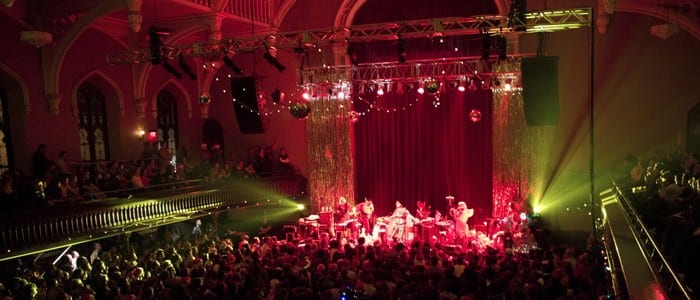 PAUSA Art House – Honorable mention for a unique and intimate art experience in Buffalo has to be PAUSA Art House.  An intentionally small audience, and ritual of pre-show and post-show receptions bring a new and refreshing atmosphere to experiencing a wide array of musicians that perform here.  This art space, wine and tapas bar focuses on showcasing the artists local to Buffalo and the surrounding region, but also welcomes international and national touring acts.  Check out their upcoming events and be sure to make a reservation to ensure your spot for this one of a kind atmosphere.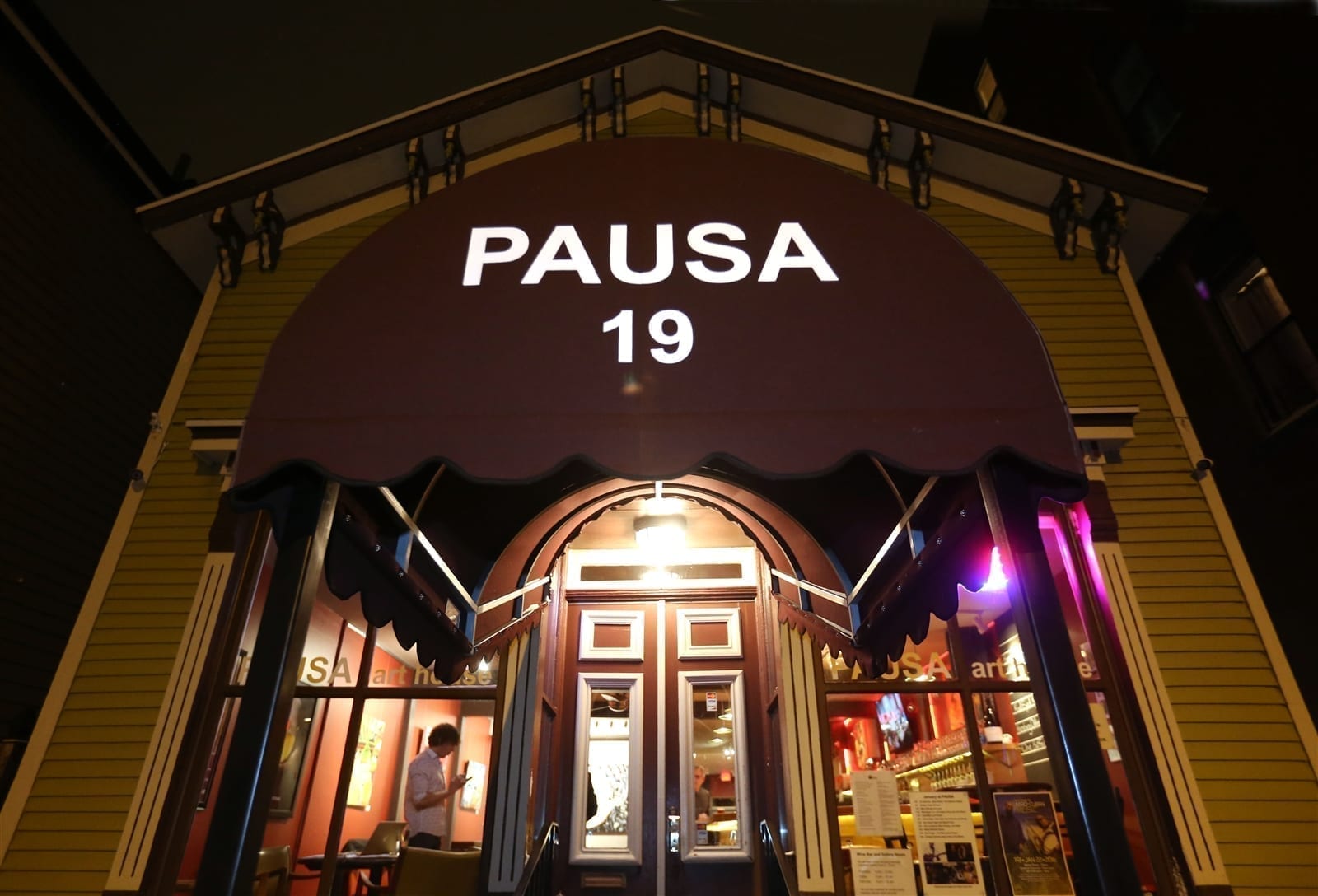 Wherever you turn, in any season, Buffalo will be bustling with the music that it's been breeding since it all began. While some venues and festivals may come and go, Buffalo's musical roots are definitely here to stay. Hopefully this guide will help you make your way through all the incredible experiences that Buffalo has to offer your ears.