These are dangerous times in which we live. Our culture is teetering on the brink. And if music festival organizer, Paul Bassis is correct, the Arise Music Festival held last week outside Loveland, Colorado may well be an antidote to help stop the madness. Bassis' claim is a bold pronouncement, for sure, but he and his hearty team of Arise staffers and volunteers have made painstaking efforts to make that claim a reality.
From the festival's inception six years ago, Arise has staked a claim among a short list of conscientiously-based music festivals that promote environmentally conscious practices as a "leave no trace" event that plants a tree with every ticket purchase. In addition, as in past years, last week's event featured a wide range of workshops and presentations focused on environmental and social justice issues that ran alongside its hefty live music schedule. While such offerings are familiar to Arise veterans, what has changed recently is the urgency in which Bassis and the Arise crew have pushed its more communal and activist leanings. "There was a time when I wouldn't have called myself an activist, but now things are different. So much is at stake."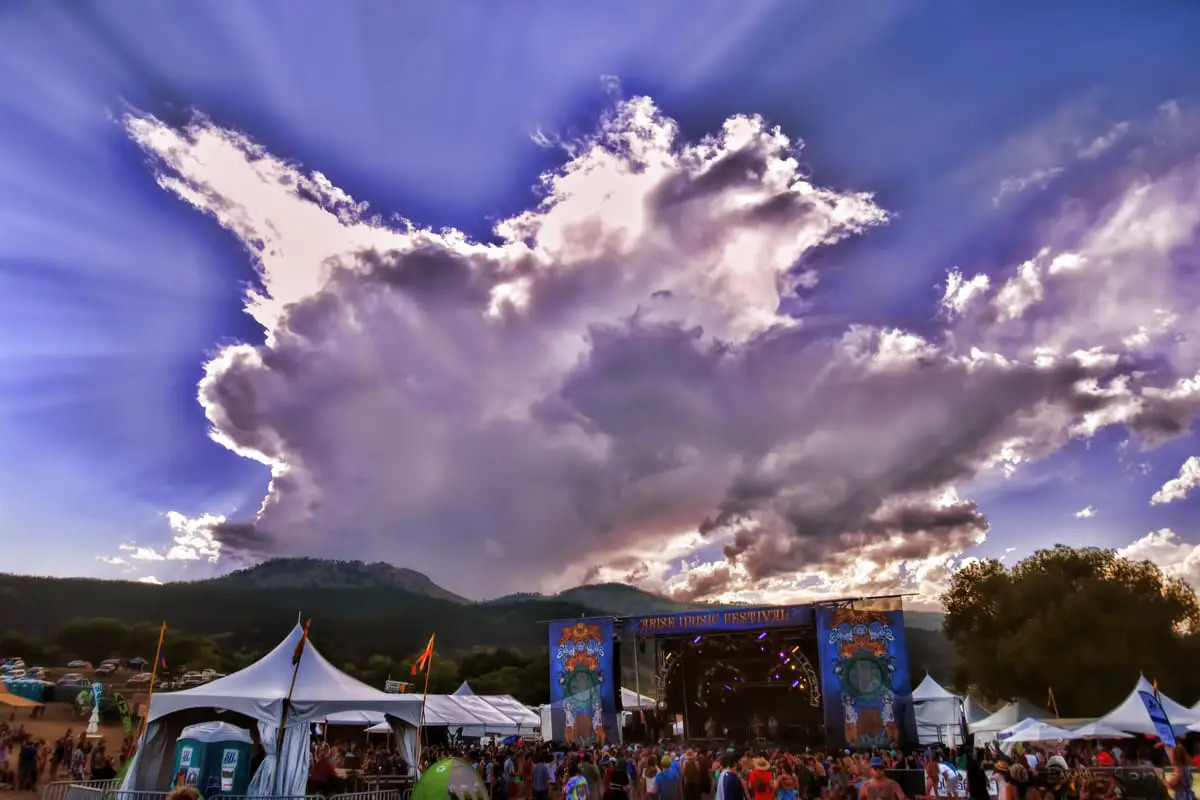 This year's edition of the Arise fest did include a number of popular live and EDM music acts, including Slightly Stoopid, Thievery Corporation, Opiuo, and Trevor Hall, that perform at many other festivals around the country. However Bassis intones that while many festivals offer escapism from turbulent cultural events, Arise is designed to engage festifarians in local and national political affairs. "We have got to build a community that makes changes and makes things right," he stated on the festival's closing day. "My stump speech is," he continued, "there is a reason why call this the Arise Festival and not the Wake-Up Festival."
That sense of urgency permeated the festival grounds throughout the weekend by way of world-renowned presenters like environmental activist Julia Butterfly and grassroots activists seeking signatures for a number of issues including a petition to ban oil fracking. After the rousing bluegrass set of the Kitchen Dwellers from Montana, bassist Joe Funk commented that he felt the Arise Festival sense of purpose was  clear and that the festival, itself, came as close as any to be able to change the world.
Alongside its progressive social and political focus, the Arise Festival featured a diverse entertainment line-up that included a number of magical performances from the little-heralded but fiery acts such as Guerilla Brass Band, and Colorado-locals, the Gasoline Lollipops, with their unique style of psychedelic punk/folk music. Festival stages literally soared with the dazzling acrobatics of Quixotic. Even the festival's last performance boasted the thunderous, raucous Colorado return of the New Orleans-based funk group Dumpstafunk.
As to whether the Arise Festival will change the world, only time will tell. But festival organizers like Bassis say they have no other choice. "We must all be activists, and we must meet the challenge."