The special Sunday welcoming of Vans Warped Tour to Hartford, CT's Xfinity Theatre was a long, hot day of nostalgia and nearly-controlled chaos. As temperatures rose into the eighties, attendees piled in around 11am in massive numbers, sectioning off sides of the neighboring overpass and crowding the front entrance gate. Upon entry, a cloud of dust and an array of color greeted each guest on the festival grounds. Brightly printed advertisements and booths lined the front pathway, and attendees showed off tattoos and spiked their hair in anticipation of Warped Tour's last official year in operation.
The lineup for the summer represented several decades and genres, from the adored 2000's rock band Bowling For Soup to the driving force of Australian metalcore band The Amity Affliction, taking up the 2010's and beyond by storm. After scanning over the printed artist schedule for the day (decided day-of in true Warped Tour tradition), the Buffalo natives of Every Time I Die came onto the Monster-sponsored Mutant White Lightning Stage. They opened with the abrasive "Decayin With the Boys" from the 2014 album From Parts Unknown, and followed with songs from their 2016 album Low Teens, driving a powerful pulse behind their performance of "Glitches" and "Map Change". It wasn't long before guitarist Jordan Buckley made his way into the crowd to meet the mosh pit that formed in the center.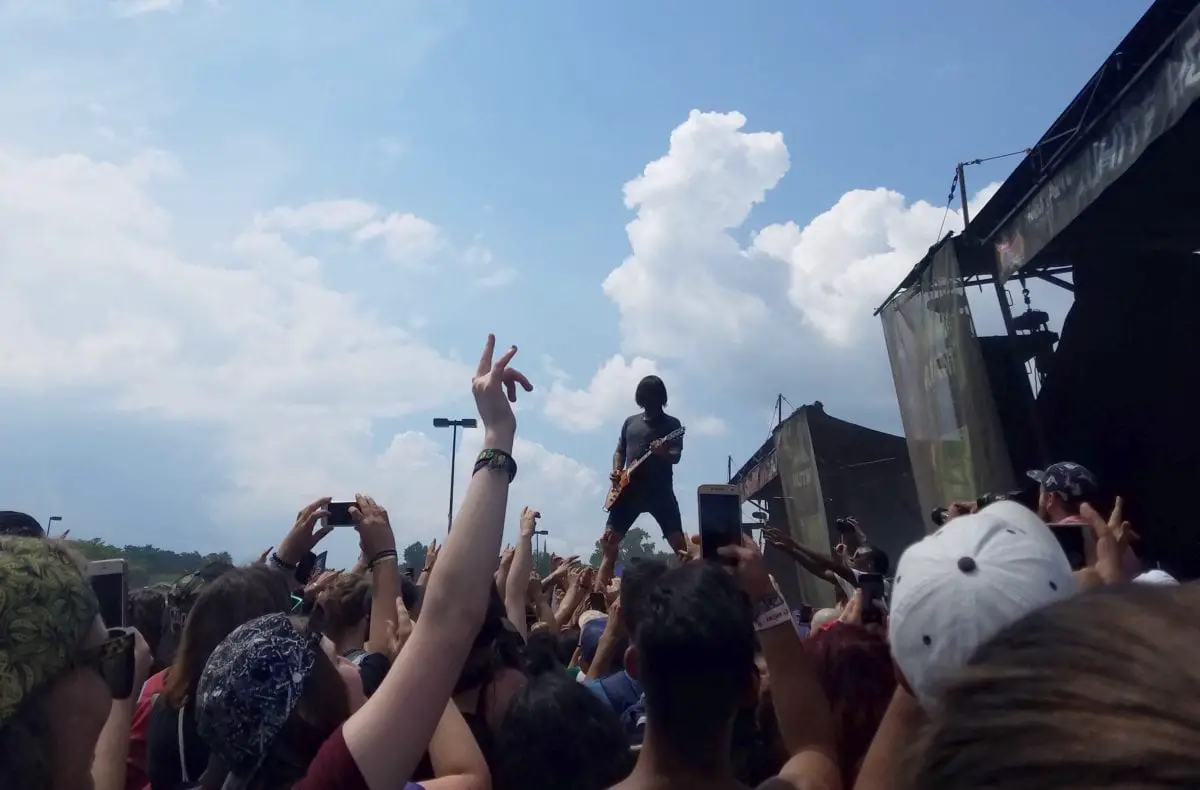 With some built up anxiety to have the best final Warped Tour experience, the day of music hosted several extreme disappointments. From not enough parking to generally poor attitudes from festival staff members, the large amphitheatre setting of Xfinity was surely not fit for this kind of endeavor. Many of the bands people were excited to see on tour also weren't included on the Hartford bill, including Warped Tour success stories All Time Low, English rock band Asking Alexandria, tour veterans August Burns Red, and the popular ska band Less Than Jake. To make matters worse, venue security guards barricaded the aisles of the main theatre as the crowd size expanded, pushing back anyone who tried to walk up to the front pit area, even when there was plenty of room. Beyond the safety concern of being trapped on both sides by a massive crowd, photographers could not get a proper glimpse of artists that played the Main Stage without being aggressively escorted out of the area. Many fans took to Facebook after Warped Tour posted that the pit had been at capacity for the entire day. With upwards of 20,000 people attending the festival, it's no surprise that these areas filled quickly, and with better preparation from the venue, crowd control could've been handled in a safer and more professional fashion.
After a few snafus and some set times cut short, some great performances served as a saving grace throughout the afternoon hours of the fest. The Boulder-based electronic duo 3OH!3 played the Main Stage at 2:55pm, where a nearly-filled theatre was waiting for them. After bringing us back to 2008 with their charting single "DONTTRUSTME", the dance duo welcomed Travis from We The Kings to join their performance of the 2008 pop dance track, "STARSTRUKK". 3OH!3 couldn't get Katy Perry or Kesha to join them on set for their collaborations, but the earworm melodies and dance beats came back to everyone nonetheless.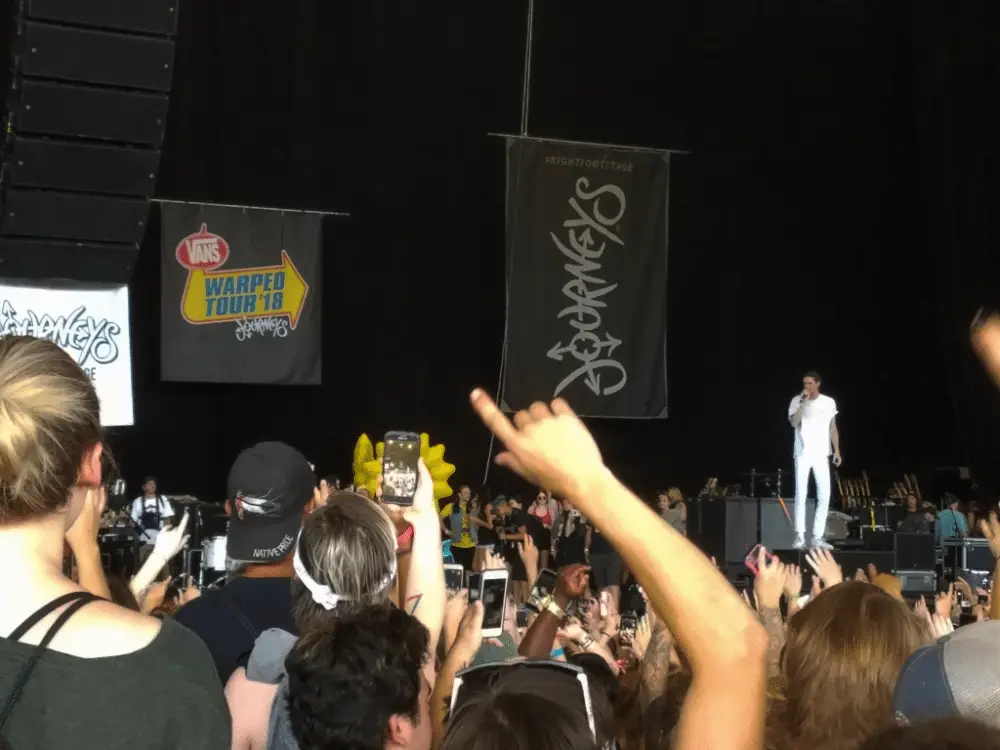 After a raging set from Falling in Reverse, including their reckless anthem "Just Like You", Bowling For Soup set up on the left side stage to pick up on the energy left brewing in the audience. Along with their chipper charm and catchy songs, BFS was the most honest while bantering in between songs, with singer Jaret Reddick admitting the band as "a bunch of 40 year olds singing about high school". In addition to getting a laugh from the audience, this truth could be another reason Warped Tour just couldn't survive in the same fashion. While the millennial generation jumped around to the 2004 smash hits "1985" and "Ohio", many of the younger concert attendees seemed to lose interest and move elsewhere, a true testament to the cultural and musical shift of rock music. For those present for the remainder of Bowling For Soup's set, a surprise visit from Simple Plan singer Pierre Bouvier kicked the crowd's energy into high gear to close out their set, reminding the audience of the festival's glory years, back when we thought "High School Never Ends."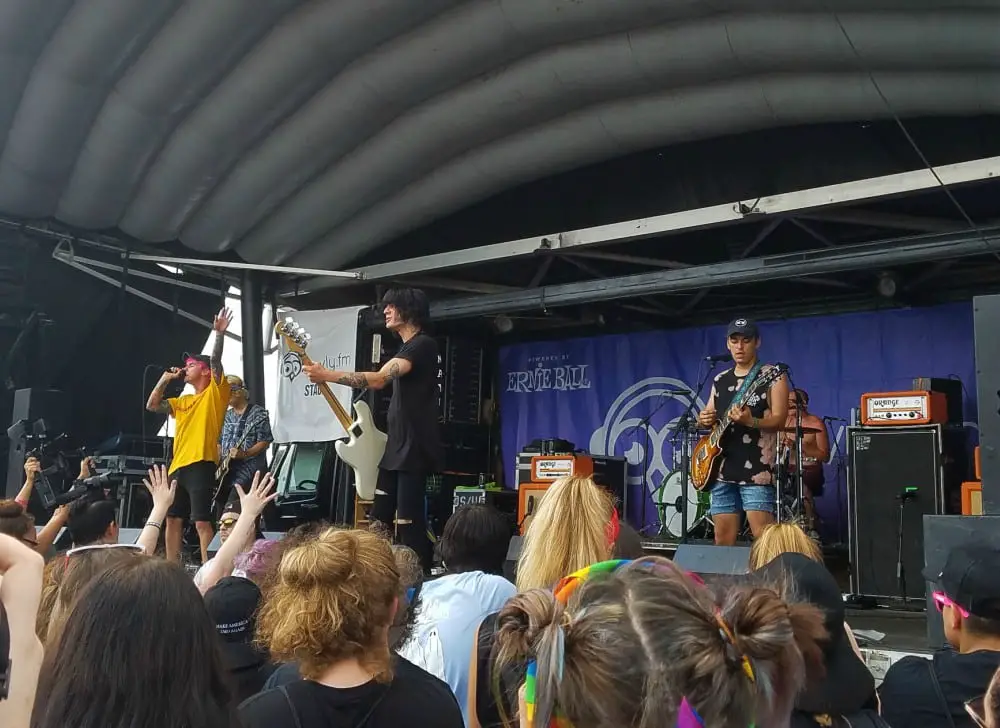 As set times came and went, life outside the stages remained lively, with an array of food and drink choices, a hydration station, and vendor pop up shops. Tucked in the back of the bustling festival city was the owly.fm stage, which booked some of the biggest surprise bands of the festival – Warped Tour newcomers. Earlier in the day, young girls fled to this stage for Story Untold, a five piece pop punk band from Montreal. In addition to some really catchy originals in their set, they made a creative mashup of multiple legends that make up the Warped Tour family, including hits from Green Day, Linkin Park, Boys Like Girls, and more. Later in the evening, the owly.fm stage brought an unapologetic entrance from British punk sensation Dominic Harrison, under the stage name YUNGBLUD. Known for his high intensity and rebellious lyrics at only 19 years old, he and his backing band took control of the surrounding crowd, encouraging everyone to sing along and move. First gaining notoriety for his musical contribution to the Netflix show 13 Reasons Why, YUNGBLUD has since released a debut album with rebellious rock mixed in with hip hop, punk, and whatever else inspires him at the time.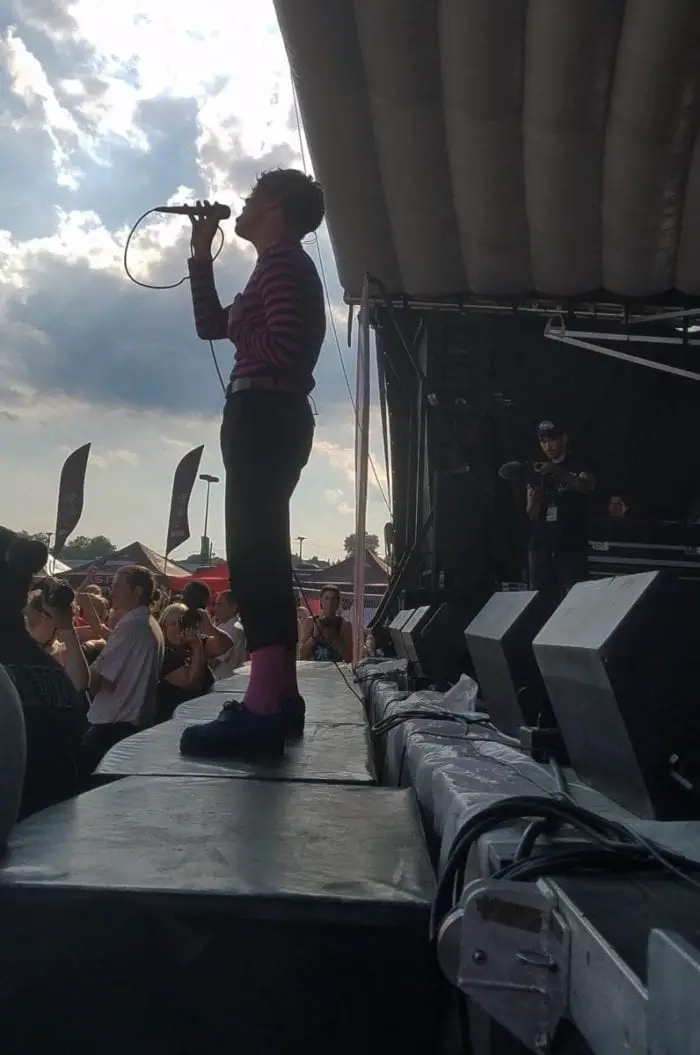 YUNGBLUD's incredible stage charisma was only outshined by his music, with the British punk-influenced "Tin Pan Boy", and the outcast anthem "My Medication." Like many organizations and artists on the Warped Tour stage, there was no fear in talking about complex issues. As YUNGBLUD shared on his experiences through music, there were a few speeches from other artists, encouraging people to reach out and ask for help when times get tough. It was interesting to see other rockstars throughout the day scream out a grindcore thrasher about hatred, then opening up about sensitive and personal experiences shortly after, but it was still refreshing to see a positive message get across to so many people.
After a brisk walk to the Main Stage area after being blown away by YUNGBLUD, We the Kings set up on their half of the Main Journey's stage, and the audience count (and difficulty entering the theatre) doubled. We the Kings has always had a massive following, and you can certainly tell the band's superfans from those who remember hearing them on the radio for a few years. Either way, the band coerced a wild chorus to sing as they went into the 2007 charting single "Check Yes Juliet" and the 2011 beach jam "Say You Like Me". The band also dove into their latest album, named Six, to sprinkle in some variety in their set. It wasn't until the 2013 pop anthem "I Feel Alive" that the band asked everyone to mimic a dance move that Travis' daughter inspired, getting the audience of thousands to shake down low right before jumping up for the song's chorus.
To add some variety to an otherwise punk sphere, Reel Big Fish took to the Main Stage for an audience-interactive, fun-filled set. They opened with an awesome cover of "Take On Me", before diving into their own rebellious songs, including the 2012 "Everyone Else is An Asshole", and the 2005 "Your Guts (I Hate 'Em)". The Main Stage performance space simply wasn't big enough for this band, and it was clear when members of Reel Big Fish moved to different parts of the audience, only to get caught on monitors and equipment. Even trapped in a small space, Reel Big Fish brought a massive sound that kept the energy level up and ensured people stayed dancing, even after a long We The Kings set.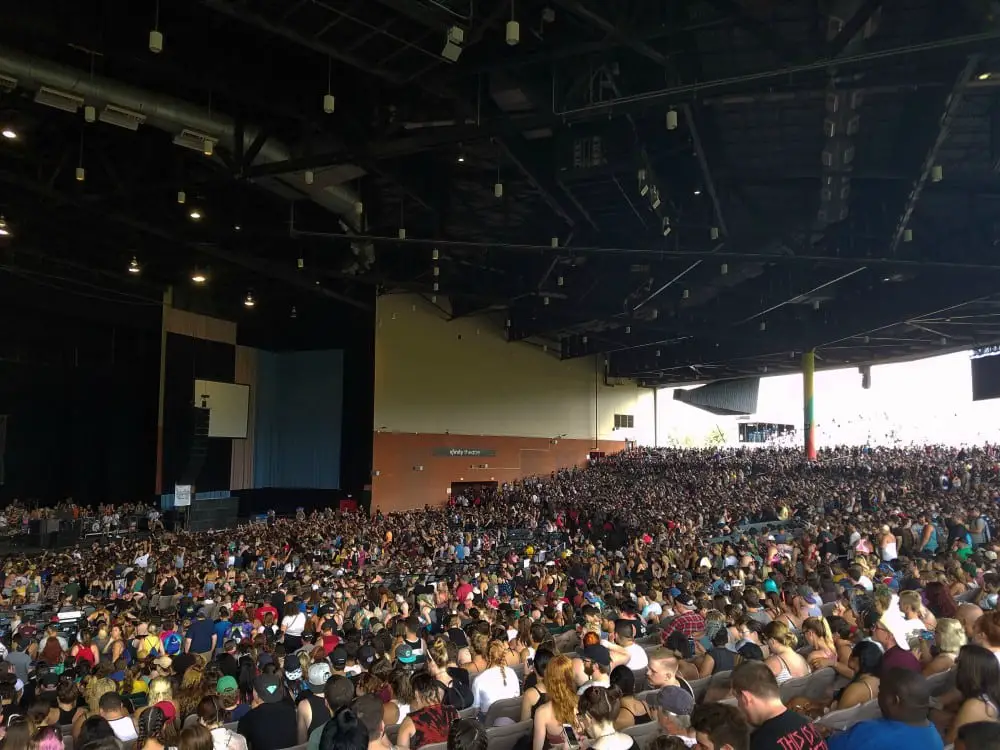 After a rather short set from the Maine on the Main Stage, Mayday Parade took control of the Main Stage and caused a large flock of people to rush to the inner theatre. They chose songs that truly represented their nostalgic 'emo rock' style, including the 2007 track "Jersey", which lead a wave of audience members to sing along in perfect unison. The band also covered the Blink 182 classic "The Rock Show", made famous for its reference to Warped Tour. It was a treat to have several headlining bands recognize the impact of Warped Tour's popularity, giving bands like Blink 182 a chance to meet a diverse audience. Throughout all 24 summers of the Warped Tour, so many bands have risen in popularity and matured in music, and it's a least partially, if not completely thanks to Warped Tour. There's no better example of this growth than the festival's late night performance, Canadian rock band Simple Plan.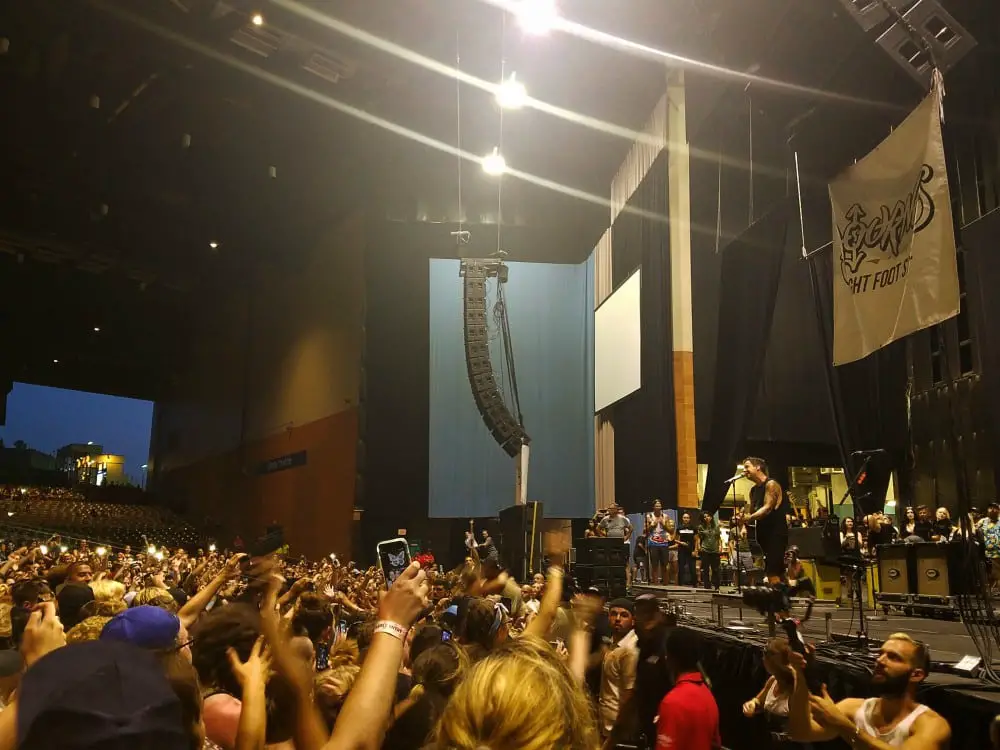 For all the crowding issues faced throughout the day, the venue staff was not prepared for the onslaught of fans that drenched the Main Stage area in anticipation of Simple Plan. As the band came on stage, a thunderous applause rung throughout the entire concert space. Simple Plan paid homage to their many years performing at Warped Tour, playing hits like the 2002 rock ballad "Perfect" and the 2004 anthem of angst "Welcome to My Life". For their performance of "I'm Just A Kid", the band made a brilliant decision, bringing Travis from We the Kings and YUNGBLUD on stage to sing the song with them. This was truly a pivotal moment of Warped Tour, showing a contrast of genres, ages, and even generations coming together to perform the same rebellious music to gets you through your teens and twenties.
Seeing these contrasting, yet iconic artists celebrating Warped Tour together was a bittersweet moment, and as lyrics to Simple Plan's remaining songs came from the library in your head to your tongue, everyone surrounding you sang along. People of various ages and backgrounds (not to mention BAC levels) came together to end the night with joy and nostalgia in remembrance of endless summers, and celebration for the next concert that will fill the void of Warped Tour for each person. Although this is Warped Tour's last official year, there have been floating rumors of a celebration show in 2019. Details will likely be announced on the Warped Tour facebook page, and for anyone still looking to submerge themselves in the Warped Tour experience, there's a few more tour stops coming up, including a show at Jones Beach in Wantaugh, NY on July 28. Thank you Warped Tour, party on!