Warped Tour made its last stop at Darien Lake Performing Arts Center on Wednesday, July 25. Despite the heat and humidity, fans came out in droves from all over Central and Western New York for one last Warped Tour experience.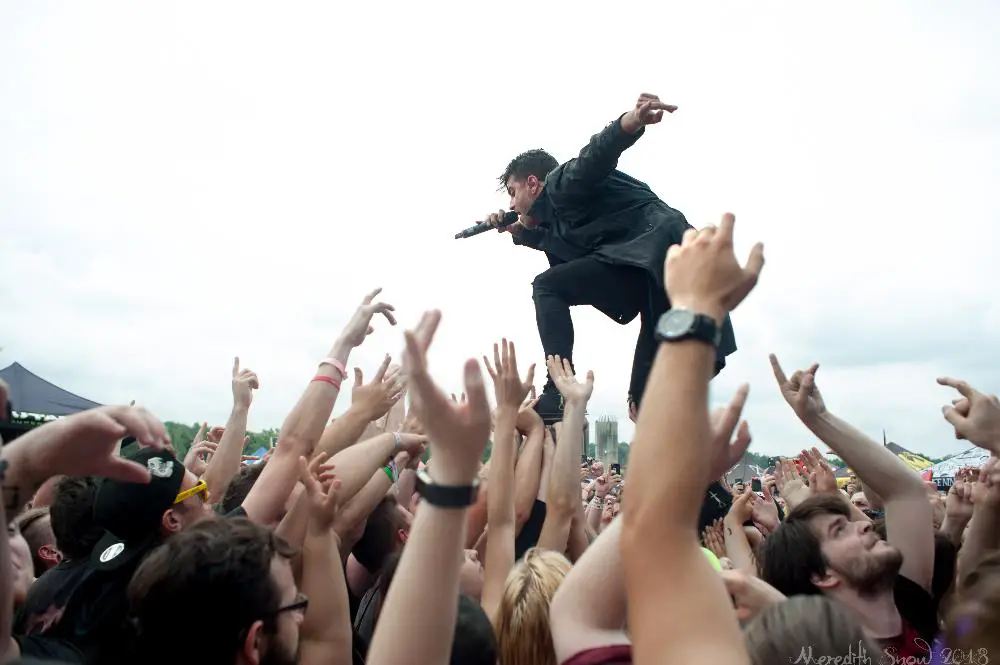 NYS Music Photographer Meredith Snow and I started the day off catching Warped alums Ice Nine Kills. Even in 79 degree heat, the horror-core band from Boston played the entire set dressed as horror movie icons like Freddy and Jason, with full costume and makeup. The highlight of the set was hearing their new song "The American Nightmare," from their upcoming album The Silver Scream.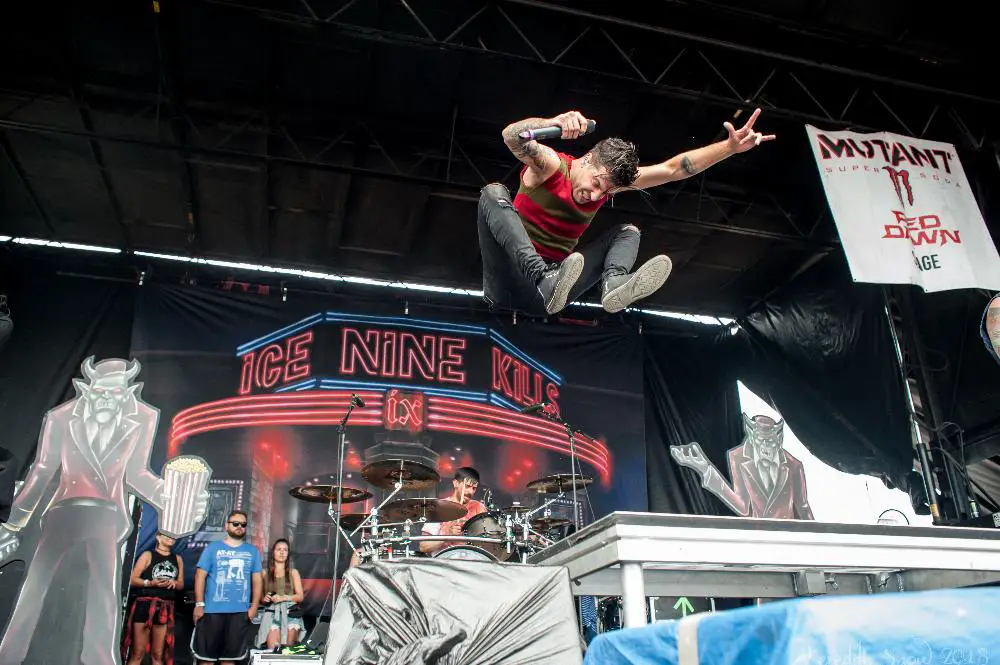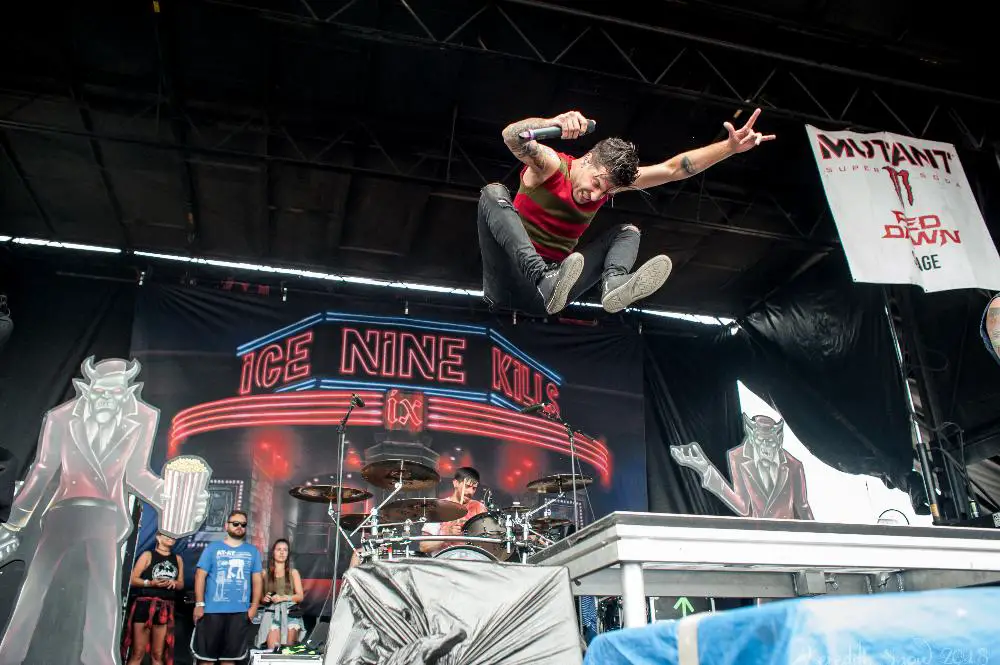 The next stage over featured As It Is. The British band doesn't make it stateside often. I first heard band leader Patty Walters when he was a teenager doing solo cover songs on YouTube. Now he's backed by a full band and performing original songs. Gone is the wholesome "boy next door" persona. In its place is an edgier look and sound. After singing "Hey Rachel," from last year's debut album, Walters introduced the band as My Chemical Romance and welcomed everyone to 2005 Warped Tour. They launched into a couple new songs, "The Stigma" and "The Wounded World," off their new album The Great Depression which comes out in a couple weeks.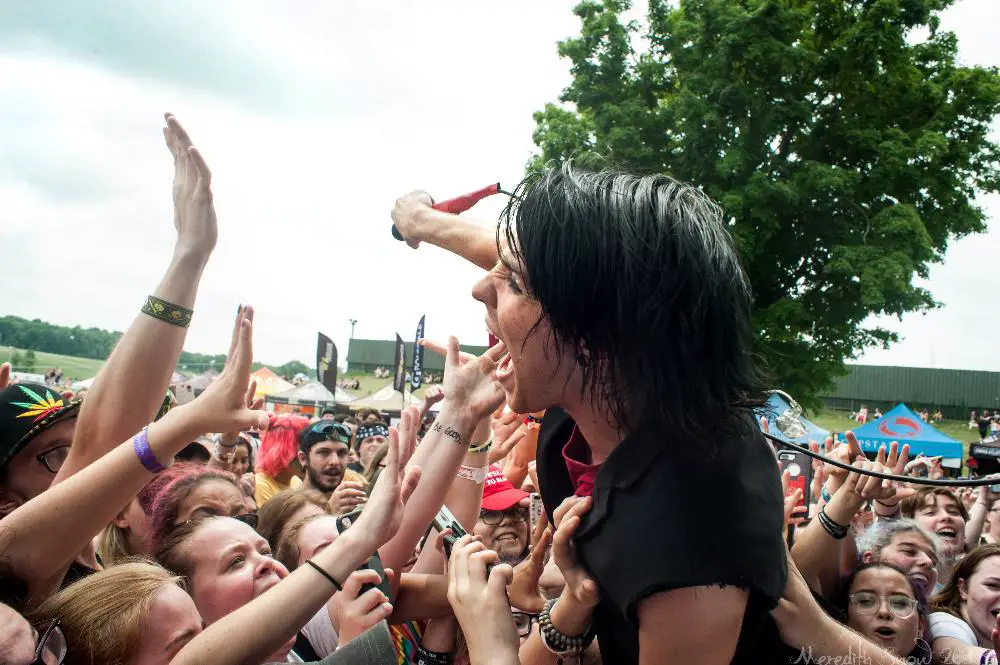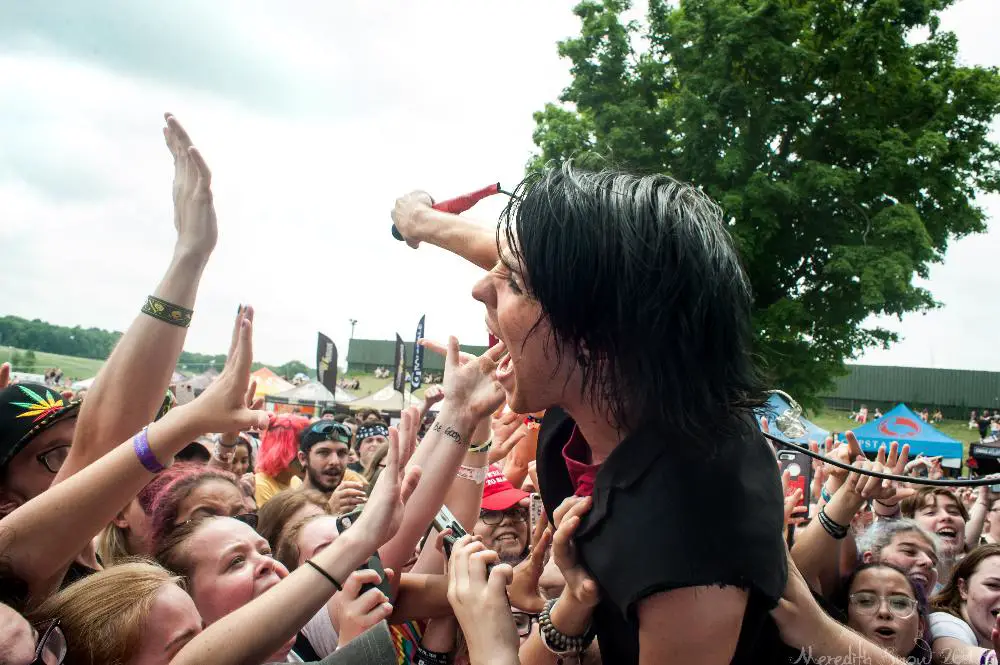 It's impossible to catch everything at a festival with eight stages, and sometimes we just caught snippets as we raced from stage to stage. We saw the tail end of Tonight Alive's set, as front woman Jenna McDougall told us in her Australian accent, "You have the right to lose your minds," before launching into one of their new songs. I took a much needed break from the heat at the Reverse Daycare tent while my photographer snapped a few pics of Buffalo's Every Time I Die.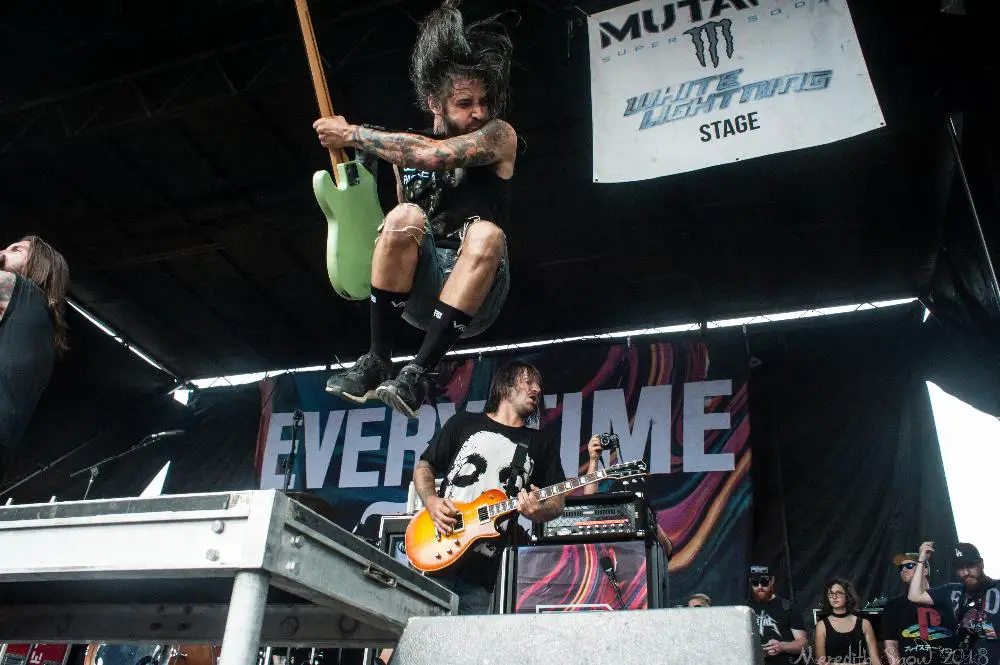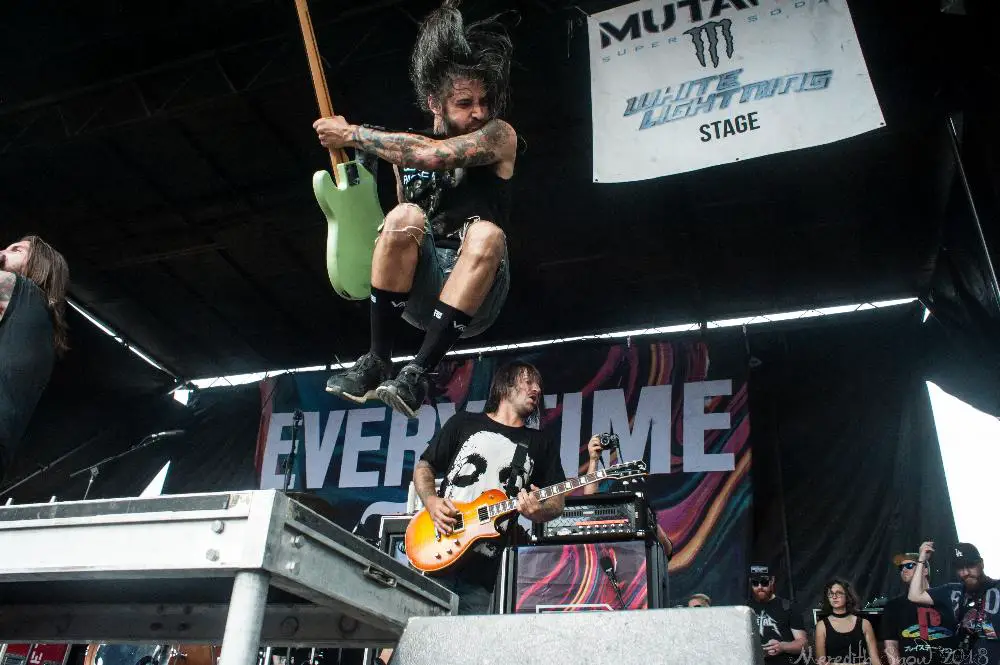 Then we were off to see The Maine. A whooshing sound filled the air as they filed on stage in their signature matching outfits. They started with a cover of Blur's "Song 2" which got the crowd singing along. The rest of their set was all originals from their eleven years as a band. On "Girls Do What They Want," they called a random audience member up on stage to help sing the song. This guy Brian came up in his tank top and shorts and made the most of his five minutes of fame, nailing the lyrics and vocals.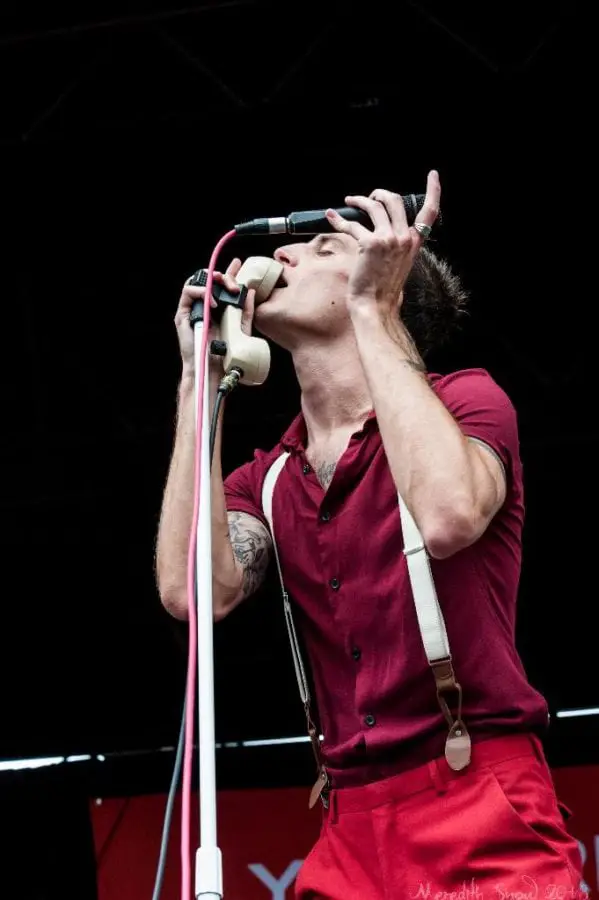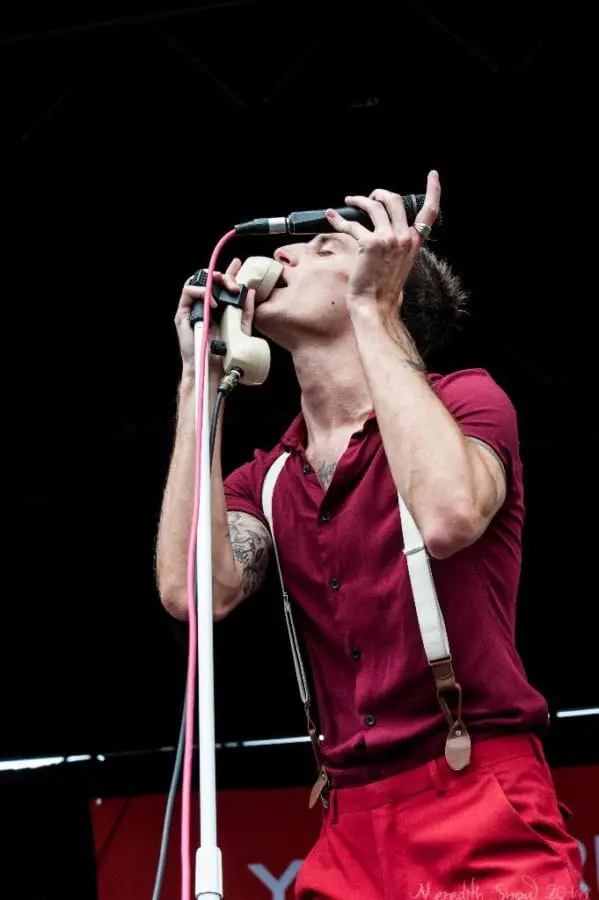 It wouldn't be Warped Tour without ska bands. Reel Big Fish was crushing it on the main stage with their signature sound and antics, and the sun had dried out the muddy ground enough to make it possible for fans to dance in the fields. Over on the Korner Stage which featured regional acts, Buffalo band The Toy Box Brigade was putting on a fantastic performance. Their set included a ska rendition of The Bloodhound Gang's "The Bad Touch."
One of the bands on my must-see list is Las Vegas' Palaye Royale. These darlings of the Vegas art rock scene are originally from Toronto. The three brothers named the band after the dance hall where their grandparents met. Their last album payed homage to the bands who played The Boom Boom Room and they are set to release a Part B soon. They played the song they just released this week called "You'll Be Fine" as well as a gritty cover of My Chemical Romance's "Teenagers." The high-energy set included singer Remington Leith climbing up to hang upside down from the stage rafters during the song "Get Higher" and crowd surfing on a coffin-shaped raft.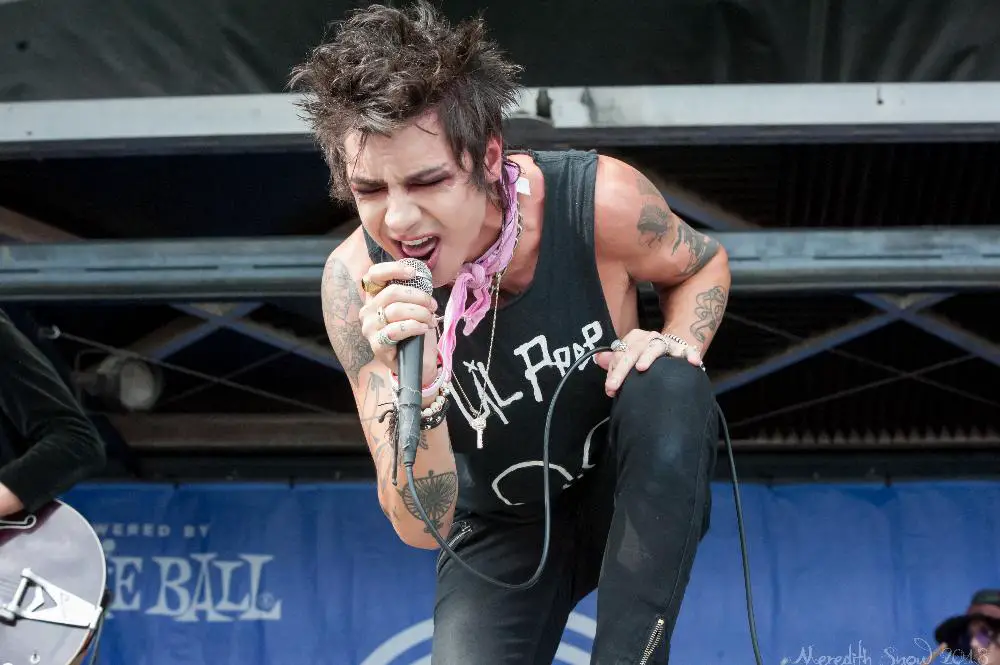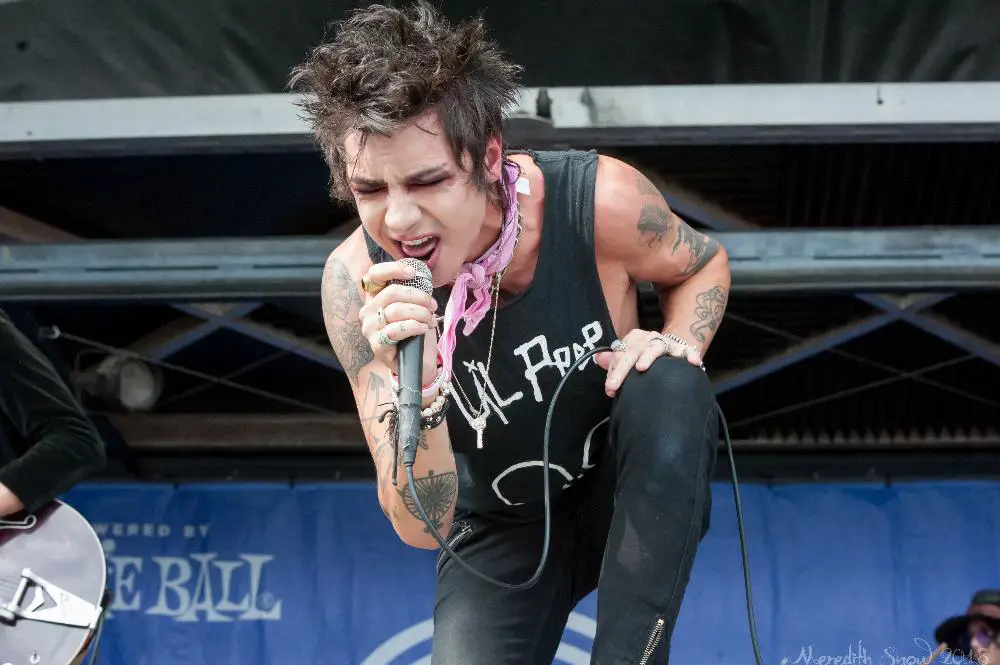 Asking Alexandria was a band I'd never seen before, but the consensus from the faithful fans around me was that this was not their best performance. We then headed over to catch Simple Plan's set. It was late afternoon and attendance had peaked; I could barely see the stage as the audience sprawled around behind tents and trailers. Despite the poor visibility, the sound was cranked to full volume and people young and old were singing along to hits like "Addicted."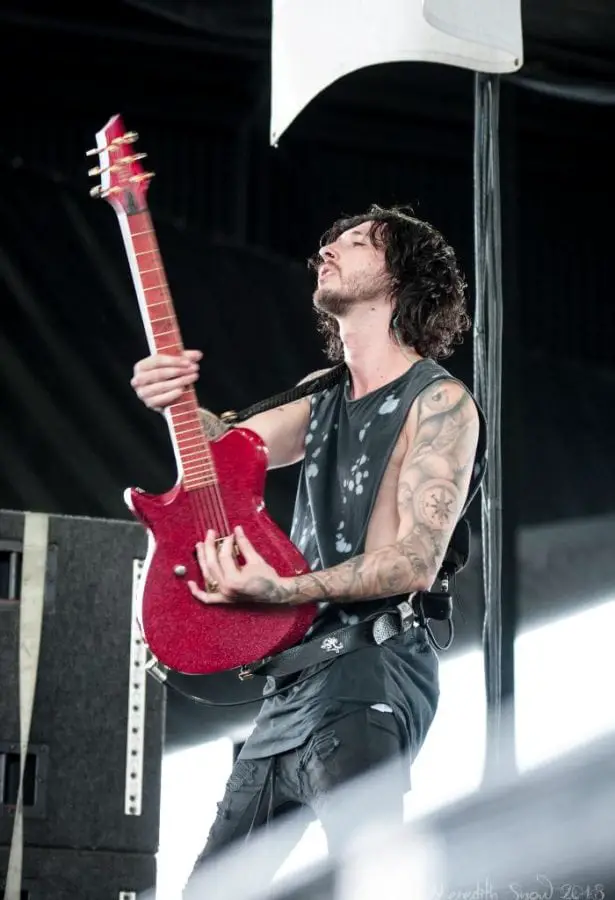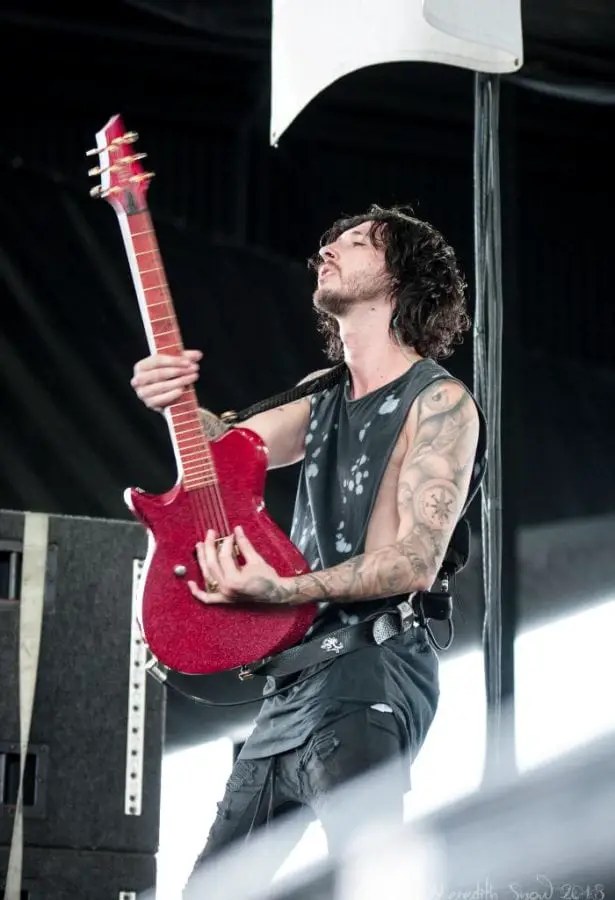 I popped back over to catch some more locals. On The Cinder made their return for a second year at the Korner Stage. The three-piece punk rock outfit drew a lively crowd which danced and moshed throughout the entire set.  Some locals were on the Full Sail Stage, too. Lucky33 from Syracuse was upgraded to the larger stage for the day. They put on an energetic set that included a version of CCR's "Bad Moon Rising." Between songs, bass player Red talked about attending his first Warped Tour in '96 and being inspired to start playing music himself.
Following Lucky33 was Rochester's Kaiser Solzie. Rochester native James Jackson has been performing under the moniker Kaiser Solzie for years, and has recently built a full band. Jackson was the driving force behind the creation of the local Korner Stage last year. And all local band members and their fans had migrated to Full Sail to rock out to Kaiser Solzie's set. Donning his pink guitar, Jackson belted out song after song, from one about actor Bill Murray to "Punk Pop Hip Hop" and "Ordinary Average Day," the songs paired a raw punk energy with catchy feel-good messages.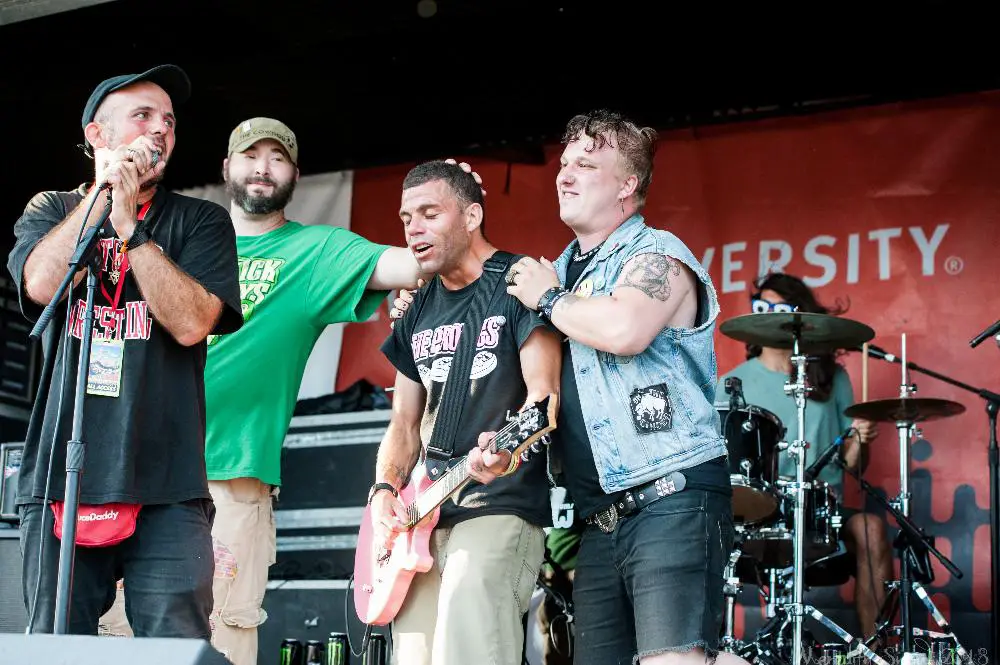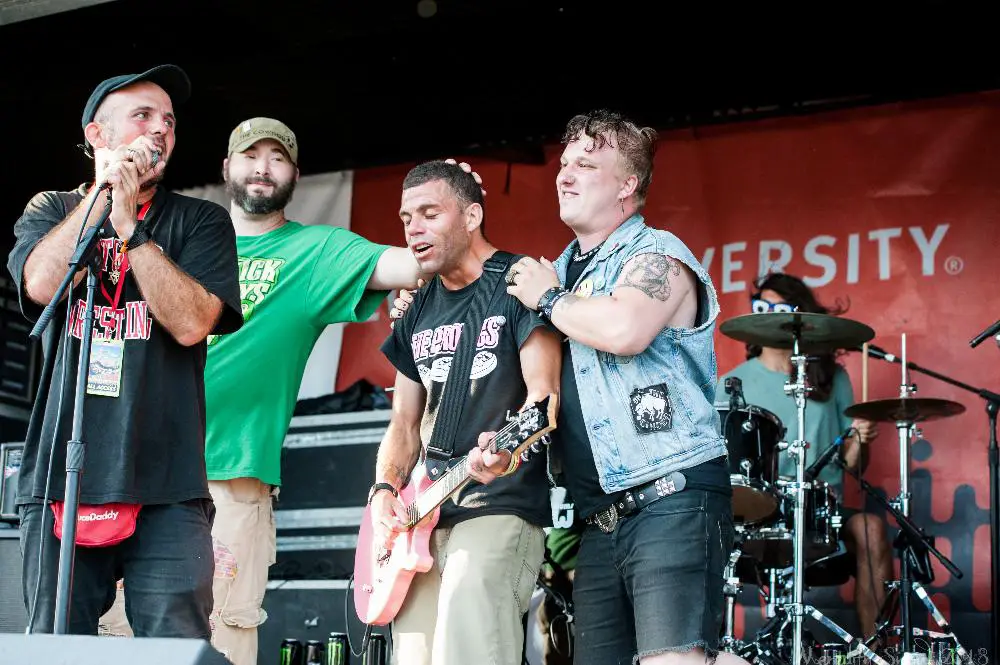 On the way to see 3OH!3, I ran across With Confidence. The Australian pop punk band was finishing their set with hits from their last album, "Voldemort" and "Keeper." They signed off with a promise to return to the states by the end of the year. Over the hill, 3OH!3 was in full swing. The massive dance party spilled out from under the amphitheater tent and into the expansive lawn. For their grand finale, they brought the members of Simple Plan onto stage to join in on their hit song "Don't Trust Me."
We ended the day at the amphitheater tent with a performance by Waterparks, a Texas trio who are more on the pop side of the pop/punk spectrum. When I saw them at Warped Tour a couple years ago, they were playing songs from their EP Cluster. They've since released two full-length albums.Their set list included songs from both, including the acoustic "Lucky People." They ended with the the catchy little love song "Stupid For You."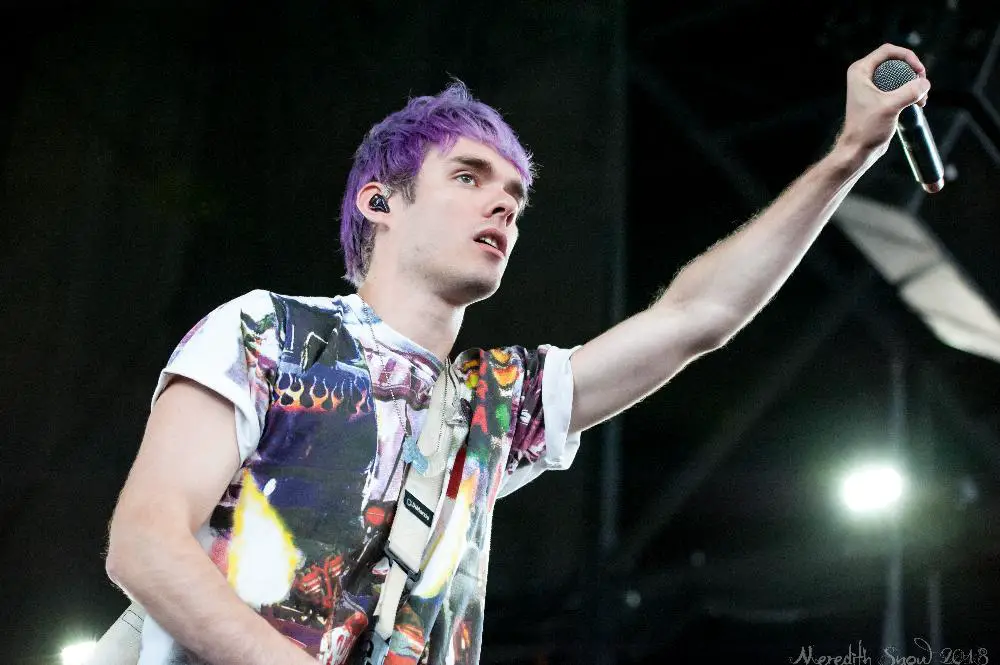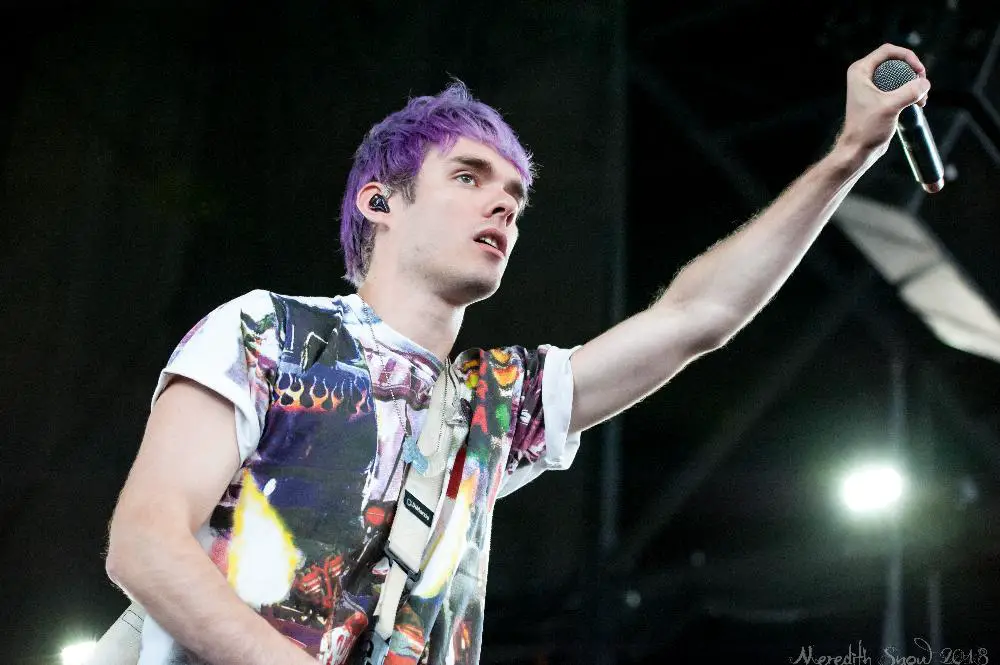 Photographer Meredith Snow caught a few sets that I didn't, including Motionless In White, Digital Afterlife, Doll Skin, Great American Ghost, Of Night and Light, Pros & Icons, and Every Time I Die. See the full photo gallery below for these pics and more.
All in all it was a memorable day, although tinged with sadness about the end of the Warped Tour era. Throughout the day, I spent time with friends from as far flung as Syracuse and Buffalo. I saw people I met at Warped Tour in previous years,and I met some new people. We swapped stories while making new memories. This touring festival successfully brought together some of the greatest alternative musicians from around the world and made them accessible to millions. But it also brought people together and built communal experiences that defined an entire generation.