Schenectady native, and upcoming local hip hop artist, 3ality, recently sat down with NYS Music for his first ever interview with any kind of publication. 3ality has been blowing up fast on the local hip hop scene since debuting last summer. During the interview, 3ality was asked about performing live for the first time, when his next album will come out, and his first experience hitting the road.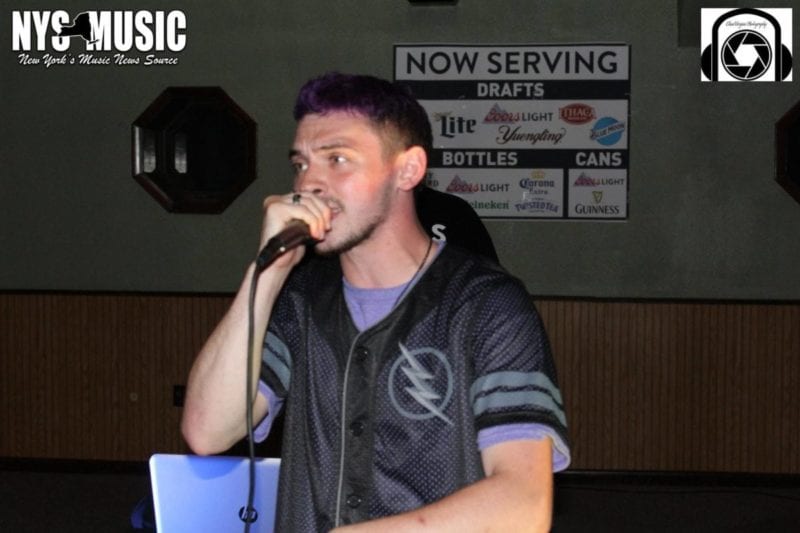 NYS Music: I was at your very first performance back in June at Our Place in Mechanicville. There was a downpour of rain all day. The promoter shows up late, in a pickup truck with all the sound equipment including speakers in the back getting soaked. Besides the obvious butterflies that had to be in your stomach, what was going on through your mind after witnessing this?
3ality: I didn't know what to expect, I just know I practiced my ass off and was ready to go do what I had to do…Nine months later, I know that my feelings that day are true. It was so unprofessional, so poorly promoted, and to this day, nothing has changed. I have one more date there that is part of an upcoming tour, unless changes are made, I promise that place will never see me again.
NYS Music: Yeah I would say after nine months, and several shows, its time to move on from that promoter, but how about the venue itself? Was there something about the venue that you didn't really care for?
3ality: Besides being in the middle of nowhere, it's kind of small but it does justice for a local show. If shows were actually promoted, it wouldn't be so bad. The promoter and even the owner make it hard for people to enjoy themselves. 3ality tomatoes gives it a thumbs down, but I've enjoyed all my times there. It was the first place I got to perform my own music. The promoter doesn't make fliers until the week of the show. Like what? The venue has a 21 and over only policy which dampens ticket sales and no real security.
NYS Music: Interesting. You think they would implement a wristband system and place a black X on the back of the hand like other venues to tell difference between customers under 21.
3ality: Yeah it only makes sense. They sell soda and food there. No reason they cant do 18+.
NYS Music: How did you go about practicing for your first show? You obviously never performed on stage or in front of a crowd.
3ality: I knew a month in advance that I was on the show so I filled my allotted time with my tracks and just did them over and over again until I was confident wit the memorization.
NYS Music: How did you go about memorizing them? Did you just read over and over again what you wrote while sitting on your couch? (Laughs)
3ality: I had some studio recorded stuff, so I have been already listening to myself and singing along. What I mainly did practicing was play the beats and sing over it cause that's what I will be doing live. You check your lyrics until you get them. Just keep practicing like a spelling test. I worked at a community center which is like a YMCA, and after I was done working, I would go into the auditorium and use the mic set up and practice on stage to an empty room or a friend or two. Our Place didn't have a stage and I felt like I could've put on an even more badass show for my family and friends from work who came to see me.
NYS Music: That's pretty badass. Nice to see that some family friends and co workers came out a supported you.
NYS Music: Since your first performance, you have played several local shows throughout the Capital District in 2017, some shows in Pennsylvania, and capping the year off on New Year's Eve in New Hampshire. How did you feel performing for the first time in a room where only the performers knew who you were.
3ality: It felt amazing and right at home. That New Hampshire show was a "Juggalo" show which is the crowd I feel I appeal to most. I'm not shy when it comes to seizing the moment. I'm an outgoing guy when comfortable and have had a lot of experience prior to 3ality performing in front of big crowds.
NYS Music: Experience performing in front of crowds before how?
3ality: Singing in shows in school, karaoke in bars, and doing demonstrations in tae kwon do.
NYS Music: What about IYF Wrestling? (Laughs) I've seen on your Facebook page that you used to wrestle on the local independent scene.That had to help with performing in front of a crowd.
3ality: I don't know. That was a whole different world. I feel like if I could've done that, I can do anything so your right cause that definitely had me nervous. (Laughs)
NYS Music: (Laughs) I Bet.
3ality: Yeah hopefully one day I'm big enough to set up a match at WrestleMania.
NYS Music: It is coming to NY/NJ in 2019 so a close to home boy on a close to home show would be pretty cool.
NYS Music: You traveled to New Hampshire and performed your first live set for a New Year's Eve crowd. What expectations did you have going into the show, compared to how you felt after your performance?
3ality: I think my expectations were exceeded from the point my first song ended and the crowd erupted. I felt like I belonged and the rest of my set was a breeze.
NYS Music: In mid April you and some other local hip hop artists are going to hit the road and open shows for Skero. The tour is going to travel to parts of the U.S. including once again NH, West Virginia, Michigan, Indiana and kicking things off in Ohio. What are you looking to gain from this first time extended touring experience.
3ality: This tour is gonna have the same type of crowd as New Hampshire. I met Skero at that show. I hope I get the chance to expand my fan base, and get people to follow me, want new music, and come out a see me perform again.
NYS Music: You've released an EP and CD in the past year. Speaking of new music, can fans expect a new EP on this run?
3ality: I've been a little busy…there wont be a new solo EP before summer, but there will definitely be new music before the year is out. One EP, two albums, I cant say yet but everyone is gonna get more familiar with the name 3ality, so I hope everyone is ready. You can check out my debut album on Spotify, iTunes, Google play and other like sites.
NYS Music: Since your first live performance, how do you feel you have progressed from that first show, and have you changed anything about the way you approach a live performance?
3ality: Not much. I've performed a few different songs, and collaborated with other artists. I'd say I have a lot more energy now.
NYS Music: Thanks for taking the time out and chatting with us here at NYS Music. Last question: What else can we look forward to in the future from 3ality? Any other tours or shows planned?
3ality: Thank You. Not yet. My biggest show to date will be in Stanhope, NJ, on May 13, when I open for Blaze Ya Dead Homie.
New Yorkers can check out 3ality on April 15, at Our Place in Mechanicville, April 17, at Gusa's in Elmira, and April 25, at The Footlight in Queens.