https://ropeadope.com/news/2018/2/14/lakecia-benjamin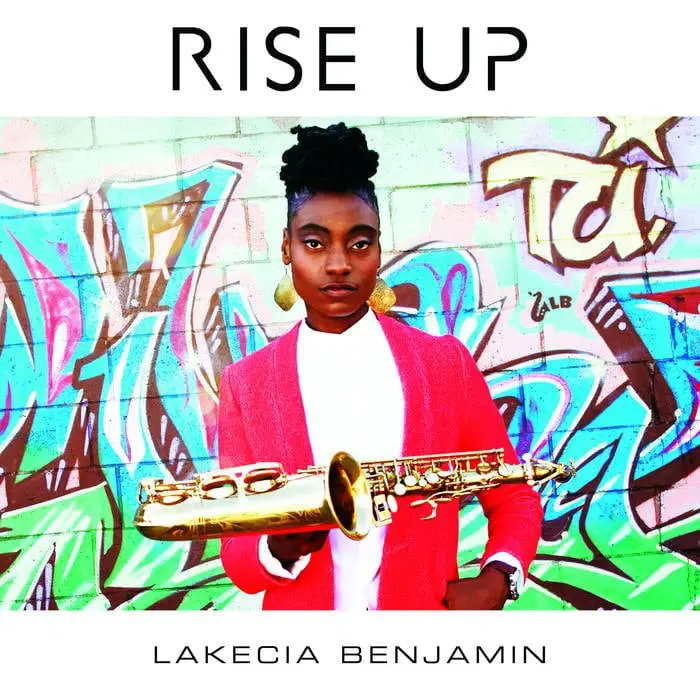 Lakecia Benjamin is a funk, jazz, and R&B artist from New York City. She is best known for her own recorded saxophone work and her group Soul Squad. She has also performed with other great names including Alicia Keys, Stevie Wonder, Clark Terry, and many more.
Her latest album titled, Rise Up, comes to us from the New York label Ropeadope. The LP features 13 tracks of a funk and jazz fusion led by Lakecia's voice and her Alto Saxophone. The lyrics span a variety of topics but there is a clear focus on social justice and particularly the issues facing the African American community.
In opening jam, "March On," Lakecia's vocals and instrumentation command your attention and set a poignant tone for what is to come. Track two, "On The One" keeps up the momentum, but adds smooth male vocals for a different flavor; of course Lakecia continues to flourish with her evocative saxophone. After a thoughtful and meaningful lull in the middle, the album turns it back on with the song "Little Children."
The powerful record not only calls people to arms, but it also offers encouragement to those who have already joined the fight. It's tracks like "Takeback" that Lakecia is able to say so much, without actually "saying" very much at all; her saxophone screaming at the top of its lungs, heavy undulating bass and drums marching forward, and a complete atmosphere of power holding it all together. Perhaps the most urgent and evocative track from the album is "Little Children," which harkens back to the blistering pace and utter catharsis of "Sinnerman" from Nina Simone.
Lakecia's saxophone playing has intensity and poise. Benjamin manages to sew together lead riffs that bring the songs a strong cohesiveness, while also taking the audience on a more personal journey during her improvisations. The instrumentation is akin to the work of Kamasi Washington and the work he did with Kendrick Lamar on To Pimp a Butterfly, but with Lakecia's own unmistakable style.
For all things Lakecia Benjamin, find your way to her website. The album will be available on bandcamp, and iTunes come March 23.
Key Tracks: March On, Little Children, Cornbread