Looking ahead just a few months from now, the year 2018 will be Dopapod-less, which means fans have flocked from inner cities, out of town and hours away just to catch what will be their remaining shows ahead of hiatus. Bringing the heat during each gig on fall tour so far, word traveled fast that their Halloween bash at Saratoga Springs' newly renovated Putnam Den wasn't one to be missed. Adorned in an astronaut suit, Eli Winderman and company would eventually sit behind the keys and prepare to launch the outrageously dressed and over-excited crowd into outer space for the remaining hours of All Hallow's Eve.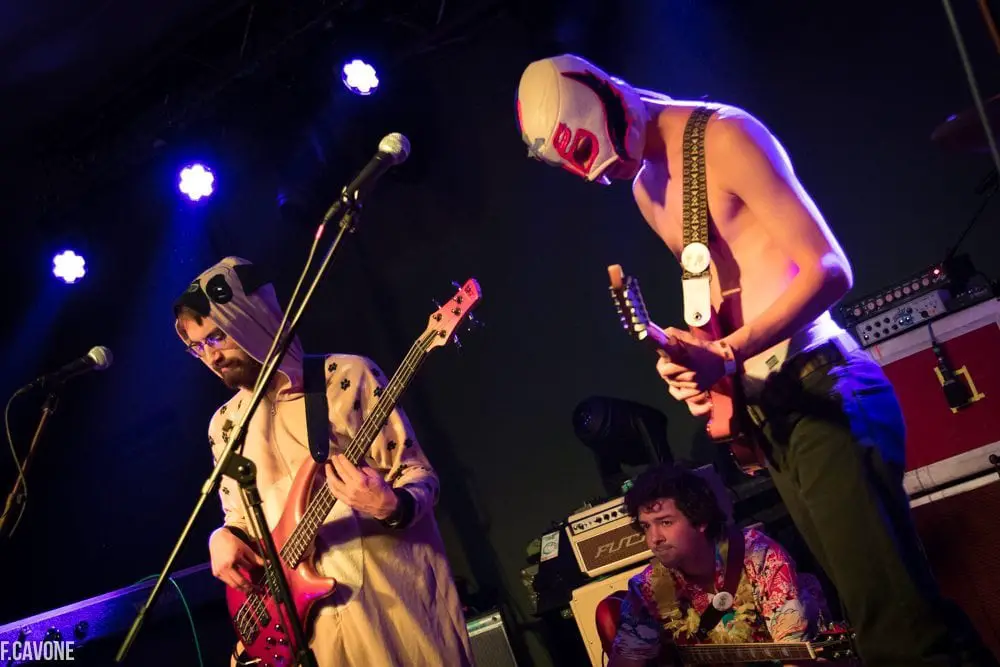 Kicking off the night for the quartet was rising Burlington outfit, Swimmer, who previously took the reigns of opening for Dopapod in the past. Walking on stage in an assortment of costumes from a bassist puppy dog (Jack Vignone), a guitar wielding, "all you can eat Jimmy Buffet" pun (Paul Klein), a keys/sax playing Santa Clause (Matt Dolliver) and Alladin's Abu on drums and vocals (Cotter Ellis) the prog rock 5-piece swiftly grabbed attention of Den dwellers as the room began to fill over the course of their set. The crowd quickly realized why these guys have been able to snag opening gigs and musical praises from Dopapod–their sound can be sentient and groovy and in seconds build to heavier territories, never executing boring composition.
The "No Shape" musicians warmed up the crowd with "Turko," "Murphy's" Song," "J.I.G." and an enchanting, jammed out "Sea Cerebral" as well as an appropriately placed HalloWeen cover of "Put The Coke on my Dick" with Ellis nailing the familiar vocal outcries. Taking full command of the exponentially growing audience, a masked and shirtless Joe Agnello (guitar/vocals) corralled the colorful crowd and had them dancin' into set break with Prince's party anthem "1999."
Trick of the night:  Ellis cracked his snare mid jam in true rock and roll fashion, although his relentless and professional playing fully disguised it. Both relying on lip reading and hand gestures, Dopapod's Neal "Fro" Evans saved the day by hand-delivering his own snare to a fellow drummer in need.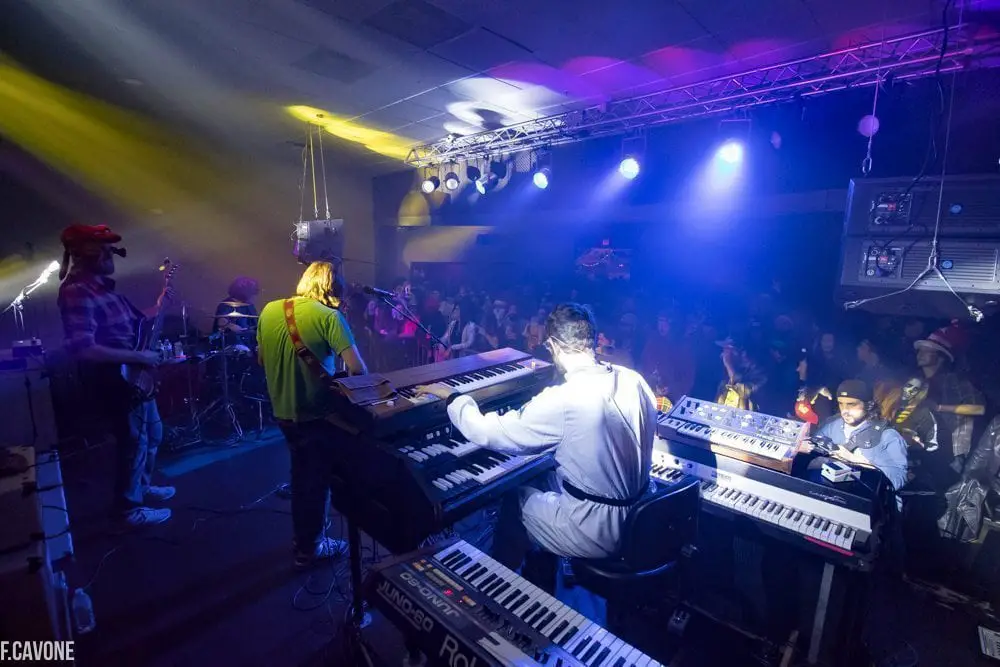 Astronaut Winderman, a monkey headed Chuck Jones, a low key Rob Compa and Evans were greeted on stage with a "This Is Halloween" introduction before a stacked set one of continuous, hard-hitting originals came into orbit–exactly what fans needed to submerge themselves in during the concluding gigs of 2017. Offering up fired-up favorites with an opener of "Black and White" paired with color coordinated lighting, each studio album was given a taste with as Never Odd or Even's "Present Ghosts" trailed right behind. Serving up "Sonic," "Bubblebrain" and a fix of the latest efforts on Megagem, a fun delivery of "Mucho"  found extensive live twists creatively altered from the studio version, giving those already familiar with the tune a fresh way to remember its live adaptation. Somehow managing to find time to squeeze in a sit in with Moe's Vinnie Amico on drums for a gratifying and turbulent "8 Year's Ended," Redivder's funky "Blast" closed out the powerhouse set which was ultimately a lengthy, indulgent Saratoga Springs get down.
Hopping back on the tightly packed stage to settle down a wondering crowd, all eventually found themselves puzzled yet enlivened to be singing along to the words of the Dead's "Eyes Of the World," as Dopapod's imaginative flair inventively took on the American rock classic. Hinting at a full cover set, a fierce and expressive Black Sabbath cover of "War Pigs" came next as it completely paralleled the carefree feel of it's predecessor. The third song took some time to gain recognition as eventually the lyricism from Scarlet Begonias and intense anatomy of Sabbath songs magically fused together to create the ultimate Halloween treat.
Treat of the night:  A Grateful Sabbath Bust-Out set.
Looking back at the group's latest moves on social media, they teased the second set theme by uploading two photos of frontmen Ozzy Osbourne and the late Jerry Garcia with the caption "milk," to their Instagram feed. Each song execution conjured stupefied giggles and pure astonishment as Dopapod managed to fully rework well-known songs into interchanged genres, pulling off Sabbath's "N.I.B." with a laid-back Californian twist.
Inspiration behind the set came to fruition years ago when Fro realized that Black Sabbath is "just the Grateful Dead playing minor instead of major," as divulged on a recent Facebook post. So for those who never thought they'd get to see "Friend of the Devil" and "Sweet Leaf" performed in the same set, anything can transpire during a Dopapod Halloween gig. Adopting the Drums>Space routine of the Grateful Dead, Fro as well as wildly talented light/sound engineer and friend Luke Stratton were given time to shine as eye-catching shapes and colors rapidly twisted and whirled across the blank canvas of the Den walls.
Adding to the themed mash-up, Sabbath lyrics were placed mainly to the tune of  "Terrapin Station" and introduced a long-haired "Jerry Osborne," aka Stratton, to the stage for electrifying assistance on guitar and costume hilarity. A rebellious "Fire on the Mountain" making nods to the tunes of "Paranoid" and "Iron Man" closed out the eclectic bust out set with vigor. Quickly returning for encore, the four approvingly spliced together a tight delivery of 2009's "Indian Grits" with the Dead's groovy "Shakedown Street."
Everyone already had the seed planted in their minds to scurry to the remaining Dopapod gigs of the year but when you're told not to miss a show, there's probably good reasoning. In a matter of hours fans were scavenging on the Internet for Grateful Sabbath sound boards and video clips, surely face-palming envy deep into their hands. With just 28 gigs standing between the Boston-born band and a touring recess, catch the duo of Swimmer and Dopapod again at Providence's Fete Music Hall for a Dec. 30th gig in Rhode Island with Hayley Jane and the Primates.
Putnam Den 10/31/17 Setlists:
Swimmer: Turko, Murphy's Law, Put the Coke on my Dick* > J.I.G > Sea Cerebral, 1999^
*Ween ^Prince
Dopapod: This Is Halloween* (Walk out music), Black and White^, Ghosts ->, Sonic ->, Braindead, Mucho, 8 Years+, Blast
Set II: Eyes Of The World$ >, War Pigs& ->, Sabbath Begonias@, N.I.B.**, Friend of the Devil^^, Sweet Leaf++ >, Drums >, Space >, SweetLeaf++, Black Sabbath$$, Fire on the Mountain&&
Encore: Grits@@, *From Nightmare Before Christmas, walk-out music
^This Is Halloween tease +with Vinnie Amico of moe. sit-in on drums $Grateful Dead cover &Black Sabbath cover @Scarlet Begonias (Grateful Dead) lyrics in a Black Sabbath style **N.I.B. (Black Sabbath) in a Grateful Dead style ^^Friend of the Devil (Grateful Dead) lyrics in a Sabbath style ++Sweet Leaf (Sabbath) lyrics in a Grateful Dead style $$Black Sabbath (Black Sabbath) lyrics in a Grateful Dead style (mainly Terrapin Station), Jerry Osbourne (Luke Stratton) sit-in &&Fire on the Mountain (Grateful Dead) lyrics in a Black Sabbath style (mainly Paranoid and Iron Man), Scarlet Begonias tease @@Elements of Shakedown Street (Grateful Dead), Trapper Keeper teases