Remember those glory days of rock n roll when such bands like Kansas, Bad Company, Blue Oyster Cult, and many more classic giants reigned supreme? Something about that sound and tone of those bands really made an impact on music history. So many active audiophiles know you can never appreciate the modern sounds we have now, without paying homage to the ones that set the classic rock standard. Yet, we keep on forgetting that type of sound still carries a  large fan base. Even to this day we have radio stations, podcasts, and concerts all dedicated to that chapter of rock. Let me tell you though brother, that sound is still kicking and screaming! This proves to be the very case with a band hailing from the snowy land of Syracuse, Darkroom, whose textbook rock vibe will bring back that sound of the past and bring it to new light!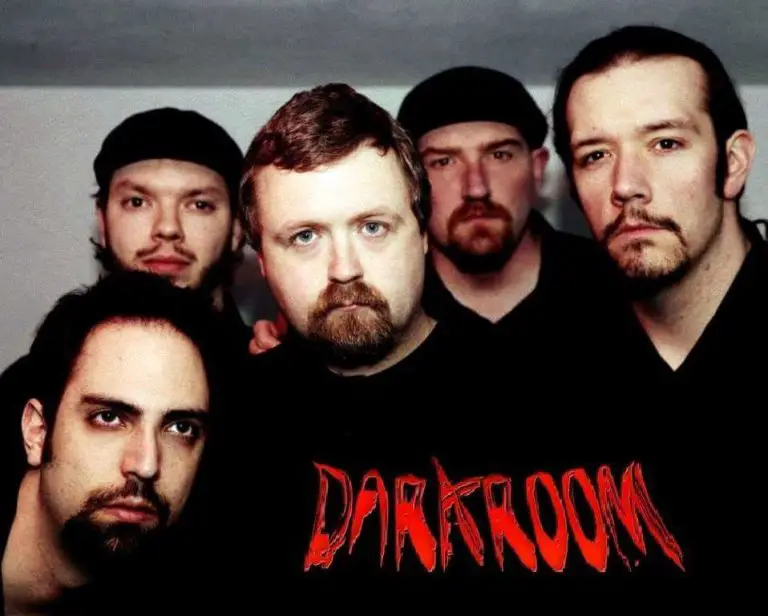 The album, Darkroom foundation is created by the hands of  David Manzano (drums), David DiNiro (guitar/vocals), Jeff Brown (bass/vocals), Ronnie Dark (guitar/keyboards/vocals) and Steve Kratz (vocals). This motley group of guys know how to package something old and to make it as if it was brand new. The album presents itself with so many classic rock influences from all across the rock realm spectrum. With tracks like "Trouble" and "The Hunted," the energy of that rebel rock hits you hard like a brass knuckled punch. The fact that "The Hunted" is actually about a famous serial killer in our area really gives it that nice tongue in cheek play with the lyrics.  Manazo really can show you how he can make his kit come alive keeping that nice jazz and blues infused playing on the tracks. Let us not forget Brown's bass playing pretty much hits in the same ball park paving the way with some hints of funk aspired basslines, keeping that rampant energy striving.
The guitar work from both DiNiro and Dark really gives the album a clean guitar style, which in this day in age is extremely missed in the modern rock era with great melodies with huge hints of progressive influences if you listen closely enough. With Kratz on main vocals, you really can hear the passion this guy has while presenting the final product. Sometimes I feel like listening to these tracks he could give some classic rock heavyweights some run for their money.  If you enjoy groups like Bad Company, you will find these two tracks to be your gateway drug to something simply incredible.
If you are like me, a man who likes to enjoy a nice cold beer, sometimes you just gotta have the perfect tunes to enjoy that said beer. The band possesses many diverse  elements which come alive on this album. They are able to create a very calming and at peace vibe on some tracks. Tracks like "Fly" and "Reflections" really carry that bar rock sound with great approach from the guys. "Reflections" has strong presence of The Eagles as it presents some great catchy lyricism and fabulous groovy sections. "Fly" has that type of energy that makes you just kinda want to put a quarter in the jukebox, order yourself a beer, and relax a bit after a tough day at work. The slow and steady style really makes this track one hell of a great song and with some of the most intriguing keyboard playing I heard in the last couple years from Dark. The keys shaping that ambient  background really helps amp up that idea of just taking it easy.
In the end, it looks like that rebel rock attitude and perfected sound will continue to beat in the hearts of the fans. With Darkroom always finding new ways to make the material of the past interesting and relevant, I have no doubt these guys will not give up with that strong of a drive to keep on exploring new and old territory.  This album gets 4.5 out five stars. Checkout the band's page and give them a good hard listen to!
Key Tracks: The Hunted, Fly, Trouble