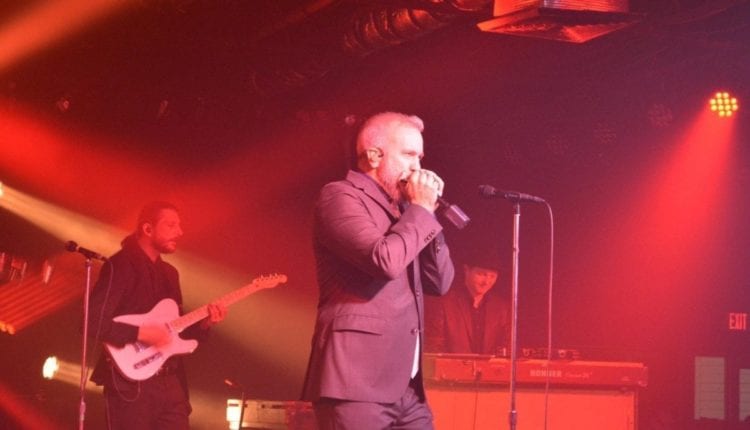 Jacksonville Florida's own JJ Grey and Mofro played to an enthusiastic crowd at Clifton Park's Upstate Concert Hall on Thursday October 19. These seasoned veterans of the road have been playing since the 1990's and are currently five weeks into their tour spreading the gospel of the electric blues and soul to audiences around the nation. The band has deep roots in the south which is apparent in the nine studio albums that they have created since their inception.
The current lineup of the band consists of JJ Grey on vocals, harmonica, and electric guitar, Dennis Marion and Marcus Parsley on trumpets, Todd Smallie on bass guitar, Craig Barnetter on drums, Zac gilbert on guitar, and Eric Brigmond on keyboards.
The night kicked off with Pittsburgh PA's 10 piece soul powerhouse The Commonheart. Led by front-man Clinton Clegg, the energy was palpable with high energy renditions of The Commonheart originals "I Am A Ram " and "Aloysius" off of their 2016 LP Grown. The Commonheart were a tight knit unit that was exceptionally good at getting the Upstate crowd grooving by offering them up a heaping helping of Electric Soul and RB. The highlight of the opening set was a gritty version of Randy Newman's soul classic of "You Can Leave Your Hat On" that would have made the Commitments jealous.
Grey thanked the crowd for singing and began reminiscing about his days working at a lumberyard in Jacksonville, Florida adjacent to a tiny church located in a nearby strip mall. He recounted days drinking iced tea and listening to the church's preacher singing and playing spiritual hymns on guitar, while the ladies in the choir sang along. He went on to say that was one of his inspirations for what he calls his band's "Rock and Roll Revival Show."
Grey then switched out guitars and got comfortable sitting down playing electric slide guitar on John Anderson's Blue Grass classic "Seminole Wind." The song was a unique and "Janky" interpretation of the song, which was dedicated by Grey to his grandmother. Grey said that she lived in the "good old bad days," being born in a tent on a tobacco farm in Georgia. It was apparent that her strength in overcoming such a tough and hard scrabble life was a great inspiration to Grey.
The evening ended on a high note with an encore comprised of a rousing rendition of the Beatles classic "Hey Jude" with the audience singing the chorus until the very last note. JJ Grey & Mofro will continue touring the U.S. with dates scheduled into the Spring.
Setlists:
The Commonheart: Show Me The Light, Questions, Cannonball, You Can Leave Your Hat On, Do Right, Save Me, Aloysius
JJ Grey & Mofro: How Junior Got His Head Put In, Light A Candle, Every Minute, Brighter Days, 99 Shades, Gal' Young'en, Seminole Wind, Lochloosa, Orange Blossoms, Lazy Fo Acre, Ol' Glory, Shining Down, Hey Jude