Pop – punk group Sleeping With Sirens will set off on a 21 stop North American tour in 2020 to celebrate  the release of their new album "How It Feels To Be Lost." Joining "The Medicine Tour" starting in Lincoln, Nebraska on Jan. 8 will be alternative rockers Set It Off, Belmont and Point North. Along the way, they will make a stop at Upstate Concert Hall near Albany on Febr. 4 before ending the tour a few days later in their current residence of Grand Rapids, Michigan.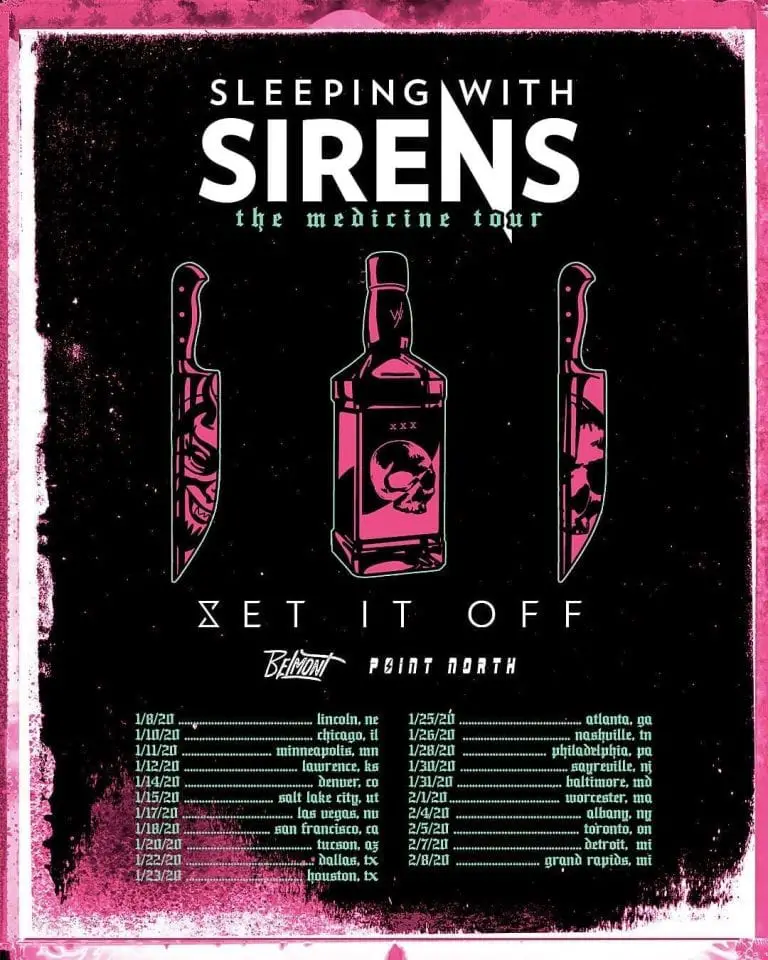 How It Feels To Be Lost is Sleeping With Sirens' fifth full-length studio album since emerging onto the scene in 2010. Returning to a post-hardcore sound, the  record features tracks like "Leave It All Behind," "Break Me Down," and "Agree To Disagree," as well as the track appropriately titled "Medicine (Devil in My Head)." Recorded at the MDDN Studios in Los Angeles, the album was produced by Zakk Cervini and Matt Good.
The group's daring ability to push the envelope in rock has pumped out music infused with different genres from pop, acoustic and some R&B. A loyal fan base known as "Strays" has helped them reach over 1.5 million in record sales, millions of streams and three gold singles. Tickets for "The Medicine Tour" go on sale Friday, Nov. 8, at the group's website.

Sleeping With Sirens, Set It Off, Belmont + Point North 2020 Tour Dates
Jan. 8 – Bourbon Theatre – Lincoln, NB
Jan. 10 – The Forge – Chicago, IL
Jan. 11 – Skyway Theatre – Minneapolis, MN
Jan. 12 – Granada Theatre – Lawrence, KS
Jan. 14 – Summit Music Hall – Denver, CO
Jan. 15 – The Depot – Salt Lake City, UT
Jan. 17 – House of Blues – Las Vegas, NV
Jan. 18  – Regency – San Francisco, CA
Jan. 20 – Encore – Tucson, AZ
Jan. 22 – House of Blues – Dallas, TX
Jan. 23 – White Oak Music Hall – Houston, TX
Jan. 25 – The Masquerade – Atlanta, GA
Jan. 26 – The Cowan – Nashville, TN
Jan. 28 – Union Transfer – Philadelphia, PA
Jan. 30 – Starland Ballroom – Sayreville, NJ
Jan. 31 – Soundstage – Baltimore, MD
Feb. 1 – Palladium – Worcester, MA
Feb. 4 – Upstate Concert Hall – Albany, NY
Feb. 5 – Phoenix Concert Theatre – Toronto, Ontario
Feb. 7 – The Crofoot – Detroit,MI
Feb. 8 – The Intersection – Grand Rapids, MI