The third day of the Taste of Country Music Festival 2016 kicked off around 1:30 pm on June 12th in Hunter, NY. Coming back to the mountain for the third and last day of the festival was bittersweet for me. On one hand, I was looking forward to seeing country super star Jake Owen perform. But on the other hand, I knew that once he finished his performance, the awesome three day Taste of Country festival would be over until next year.
Despite the weather being fairly pleasant and warm the first two days of the festival, the third day of the festival had 40 mile per hour winds which made it feel more like a late fall NY day. At one point there even appeared to be snow flakes in the air. Needless to say, I immediately regretted not packing any sweatshirts or coats for what I assumed would be a blazingly hot three day summer music festival.
The day started on the festival's main stage with the up and coming country group, Outshyne. The group was started in 2007 in South Carolina by high school friends who had previously only participated in rock bands. The members of the group did not start to appreciate country music until after they had graduated High School and had grown into adulthood.  The group members site their main influences to be Merle Haggard, Lynyrd Skynyrd and John Mayer. Outshyne has a notable rock vibe to some of their music and has recently gained considerable ground on the country music scene, with their latest single "That Girl". They had a country rock sound to their music that reflected their roots.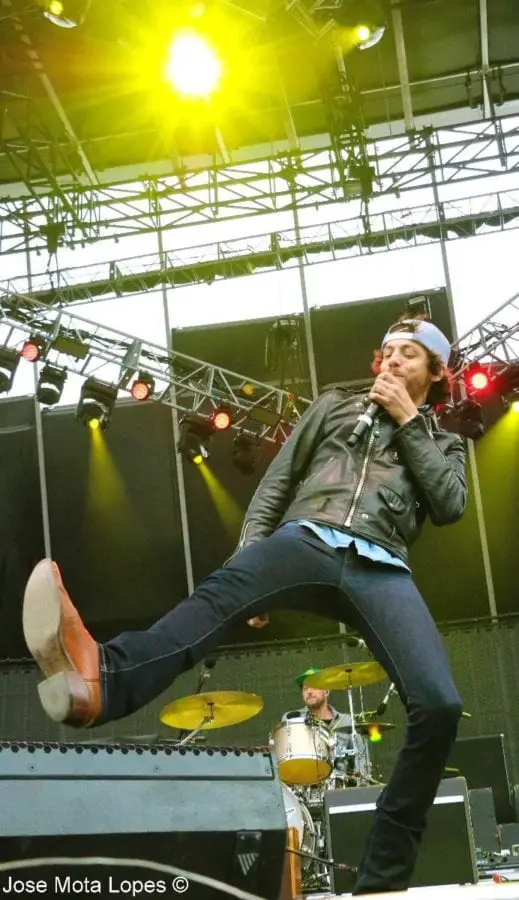 Up next at around 3 pm was country music veteran, Neal McCoy who started his country music career in 1981 by winning a talent contest. Since then he has released 10 studio albums and 34 country music singles. This included three platinum albums, one gold album and seven top 10 country hits. I had never seen Mr. McCoy in concert, and did not know what to expect when the 58 year old took the stage. I was impressed with the amount of time he took interacting with the crowd, shaking his butt, and even jumping up and down. McCoy had more energy on stage than half of the younger performers that I have had the pleasure to photograph and his anecdotes made the crowd laugh and stay engaged throughout his performance.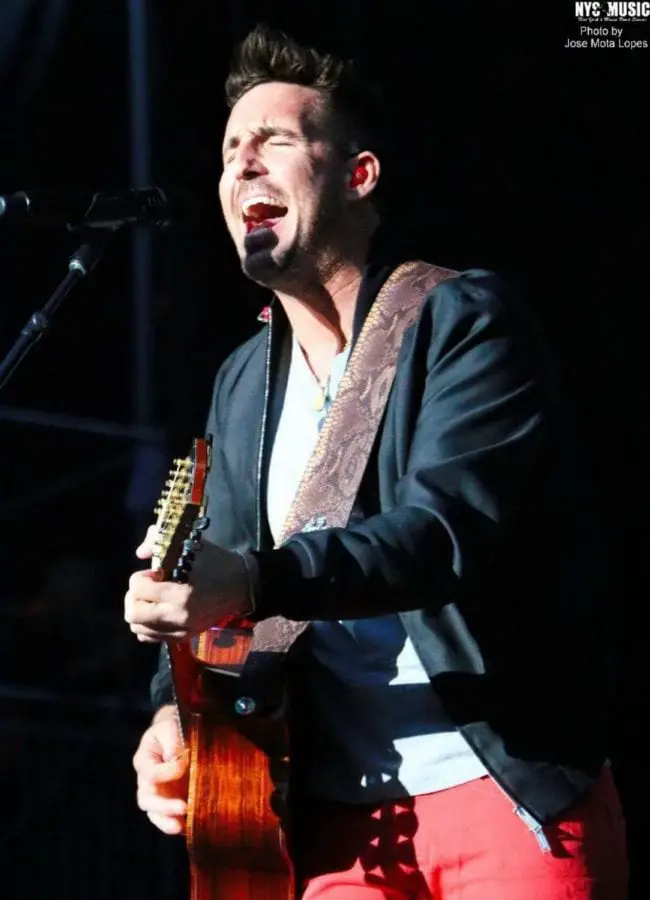 After a short break, Mr. "Buy me a Boat" himself, Chris Janson took the stage. Janson moved to Nashville when he was 19 years old, in 2005 to become a country music star. Like so many country stars of today he began his career first proving himself as song writer. His first hint of success came in 2012 when he wrote the Tim McGraw hit, "Truck Yeah". But his dreams did not actually come true until, despite not being backed by a record label at the time, he came out with the song, "Buy Me A Boat". He sent the song to country radio show host, Bobby Jones, who loved it and as a result played the song on his show. Following the exposure, the song became a favorite of country music fans around the country and jumped to the top of the country charts. The mega hit caught the attention of major record labels around the country and Janson was soon signed to Warner Music Nashville.
Janson has a blue collar style and friendly demeanor that makes him a perfect country music star. Several times during the concert, Janson would break into energetic harmonica solos, announcing at one point, "are ya'll ready to see how 135 pounds of skinny white boy can play this harmonica like you never seen?!" to cheers of the crowd. When Janson would play the harmonica, he would throw his entire body into the performance, swinging his arms and legs, dancing back and forth and truly enjoying every second of it. Janson even threw a few lines from Bruce Springsteen's "Dancing In The Dark" and Hank William's "Country Boys Can Survive" into his performance to keep things interesting.
I was especially impressed with Janson's latest single, a song that he wrote about his wife named "Holdin' Her". In the song, Janson tells the story of how he met his wife and how much love he feels when he hold's his her in his arms. Off to the left of the stage, I could see Janson's wife, Kelly Lynn Janson holding their beautiful infant son, Jesse Bo Janson in her arms (pictured in the gallery at the bottom of the page).  During several of the songs, I could see a smile come across Janson's wife's face as she watched her husband perform.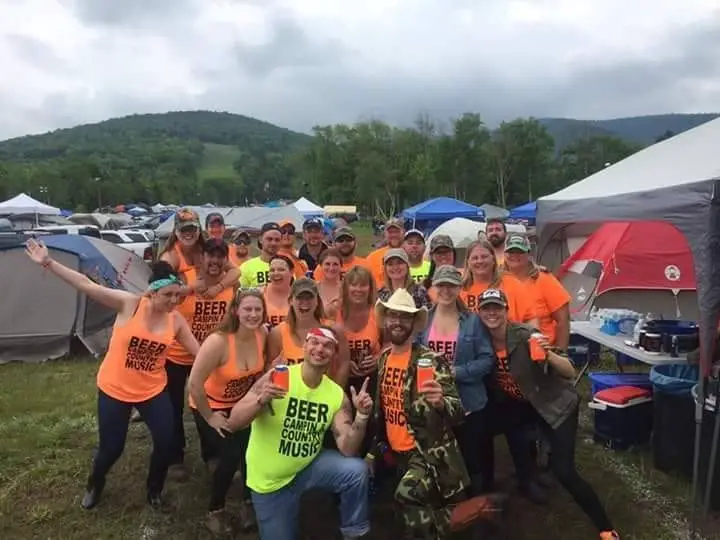 Following Janson's amazing set, I rushed over to the secondary, indoor concert stage of the festival to watch newcomer, Jake Worthington perform. The twenty year old, Texas native attempted to start his country music career in 2013, by auditioning for the fifth season of the NBC reality music competition show, "The Voice".  Unfortunately, he was not chosen by any of the judges and did not make it on to the show.
Worthington showed his resilience by coming back and trying out for the sixth season of the show. This time Worthington was chosen by three out of the four judges, including Adam Levine, Blake Shelton and Shakira, but he unsurprisingly picked country music star, Blake Shelton as his coach for his show. Not only did Worthington make it on the show but he finished the season in second place. All three songs that Jake performed on the show became iTunes top 10 hits.
Shortly after his success on the show, Worthington was signed to record label, W3 Entertainment and released his self titled debut album. Despite his young age, Worthington has a twangy, heartfelt, vintage country sound that reminds me of how country music used to sound decades ago. I would not be surprised to see him accomplishing great things in the industry in the coming years.
At around 6 pm, I rushed back to the main festival stage to watch veteran country singer, Gary Allan begin his performance.  Allan has been performing since the age of 12, when he would tour country bars with his father's band. He was offered a record contract at the age of 15, but was forced by his parents to reject the offer and finish high school. After high school, Allan spent several years finding his sound. At the age of 29, in 1996 he signed a contract with Decca Records. Since then, he has released 11 albums and has had four number one singles.
While playing his set, Allan and his band solidified their country music star status by passing around a bottle of Jack Daniels. Allan has what I would describe as a great balance of modern pop country while still keeping some songs faithful to the original, old school, country music sound.
Giving another newcomer a chance to shine on the secondary stage, up next was up and coming singer, Adley Stump. Like several other performers in this years Taste of Country Festival, Stump got her start on NBC's singing competition reality show, "The Voice" and was on Blake Shelton's team during the competition. Earlier this year, Stump was recognized with a Grammy Amplifier award, and was the featured music performer at the 2015 Miss USA telecast. I was truly impressed by the passion that Stump displayed during her performance. She kept a large smile across her face, dancing around, shaking hands with the crowd throughout the whole show.
As a photographer, it was a challenge keeping up with her, but at the same time, when an artist loves what they do, they are also quite a bit more fun to shoot. You could tell that there was nowhere else that she would rather be at that moment. She played a mixture of country favorites and her own songs. I especially loved the upbeat, full of attitude song, "Like This" and the heartfelt salute to our troops and the families that support them from home "Stay At Home Soldier". Her impressive vocal range also made it easier to feel the emotion behind her songs.
Last but most definitely not least, Jake Owen took the main festival stage around 7:45 pm. Despite the images of warm summer days, beautiful beaches displayed on the large screen and fake palm trees on the stage behind Owen, a 40 mile per hour, freezing cold wind with some snow flurries made things feel like the concert was taking place in early November rather than early June. I was honestly shocked that I was seeing snow flurries in June. Before I traveled to Hunter Mountain, I was warned to expect crazy weather due to the altitude, so I packed a poncho and an umbrella. What I forgot to pack was a decent coat. Despite the cool weather, Owen's performance kept the cooled crowd captivated with a memorable performance.
Owen kicked off his set with the title track of his latest album, "American Love". Despite the weather, Owen stuck to his tradition of performing in bare feet, and did not seem to be phased by the cold weather. At one point during the show, Owen jumped off stage and interacted with fans in the front rows. Owen showed the range of his talent by mixing some of his hits with the theme song from the Fresh Prince of Bel Air, Drake's "Hold On We're Going Home" and even "Crazy in Love" by Beyonce. Owen prefaced his hit song "Beachin'," by laughing and saying "Who wants to go to the beach with me……in 40 mile an hour winds". Owen closed out an amazing set and an unforgettable Taste Of Country Music Festival with his first number one hit, "Barefoot Blue Jean Night".
After three days of awesome music, extremely unhealthy yet delicious food, and meeting hoards of friendly country fans, Hunter Mountain had begun to feel like a second home to me. I always found it amazing how strangers who would ordinarily ignore each other in their normal day to day life, could become almost instant buddies during a music festival. There is something wonderful about a good concert that can take an ordinarily shy person and turn them into a "smiling, while singing at the top of their lungs" party animal. The environment created, somehow punches through the awkward/shy barrier that prevents strangers who have never met from becoming friends. I suppose that knowing that everyone around also loves country music, is great common ground to start on.
During the festival, I met many very cool and interesting people. As I was in the crowd with my professional grade Canon 5D Mk III taking some pictures of the concert, a short woman in a gray cowboy hat, who reminded me of my grandmother, yelled at me and with a big smile across her face, asked me if I would take a picture of her and her friends. I smiled and agreed, she pulled a small drugstore disposable camera out of her pocket and dropped it on the ground, she picked it up and handed it to me. Looking at the cardboard covered camera, I smiled and offered to use my own camera. That is the way I met Santa Bellino, Jessica McGraw and Paul Campione Jr. who traveled from Staten Island, NY to enjoy the festival (pictured below).
Over the three days of the festival, I also met a group calling themselves the Taste Of Country Family. The group started in 2014, during the second annual Taste of Country Music Festival with 4 people from Marlborough, Massachusetts, John Trotta, Danielle Trotta, Britney Hisman and Bethany Hisman. Since then, the group has grown every year and now includes over 31 people from New Hampshire, New York, Vermont, Rhode Island and New Jersey. Each year of the festival, the group creates a community of tents at one of the official Taste of Country camp grounds and spends the weekend partying and enjoying country music.
In addition to the concerts which usually don't start until after noon, a typical day includes a campfire breakfast (with mimosas), drinking games, and later at night sitting by the camp fire singing songs while one of the group members, Tyler Senecal, plays the guitar. This year they even had group T-shirts with the phrase "BEER CAMPIN & COUNTRY MUSIC" made for the group. I find it amazing that this festival was able to bring all of these strangers together over the years and in my opinion this group embodies what the Taste Of Country Music Festival is all about.
The 2016 Taste of Country Music Festival was an amazing experience and I look forward to coming back next year, as a reporter or even just as a country music fan. As of this writing, two major headlining artists have been announced for the Fifth Annual, 2017 Taste Of Country Music Festival, Jason Aldean and Sam Hunt.