It's hard for some bands to take an extended break and make their comeback with the same fire and passion they had the first time around. They're fighting against the naysayers who claim they're just making a quick buck off the name and legacy of the band and the pressure of a fan base salivating for new songs. Enter At The Gates.
Their new record, At War With Reality is the first studio album in 20 years for the Gothenburg metallers. And talk about pressure? They're known as the chief innovators of an entire sub-genre of metal music. Having inspired an entire generation of bands from Unearth to Lamb of God and pretty much every other early 2000's metalcore outfit. Their riffs have been long heralded as the defining sound of the Swedish melodic death metal scene. So when a band with this kind of pedigree decides to get back in the studio after a couple of decades away, all eyes are on them.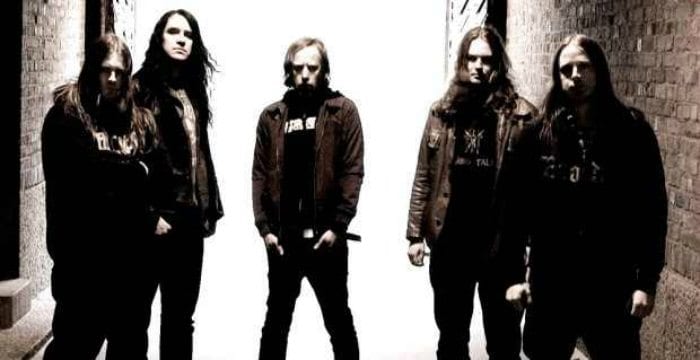 The band picks up where they left off. Not succumbing to the modern trends of metal, At The Gates' At War With Reality is true Swedish melodic death metal. The big catchy riffs are front and center. It's almost as if they've sent notice to all the students of their sound, letting them now class is back in session. The masters of their genre are back doing what they do best.
Now there comes a downside with that. Unfortunately as good as they are at their craft, the record does sound a bit outdated to modern ears. If you didn't grow up with this sound, younger fans might just pass them off. And if they're unfamiliar with their work they might claim they're ripping off the very bands they inspired. And unfortunately perhaps time has passed them by. You have to give them a ton of credit for making their kind of record but I couldn't help myself from being bored half way through listening to it. Sure the musicianship is fantastic and some of the riffs stick out more than others but there's this layer of 'sameness' to it all. Songs just kind of blend in to one another and I had to check my music player more than once to see if I was listening to the same song still or not.
It's a shame because these guys were once kings of the metal scene. And I know a lot of die-hard fans will eat this record up and proclaim it album of the year but it just isn't doing it for me anymore. I listened to so much of this kind of music that maybe I burned myself out on it. I can't say it's a bad record at all. And it's not as if the time I spent listening to it for review purposes will be the last time I hear these songs, I just can't give it the universal acclaim that everyone else is giving it right now. Some songs like "Upon Pillars of Dust" and the title track bring the ferocity you expect but they're surrounded by so much filler that even standout tracks don't really standout much.
The production is top-notch and everyone is on point technically. Vocalist Thomas Lindberg sounds as good as ever. He has that harsh scream that radiates anger but also has a clarity about him. No pig squeals or death gurgling noises here. The record comes off very much as a guitar player record as most Swedish metal does. These guys worship at the altar of the riff and it shows. Guitar players everywhere will have a ton of fun picking apart these songs as they have with the band's entire back catalog.
At The Gates are fully back in the fold of the metal roster after spending the years following their reunion as a touring only band with this release. Fans will be pleased with what they hear. The band doesn't take any weird twists or turns or rely on any gimmicks. This is their sound and that's it. But At War With Reality is unfortunately at war with blandness. If you love the Swedish sound you will love this. If more modern melodic death metal like Black Dahlia Murder is your speed, approach with caution but for all you know, you might fall in love with a new favorite.
Key Tracks: Upon Pillars of Dust, At War With Reality
At The Gates will be touring the United States next spring as part of the Decibel Magazine Tour with Converge. You can purchase At War With Reality here.