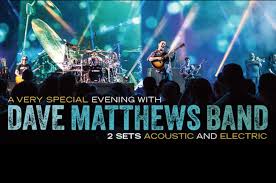 Well it's that time of the year again when all the summer concert tours start getting announced. Well one band that seems to never miss touring in the summer and has now become an annual event of summer concert tours for many music fans is here. That's right people! Dave Matthews Band has announced their summer concert tour dates for 2014. The Tour is titled " A Very Special Night With" Dave Matthews Band. Dave will perform two different sets, one acoustic and one electric in the same night. The tour will start on May 16th, in Woodland, Texas and conclude on September 6th, in Irvine, California and will expand over 30 cities nationwide. This will be a tour that every DMB fan will not want to miss!
This very special tour will hit New York State in the bands usual NYS weekend summer tour stomping grounds on Friday, May 30th and Saturday May 31st, 2014, at the Saratoga Performing Arts Center in Saratoga Springs, N.Y. The tour will also jam out the Darien Lake Performing Arts Center in Darien, N.Y on Wednesday, June 11th, 2014.
Dave Matthews Band has a wide variety of musical styles. DMB's musical genres include Alternative, Country, Folk, Funk Rock, Jam, Jazz Fusion and Bluegrass. From Charlottesville, Virginia the band is made up of  singer-songwriter and guitarist Dave Matthews, Carter Beauford (drums,backing vocals), Stefan Lessard (bass), Jeff Coffin (saxophonist), Boyd Tinsley (violinist), Tim Renyolds (electric guitar) and RaShawn Ross (trumpet).
With eight studio albums under their belt the band is currently working on their ninth album. The band also has eighteen live albums and one greatest hits album called "The Best Of What's Around Vol.1."  Their current album "Away From The World" was released in September of 2012. The album debuted at #1 on the Billboard 200. That made it the 6th consecutive #1 studio album in a row for the band making them the only group to do so. DMB has sold over 30 million records worldwide as of 2010.
Fan Club Members of DMB called "The Warehouse" can gain early access to DMB concert tickets, exclusive cds and merchandise. The club was created to promote fan interaction.
This will be the bands 23rd year touring in the last 24 years. In 2011 the band announced that they were going to take the summer off and did not tour that year. Dave Matthews and Tim Renyolds played an acoustic set at Farm Aid 2013 in Saratoga Springs, N.Y in September of 2013. Amazing performance!
Follow